This is it. After three years of head to heads, Adam and Jon come together again for the final time on the Splat! Show. Their first head to head was a pretty even contest with both getting time in the Gunge Tank but Adam lost their second head to head feature and spent most of the time dripping with Gunge. So will Adam redeem himself and get Jon in the tank more this time and ultimately win? Let's find out! Please note that this show contains strong swear language.
This Show Features…
Adam and Jon Catch Up: As with all our shows, we love to have a chat with our guests before the games get underway and the gunge starts to flow. So we have a chat with both Adam and Jon about what they have been up to since their last Gunge Tank sitting. Jon was only here a few months ago but it's been well over a year since Adam's last appearance. After the catch up, it's into the games!
The Arm Wrestle Rematch: If you have seen the second Adam and Jon feature, Battle Royale you will know how seriously both guys treated the arm wrestling around. They took it so seriously that Adam sustained an injury! So of course we had to kick off this last ever show with Adam and Jon with a arm wrestle re-match. Who will get the first tanking? Adam again or will Jon lose out this time?
Race From The Gunge Tank: We have been thinking about this new game for years. The rules are simple. Adam and Jon both have their own exercise bike with a trip calculator attached. All Adam and Jon have to do to avoid a tanking is to travel further than their opponent at the end of the game. They can only cycle when their opponent is answering their question. So the longer they take to answer, the longer they have to travel away from the Gunge Tank. Adam and Jon cannot pass a question within 30 seconds of the question being answered. Whoever has traveled the least at the end of the questions has lost the race to escape the Gunge Tank. Who will travel the furthest and who will get slimed!?
Deadlift: It's time to test Adam and Jon's strength. Much like the Cycle game, both are asked questions but have to lift and hold a weight with one arm while doing so. If they let their arm drop before answering their question then they have failed and lost the round. Both Adam and Jon have impressive arms, but which one is the strongest and will escape a tanking!?
Pass The Pie Fitness Questions: We love a round of Pass The Pie, and Adam actually loves this game which is quite rare for him since he hates getting gunged! You all know the rules by now, get your question right and you can pie your opponent. Get it wrong then you pass your pie to your opponent who then throws it back into your face. The winner gets the most right and the loser gets tanked, of course!
Video Details and Legal Information
Video Length: 1 Hour, 22 Mins and 56 Secs.
Splat! Guest Care: Learn how we cast and look after our guests you see on the show here.
Release Status: Guest has signed a release form and given us legal consent to release this material on this website and select third party partners. Learn more.
Copyright © The Splat! Show: Do not repost or share any files you download from us. Seen our content elsewhere? Report it. Read more about your legal obligations.
Content Guidelines: No shirtless scenes and some minor some swear word usage. If we had to give it an age rating it would be PG. Learn more.
All shows and content will be available unless we need to remove it as per our terms and conditions.
Aspect ratio of images have been altered and cropped from the video download. Video download plays full screen in 16:9 ratio.
Also Available From This Shoot...

Jon and Adam Double Splat! Storm
Adam and Jon take on a special double Splat! Storm for Red Nose Day 2019. The Splat! Storm is a relentless deluge of gunge from all directions. Gunge blasters, foam cannons, bucket throws and tank drops. There is nothing quite like the Splat! Storm. Running time: 7 mins 11 secs. Presented in HD. Video download plays full screen in 16:9 ratio. 
Download The Picture Pack
Download The Final Battle Picture that includes 30 high res pictures. These pictures were shot especially for this picture pack and are not screen shots from the show.
In this special Gunge Tank Vote we asked which Splat! Star do you want to see get "The Splat! Special" gunging. A horrible mix of gunge. You voted for Jon to get the special gunge, download and watch the results unfold and see Adam and Jon's reactions.
Aspect ratio of images have been altered and cropped from the video download. Video download plays full screen in 16:9 ratio.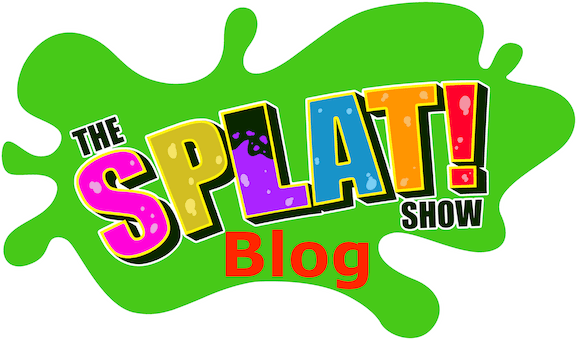 Lean more about the production of this show. All Blog Entries are written by James, show co-producer.
Sponsored shows make me nervous.  Big, complicated shows make me nervous. Messages from Pete that end with "…but it's okay, I have a plan" don't make me nervous.  They make me terrified. It's Adam vs Jon 3 – the Final Reckoning.
I hadn't expected this show to happen if I am honest, but with our sponsor wanting the head to head we knew we had to make it special.  Pete had been drawing up the plans for a while, a few hints as to what to expect had come my way and mentally I was prepping for a long shoot (even if only half the plans went ahead I knew it was going to be a challenging one). I had the Sunday vaguely mapped out… this would work.  So, of course, THAT'S when the message comes through. One of our stars, we will simply refer to him as J to protect his identity, has a slight problem.  He needs to be finished by 11.30am. There is a certain amount of panic in the message from Pete (keep in mind that we normally plan to start filming at that time!) and I know diaries are being scrutinised to see what alternate plans are possible.  The short answer is there aren't any. Which is why, at 0745 on Friday, I get the message from Pete with his plan. It's simple, it's elegant and, most importantly of all, it's totally insane.
Oh the things we do for Splat fans…
My train pulls in to the station.  It's 2230 on the Saturday night.  I am already knackered. Arriving at HQ I get to sit down and relax for, oh I dunno, five minutes before a medium sized cardboard box is show to me along with the words "Could you just build that for me?" So at approaching 2300 on the Saturday, I start assembling an exercise bike whilst Pete works on the script.  There are a lot of comments about issues with tight nuts and Pete moves on to adjusting the new costumes for the shoot.  We exchange quite a lot of comments about various ex models but those… well I have to save some things for my memoirs 😉 With the bike done, all we have to do is set the room up and try out the one new piece of tech that's needed for the shoot and the plan is we are done by midnight.  The plan.  That wonderful thing that looks so easy written down.  The plan that actually leads, at 0030 on the Sunday, to me being drenched in ice cold, three day old gunge (yes, I am a gunge fan, but this a) wasn't planned and b) really was freezing cold and pungent in the extreme) and Pete and I having to scrub the floor thoroughly with warm soapy water.  
0130 I think I finally curl up on the sofa, my alarm set for 0630.  
Sunday morning.  The proper morning rather than the extension of Saturday night.  The stars are due at 0800 and that gives us three and a half hours, maybe four if we really push our luck. That's almost the standard duration for a shoot.  So naturally the stars arrive closer to 0830 and J sneakily updates his request to he needs to be gone by 1130 rather than finish filming by 1130.  So we have about 2.5 hours to get six or seven segments filmed.  Praise be caffeine is all I will say.
First segment – interview and arm wrestling.  So, naturally, the stars get so competitive that they practically destroy the pedestal that's being used.  Both are desperate to win. For them the gunging is secondary, their pride definitely comes first.  The plan was best of five but the rapidly collapsing set dictates best of three.  And when I say rapidly collapsing I mean "picking nails off the floor and frantically hope it stays in one piece long enough for me to get it out of the room" collapsing.
Segment two and it's the exercise bikes. Adam manages to send the computer part flying off his (not the bike that I assembled I hasten to add) and it's very obvious that both are determined to get as many sneaky extra revolutions in as possible.  Things get very sweaty as they get a barrage of "easy" general knowledge questions.  And okay, I admit it, with a very slight imbalance of general knowledge level between the two, there might have been a few off camera prompts for one of them.  
Time pressures are building.  We need to get the bikes out of the room and into the storage area. The dumbbells need to be bought in whilst the dumbo is in the shower. Pete sorts out the next batch of questions and the segment goes smoothly (yay). 
Time really IS marching on and Pete and I start to do the mental juggling required to get enough footage in the can to get a show AND two pre release segments done. The fourth segment is a fitness Pass the Pie.  Pete takes one look at the questions and decides he can't pronounce most of them and so deems me to be the quiz master for this one. Jon and Adam are both fit, don't get me wrong, but at least one of them very quickly resorts to "oh just Pie me" and soon both are at the random guess stage (usually before I have finished asking the question!).
Looking at the clock, by now we are seriously up against it.  We absolutely have to move on to the pre-orders and even they are looking dubious.  In the race to get the first one done, one of the buckets isn't quite mixed properly and there's a minor spillage on the carpet.  No time to clean it up there and then and, in the back of my mind, I relax about it as Pete said I wouldn't be needed for the clean up today.
Splat Storm time.  I reduce Adam to a huddled mess in the corner of the tank and Jon, at one point, suggests I have issues I'm taking out on them.  Meh.  I know how much their hourly rate is for today's shoot.  I have zero sympathy and up the intensity even further.
Storm done.  We look at the clock.  1102.  I have no idea how we did it but we did it. The guys get themselves sorted and I breathe a sigh of relief.  I think I managed about two hours of sleep on the sofa…. "What time is your train home?" Pete's question snaps me back to reality as I'd mentally drifted away.  I tell him.  "Oh that's 45 minutes before you have to think about leaving then?"
I know where this is going.  I look around the room at the buckets of gunge, the spills on the floor and the inevitable state of the tank after a Storm. Know what though? It's Splat.  Clean up comes with the job.  The live feed is turned off and I start to scrub and scrape.  Who needs sleep anyway 🙂