After being delayed twice by to snow and ice, we were finally able to shoot our long awaited and highly anticipated sequel to season 14's Clash Of The Titans starring two mega stars of Splat! Adam and Jon. It was worth the wait.
Each round has a number of points up for grabs and the contestant with the most points wins the show and avoids a very cold soaking at the end of the show. Who will end up in the tank and who will be victorious in this Battle Royale between our two heavy hitters? It's time for you to find out.
This Show Features…
Arm Wrestling
The show kicks off with a round of arm wrestling. We were quite surprised how seriously both Adam and Jon took the match. Both gave their all. You can see their efforts by the strain on both their faces and bulging arm muscles during the match. Originally planned as a best of five match but this was reduced to best of three after it became clear how serious both Adam and Jon were taking the match. The loser of the match get's the first tanking of the show. 3 Points on offer for the victor in round one.
Grudge Match – Fan Count
Adam and Jon have both made countless appearances on the show over the years so it's clear they both have a lot of fans. But who has the most fans and most importantly, which fans will help their contestant stay out of the tank? We asked our viewers to vote for their favorite contestant via a Twitter vote. Are you Team Jon or Team Adam? Unlike our Gunge Tank Votes, the Grudge Matches work with the most votes avoiding the Gunge. Which contestant has the bigger number of fans and thus helping them avoid a messy fate? One point on offer for the contestant with most fans in round two.
Pass The Pie
Pass The Pie is one seriously messy pie game. Each question means a pie for one of the contestants. Both Adam and Jon have their own set of specialized questions to answer. The catch? If they get their question right they can pass their pie to their opponent by throwing it in their face BUT if they get their own question wrong they still pass their pie to their opponent who then throws it in their face. Both Adam and Jon get really completive during this game and they both really relished the chance to pass their pie! Whoever gets the most questions wrong ends up in the tank for a gunking. One point on offer for each correct answer given in round three.
Balls To That – Battle Royale Edition
Season 16 brought us a brand new game with Balls To That. A fun game that is even better with two contestants. Round one is the solo round where Jon and Adam take on the challenge solo. One minute to get as many plastic balls into their singlet as possible. We then count the number Adam and Jon got solo. Round two is the Battle Royale round with Jon and Adam grabbing the balls from the tub and into their singlets at the same time. The round ends when the tub is empty. The only rule here is that they can only grab one ball at a time. The totals for each round are then added together with the contestant with the most winning. The loser? Yep. Gunge time! One point on offer for the winner in round 4
Gunge Wrestling
We had to bring back Gunge wrestling for this epic show. We don't do wrestling often because it is a logistal nightmare and makes a mess, as you will see here. Both Jon and Adam again give 100% in this second wrestling themed segment of this show. But who will win and secure the three points on offer before the finale? Three points on offer for the winner in round 5.
Finale – Cold Soaking the Loser
This is it, the finale. Who has collected the most points throughout the show to avoid the freezing cold finale? Will they both get it? The result might surprise you!
Video Details and Legal Information
Video Length: 1 hour, 5 Mins and 57 Secs
Guest Care: Learn how we cast and look after our guests you see on the show here.
Release Status: Guest has signed a release form and given us legal consent to release this material on this website and select third party partners. Learn more.
Copyright © The Splat! Show: Do not repost or share any files you download from us. Seen our content elsewhere? Report it. Read more about your legal obligations.
Content Guidelines: Some swear word useage and some shirtless scenes. If we had to give it a age rating it would be 12 or 15. Learn more.
Splat! Split & Switch Status: This feature length show is enabled for Splat! Split & Switch.
All shows and content will be available unless we need to remove it as per our terms and conditions.
Aspect ratio of images have been altered and cropped from the video download. Video download plays full screen in 16:9 ratio. Video does not include Splat! Logos as seen in the images.
Also Available From This Shoot...

Jon and Adam Double Splat! Storm
Adam and Jon take on a special double Splat! Storm. The Splat! Storm is a relentless deluge of gunge from all directions. Gunge blasters, foam cannons, bucket throws and tank drops. There is nothing quite like the Splat! Storm. Running time: 7 mins 15 secs. Presented in HD.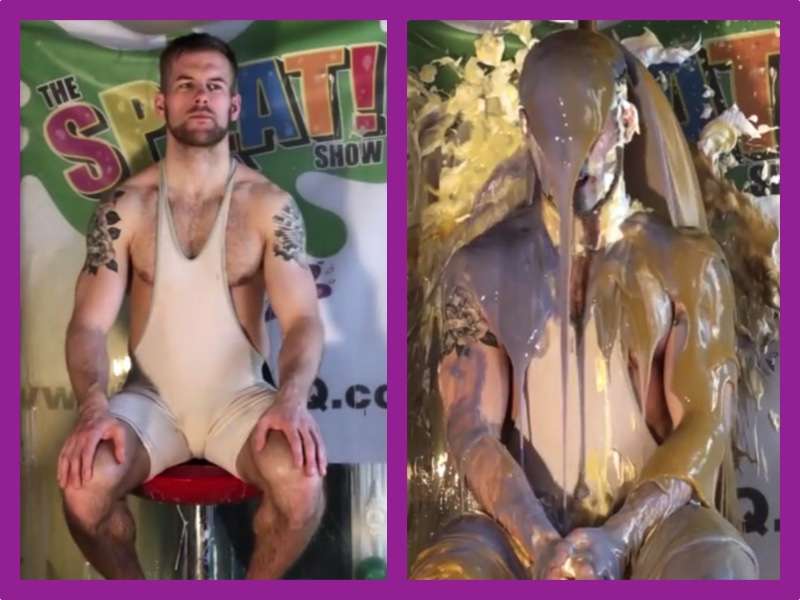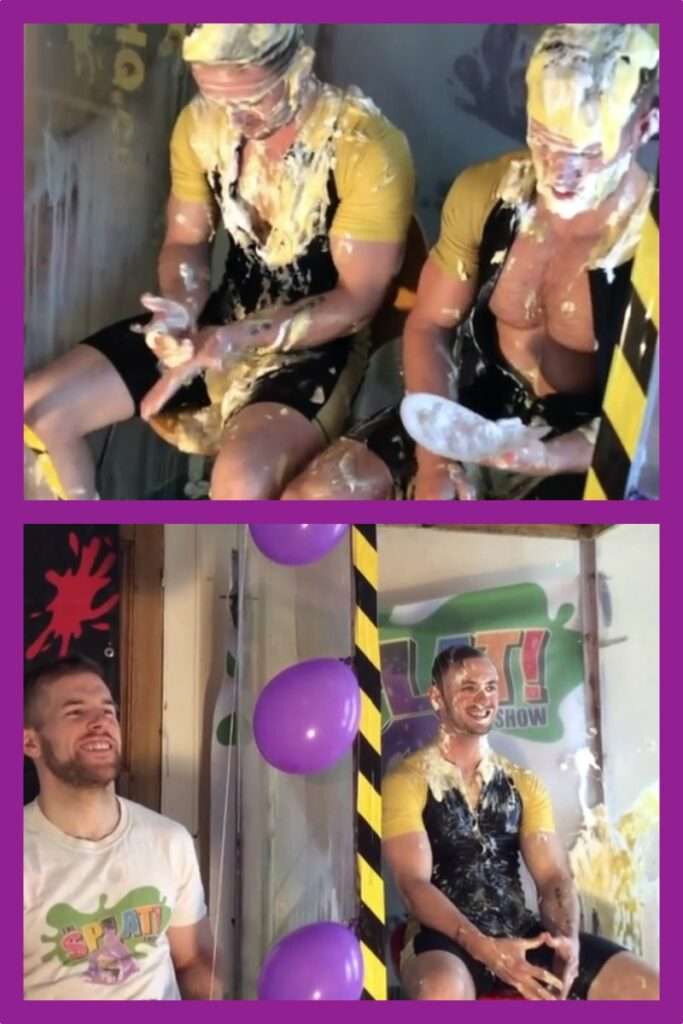 Adam's Flans From The Fans
Adam plans Flans From The Fans, the exclusive Fan Club video series. How many flans did the fans send Adam's way, and will it trigger the Gunge Tank. Watch today on The Fan Club.
Battle Royale: Fan Cam Footage: Check out the lengthy Fan Cam footage featuring new shots of the Gungings and more action from this show, just on The Splat! Fan Club!
In the past I've said that I don't always know that far in advance what I'm turning up to on my days at Splat.  This one I've known about for quite some time but didn't think I'd actually get to help out because the original date wouldn't have been one that I could do.  But then it snowed and snowed and snowed some more and then trying to get the stars together on the same day proved challenging. So when Splat messaged to say "Don't suppose you're free that Sunday are you?" I didn't exactly hesitate too long before saying yes.  To be honest, when Splat asks you to assist on a shoot with Jon AND Adam in the same tank you know it's because they want to seriously up the levels of mess and want to make sure that everything is captured from as many angles as possible to give the fans the chance to see two true gunge legends playing off each other.
They did NOT disappoint.
First thing to highlight is that they both return each season for two reasons.  1) They are drop dead gorgeous people (both looks and personality wise) and that always shows through on the videos.   2) Yes we've had a run of good luck recently (with models that have turned up that is!) but even with Beau, Henry et al we've had to "coach" them as to what they need to do to on camera. Adam and Jon *know*.  Even when it's games they've not done before or games that aren't the usual Splat fare they know what the fans are after and they give it in abundance.  It helps of course that this is a rematch and that they're both deeply competitive people.  Of course, we would never capitalise on that and we would never throw them head to head and make the tank full to the brim for each time to really make them fight to stay clean. It's also a good job that they pay close attention because occasionally we might have lost track of who was winning!
Arm wrestling.  Nice simple start.  Originally planned as a best of five, we ended up making it best of three because they REALLY got into it.  I'm not going to put in any details of who won/lost because you really need to see the footage to see just how up for it they were.  I also won't be a cad and say who had bigger biceps…. but truth be told they are both fit as hell at the moment and man it showed! If you like rippling muscle in Lycra, this opening segment is for you.  First tanking down…. two tonne of photos taken (seriously, they both look utterly amazing and I really had to focus on my camera man duties rather than just drool over the gun show) and first cleanup of the day.  Whilst the loser showers, I chat with the winner whilst transferring three huge buckets of gunge from the bottom of the tank to the top and then adding more in fresh.  If you look at my twitter feed you'll notice I post my gym workouts and they rarely include back or leg sessions.  That's because Splat is my back and leg day and I know what's planned for later on, I think today counts my cardio for the week too!
Game two. Well not really a game, but the result of the #teamJon or #teamAdam twitter vote (if you're not on the Splat twitter feed…. we are interactive!). I have to admit I feel guilty sometimes about joining in on the votes. On the day I try and be as impartial and as fair as possible but sometimes it's too tempting not to join in.  So a public sorry to Adam for voting against him, but you'll need to watch the show to find out how others voted.  Adam vs Jon.  It's a REALLY tough call and if the vote ever comes up again, Adam I promise I'm #teamAdam from here on in.  And yes we are all seriously happy for your upcoming good news.
Back to the competition.  One Splat classic and one new game with a new competitive edge.  Splat has a history of setting really evil quizzes and difficult physical challenges. The guys excelled themselves.  Even by their high standards these two segments were a joy to witness.  I need to check one of the answers to one question because I think we got it wrong and the modification we made to the existing game worked perfectly (though trying to do camera work for the Fan Club as well as tidy up at the same time as fun… seriously, if we hadn't done today as a two camera shoot then the fan club would have been deprived of….. nope, that's a spoiler).  A break from the contest was then needed for "Flans from the Fans" (thank you to each and every one of you who donated a flan to the cause) and then a much longer break was needed to rebuild the tank, fill BOTH tanks with gunge and then get the Splat Storm done. 
Normally the Storm is the end of the shoot (and usually the end of my energy) but today had a special last segment.  A few years back Splat swore they wouldn't do gunge wrestling again.  Yeah right.  We totally reset the room, put the new pool in place, loaded it with gunge (possibly a bit too much as it went everywhere) and then left Adam and Jon to wrestle whilst we tried to get as much filmed from as many angles as possible.  They REALLY went for it.  Remember what I said about them knowing what the fans wanted? Well they didn't hold back. I can't, at the moment, think of two other models who would have gone for it quite so enthusiastically and physically!
With the wrestling done, Adam and Jon shower and depart.  Paperwork is done downstairs whilst I use up the last of the supply of towels to get the pool cleaned out.  About an hour later the room is reset for tomorrow.  Well, the tank is anyway…. we then spend about half an hour building a brand new prop for tomorrow and making sure it works.  We sketch out the filming order and breathe a sigh of relief.  Not because this was a difficult show but because we both know it went beyond our expectations.  Adam and Jon deserve medals for what they did today.  All I can give them is my absolute respect.  
Coda
Back to the very start of the day.  No.  Back several days.  For non Splat related reasons my dysmorphia has been bad, but bad in new and weird ways (albeit good ways, it's…. complicated.)  Pete has spent an age reassuring me over whatsapp and I arrive at the station with a huge bag load of supplies for the shoot (along with a few things for the next day).  We get to Splat HQ.  Jon and Adam are already there.  I get in, drop my bag on the floor and Adam instantly heads over and shakes my hand.  And my dysmorphia leaves the building.  Seriously, Jon, Adam and Pete are amazing.  During the shoot we discuss all kinds of gym things and, combined with the events of the last few days, I leave Splat HQ with more optimism than I've had in months.  And that's 100% down to THREE absolute gunge legends…