Aiden's Halloween Thriller
FINAL CHANCE TO OWN! ENDS NOVEMBER 1st 2019!
Ah, Halloween. The one holiday of the year that we feel goes really well with Gunge and Muck! 
Aiden was chosen to star in our season 15 Halloween Special and we are presenting it here to own for the final time with a hefty discount too! 
After presenting Aiden's Halloween thriller for a number of years now, it will be retired after this final outing. So if you want to own it, this is your last chance to do so. It will not be featured on Splat! Retro Stream.
Aiden's Halloween Thriller Features The Following…
Pumpkin Soup Surprise Interview: Aiden is back on the Splat! Show. After getting his first ever Gunging on our show, it is a real pleasure to welcome him back for some Halloween Themed Fun. We interview Aiden in the spooky Gunge Tank. The interview ends with a very fitting Pumpkin Soup themed Gunging!
Tied, Slimed and Steamed!: Aiden is tied up in the Gunge Tank for a round of tied, slimed and steamed. For each incorrect answer Aiden gives in this Halloween Quiz he is squirted with gunk. Aiden is joined by one of his inflatable friends towards the end when the Halloween Gunge Tank is  unleashed, sending a torrtent of HOT slime over Aiden and creating a very spooky atomposhere!
Foam Me Up GROSS OUT!: It's time for a gross edition of Foam Me Up as Aiden faces disgusting, lumpy gunge in the Halloween Gunge Tank. When Aiden is all foamed up it triggers the vat of disgusting and gross gunge waiting above his head. Aiden also looks up straight into the gunge stream as the gross gunge covers him, well it is halloween! 
Aiden On The Halloween Splat! Rack: There is one game that is just perfect for Halloween. The Splat! Rack! Aiden is tied onto our Splat! Rack and then pied for each incorrect answer in the quiz. How many times will Aiden get pied while on the Splat! Rack? 
Aiden & His Halloween Friends Finale: In the finale of Aiden's Halloween Thriller he is joined by two of his inflatable Halloween Friends. Before the final gross Halloween Gunging, we talk to Aiden about his Halloween Gunge experience. 
Video Details: Video Length: 47 minutes and 41 seconds. Presented in HD. 4K available on request after ordering, just contact us to request. Help playing videos.
Content Guidelines: Shirtless in some scenes. No minor swearword usage. If we had to give it a age certificate: PG. Learn more about our Content Guidelines. 
A small selection of stills taken from the video for Aiden's Halloween Thriller
Aspect ratio of images have been altered and cropped from the video download. Video download plays full screen in 16:9 ratio.
Aiden Also Shot The Following At This Splat! Shoot...
It was Aiden Vs Stee in this special Gunge Tank Vote for our s15 Halloween special. Viewers voted for Aiden to get the spooky Gunge in The Halloween Themed Gunge Tank. ON OFFER: Since this will be the last time we will be offering Aiden's Halloween Themed Show to own, we have also put this Halloween Gunge Tank Vote on offer. Available until November 1st. Presented in HD and 4K.
Aspect ratio of images have been altered and cropped from the video download. Video download plays full screen in 16:9 ratio. Video does not include Splat! Logos as seen in the images.
More On The Splat! Fan Club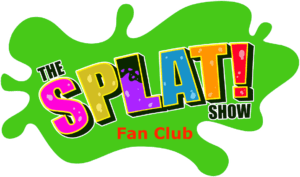 Aiden's Halloween Thriller Cut Footage
View the cut footage from Aiden's Halloween Thriller. Featuring bits that didn't make it into the show edit including bloopers, footage of Aiden clean downs and more!