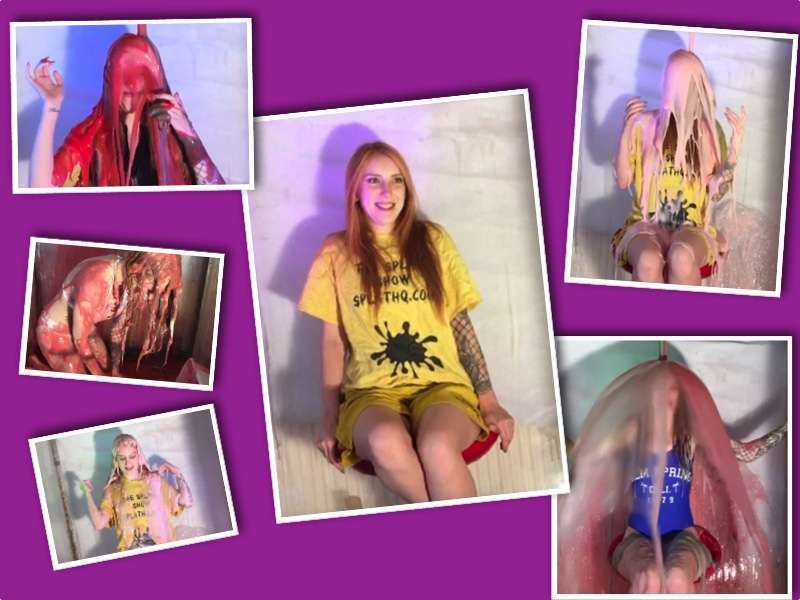 ORIGINAL WRITE UP FOLLOWS….
Yes we know the title of our second season two show is corny as hell, but our newest model does share the same name as Amazon's personal assistant. Please welcome brand new face Alexa to Splat! Babes! We have a great show for you, so please read on to find out what awaits you when you download Alexa's debut show!
The Gunge Countdown Interview: A new face means we need to get to a bit more about Alexa! Alexa takes her seat in the Gunge Tank for the very first time as we interview her. The Gunge Tank is ticking down and it will drop the Gunge when the timer runs out. Thing is, Alexa does not know when that will happen so the anticipation is sky high.
Lucky Or Mucky: The first quiz of the show is Lucky Or Mucky. It's very simple. Alexa will try to answer some general knowledge questions. If she answers incorrectly she has to give the presenter a number from 1 to 10. 9 of the numbers are save, but one will trigger the gunge tank. Will Alexa stay lucky before the questions finish, or will she get mucky!?
Custard Pie Quiz: The second quiz of the show for Alexa is the custard pie quiz. This time Alexa has to answer the questions correctly to avoid the custard pies. There is also an extra twist too, if Alexa gets more wrong than right she will be sent into the Gunge Tank for a bucket of Gunge thrown at her.
Splat! Balloon Challenge: The shake things up, we move away from the quiz based format into a more physical challenge. The Balloon Challenge. We thought Alexa would be ok trying to pop the balloons on the high stool, but it soon became apparent that she was going to struggle so we had Alexa do the game in the bottom of the Gunge Tank. If Alexa fails to pop all the balloons before the timer runs out Alex would get foamed!
Gunging Finale : In the finale of the show Alexa takes the Gunge Tank hot-seat one final time. We interview her about what happened during her Splat! Babes show and what she enjoyed the most and least. We then drop the biggest Gunging of the day on Alexa to wrap up her fantastic shoot!
Video Details and Legal Information
Splat! Guest Care:
Learn how we cast and look after our guests you see on the show
here
.
Release Status: Guest has signed a release form and given us legal consent to release this material on this website and select third party partners. Learn more.
Copyright © The Splat! Show: Do not repost or share any files you download from us. Seen our content elsewhere? Report it. Read more about your legal obligations.
Content Guidelines: No swear usage. Clothed. PG. Learn more about our Content Guidelines.
All shows and content will be available unless we need to remove it as per our terms and conditions.

Video Length: 1 hour, 22 mins and 56 seconds. Presented in HD. Help playing videos.

Aspect ratio of images have been altered and cropped from the video download. Video download plays full screen in 16:9 ratio. Video does not include Splat! Logos as seen in the images.