Some contestants have it all. Just like brand new contestant Ben who has the looks, the height (he is really tall) and is smart as hell. Which wouldn't be a problem if he was on any normal game show but The Splat! Show is not your typical gameshow. While we do feature quizzes quite heavily on our show, being smart doesn't necessarily mean you will avoid the gunge. In fact being smart on the Splat! Show sometimes means that you are just delaying the inevitable mess. Ben is one smart cookie. So yeah, Ben pretty much has it all and we had such a great time shooting his show and we really hope you seeing this fashion model in the Gunge Tank!
This Show Features…
The Splat! Interview – Fashion Model Gets It!
Brand new contestant means it's time for us all to get to know them in The Splat! Interview. Ben is a fashion model, it's what he does for a full time job. We haven't featured a full time fashion model like Ben on the show for a while and it's great to see such a stunning model in The Gunge Tank again. So why did Ben agree to come and play with us? All this and more is covered at length in The Splat! Interview which of course ends with Ben's first ever Gunging in our Gunge Tank!
Foam Me Up – Foam and Gunge Mix So Well!
As we mentioned in the introduction, Ben is a pretty brainy guy (hence the name of this very show) and this is first attempt to show of his intelligence. In this round Ben get's general knowledge questions and for each incorrect one he gives us Ben is foamed. It's game over and Gunge Time if Ben is completely covered with Foam. Ok, so it turns out Ben is not really that great at general knowledge. Maybe he can show off his intelligence in his specialized subject round?
Piestermind – Specialized Subject Round
So you are probably thinking when you are going to see Ben's brain working in his favor? Well in this round you get to see how smart Ben really is. Ben's specialized subject is Tennis and does he know his stuff. So much so, we had to get a new quiz mid game because we knew that our fans wouldn't tolerate a clean Ben. The second quiz was harder and the pies started to fly in Ben's direction. But did Ben get more wrong than right to trigger the tank? Well he got Gunged but the reasons why might surprise you.
Wetter And Better Or Slimed and Stupid? 2 plus 2?
We have been asked to incorporate some water into the shows and we have worked on this game for a few shows now. The contestants really want to get the water and avoid the Gunge. Even after being gunged a few times, the contestants still want to avoid the Gunge where possible and would even take freezing water instead. So will Ben's brain power help here to become "Wetter and Better" and avoid being labeled as "Slimed and Stupid"? This round is a Math based round and is pretty hard for most! How will our resident brain box do?
The Splat! Debrief – The Splat! Wheel Returns!
We have used the Splat! Wheel in the shows for a while now and we have finally nailed down the perfect format for it's use. In this final part of Ben's show we interview him and get his thoughts about his fantastic Splat! Show experience before we move onto to his final messing that will be decided by a few spins of The Splat! Wheel. Will he escape light or get trashed?
The first spin of the wheel is a practice so Ben can get a feel for the wheel. On the second Spin it landed on Ten Custard Pies, does Ben take that or does he take his final spin hoping for something lighter? The risk is that if Ben takes the final spin he has to face what it lands on. SPOILERS: Ben did take the third and final spin and it was much worse than the second. Ben spun the wheel onto the TERRIBLE THREE of a water soaking, ten pies and a tanking! Ben had Instant regret taking that risk!
Video Details and Legal Information
Video Length: 1 Hour, Mins and 12 Secs.
Splat! Guest Care:

Learn how we cast and look after our guests you see on the show here.
Release Status: Guest has signed a release form and given us legal consent to release this material on this website and select third party partners. Learn more.
Copyright © The Splat! Show: Do not repost or share any files you download from us. Seen our content elsewhere? Report it. Read more about your legal obligations.
Content Guidelines: No shirtless scenes but does contain minor swear word usage. If we had to give it an age rating it would be PG. Learn more.
Splat! Split & Switch Status: This feature length show is enabled for Splat! Split & Switch.
All shows and content will be available unless we need to remove it as per our terms and conditions.
Aspect ratio of images have been altered and cropped from the video download. Video download plays full screen in 16:9 ratio.
Also Available From This Shoot...

Brain Box Ben took on our famous Splat! Storm. The Splat! Storm is a relentless deluge of gunge from all directions. Gunge blasters, foam cannons, bucket throws and tank drops. There is nothing quite like the Splat! Storm. Running time: 6 mins 46 secs. Presented in HD. Video download plays full screen in 16:9 ratio. 
Download Ben's Picture Pack that includes 45 high res pictures. Taken at his Splat! Show Shoot. These pictures were shot especially for this picture pack and are not screen shots from the show.
Ben and Phil face off in the public Gunge Tank Vote. Viewers ultimately decided that Ben should get the instant Gunging with Phil attempting to escape his Gunging in the Great Gunge Tank Escape. Phil failed to escape so both got it!
Aspect ratio of images have been altered and cropped from the video download. Video download plays full screen in 16:9 ratio.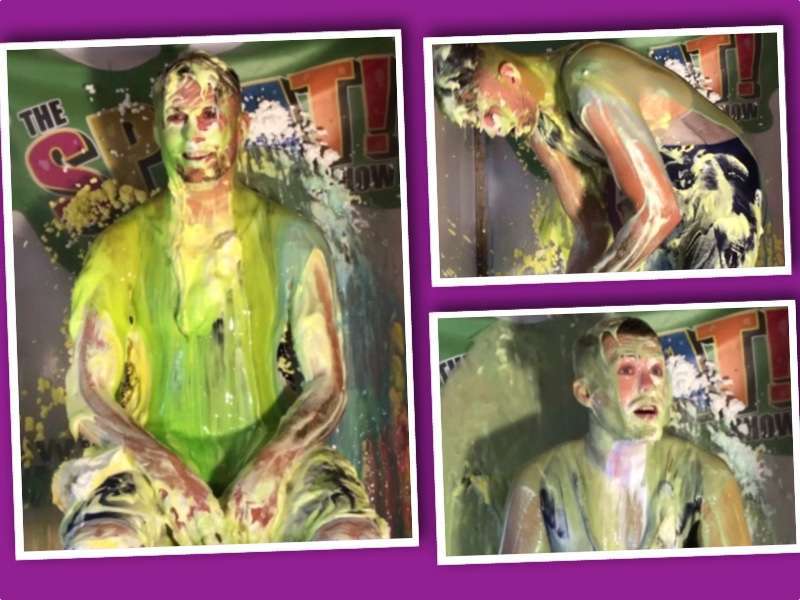 Brain Box Ben - Cut Footage
Check out the cut footage from Brian Box Ben Splat! Show shoot. Featuring pre and post Gungings including clean downs and more!
End of the second day of shooting and the last shoot till mid September.  But with Pete having done three days in a row as well, there is no shortage of footage to come out and today… well… there's a reason the first adjective I suggested for the title was brilliant. It's going to take something to better the absolute star we shot with today. 
As with the Phil shoot, no live feed meant a slightly more relaxed atmosphere, not that you really need it with someone as self-assured as Ben.  I've worked out my own tick list of things that suggest a model will be easy to work with, and the first sure sign is when I'm nattering to them about the shoot and how to be safe in and around the tank.  Ben really pays attention and even adjusts the mat and makes sure he knows where it is before it's covered with gunge. I think he's the first person I've seen who gets on and off the stool a couple of times to get a feel for it! 
Second thing on my tick list for a gunge natural is how they are once the camera stops filming for the first time.  Some can't scrape the gunge off themselves fast enough.  Ben is happy to sit there dripping each and every time whilst we get photos done.  We even persuade him to sit in the tank after he's been covered with foam whilst it's loaded with gunge.  Not a murmur of complaint, Ben has to be the single most patient model we've ever had.
I like to think we treat the models well at Splat and that we have a very flexible way of working with them.  Yes there was a script but Ben asked if a couple of things could be tweaked slightly.  I'm absolutely convinced that Ben went the extra mile for us as a result of us changing things for him, no spoilers though, you'll have to buy the show to find out the serious act of generosity in the third segment.
By the end of the shoot, we don't have to give Ben any instructions and that's the most impressive things of all.  He checks that the stool is in the right place, he gives us exactly what we want in the tank and he even checks he's clean enough to leave the room so he doesn't drip en route to the shower! Naming no names but we have returning models who leave a trail of gunge down the corridor!
With the shoot complete and Ben departed, the clean up begins. Eleven buckets of gunge get disposed of and a major mop up operation takes place as the tank sprung a leak or three during the shoot. We REALLY messed him up, watch some bits closely and you'll see the sides of the tank protesting! Thankfully the leaks aren't as bad as we thought and by 5pm or just after the tank is spotless.  Ish. To do a one hour show and a couple of pre-shoot bits takes a minimum of seven hours of work on the day and that's before any editing or uploading takes place.  But wow, what a seven hours.  
About a year and a tiny bit ago I arrived at Splat HQ to do a video shoot in front of the camera.  These blogs, as well as hopefully being a fun bonus read, also act as a reminder to myself of all kinds of things.  So I've put together the three most important lessons I've learned in that year based on twenty or so models.  And no, I won't tell you which models I learned them from, there are some secrets I'll never spill.
1) You'll rarely see a photo of a topless model bending over.  Not a single model can make the "bending over to scrape gunge off one foot" pose look sexy. Similarly photos capture an instant.  For some models that's the only instant they have a six pack on show.
2) What you see in their official portfolio photos isn't always what you see when they're in the tank.  I think it's why I've always liked Splat photos, they aren't photoshopped to enhance definition or remove blemishes.  
Lastly…. single most important one…
3) Models can be insecure too.  Yes I know that sounds obvious to you but this is me reminding myself of just how many models have asked not to wear certain things or do certain things because they're not happy being seen that way.  And yes, I've been amazed when I've been in awe of a particular part of a model that they didn't think was anything special.  That one really resonates with my issues and is the one I remind myself of most often… 
One year done.  See you in September 🙂