Producer James' Selections
As part of our 20th anniversary, Splat! Show producers Pete and James will be selecting their personal favourite Splat! Shows / Shoots from each season and applying 50% off the downloads until September 2024. Check out the full selection on the 20th Anniversary Hub. 
❓ How This Page Works
📗 About This Splat! Show
🟣 This Splat! Show Features
📸 preview images
🎥 trailer
ℹ Video Details & Legal Info
❓ How This Page Works
Click on the tabs to expand them for more information about this Splat! Show and to preview this show.
Purchase and download this Splat! Show above this section. 
Explore more from this shoot below under the "Also Available From This Shoot" section. 
If you need help, you can contact us here. 
We thank you for supporting The Splat! Show.
📗 About This Splat! Show
🟣 This Splat! Show Features
📸 preview images
🎥 trailer
ℹ Video Details & Legal Info
Also Available From This Shoot...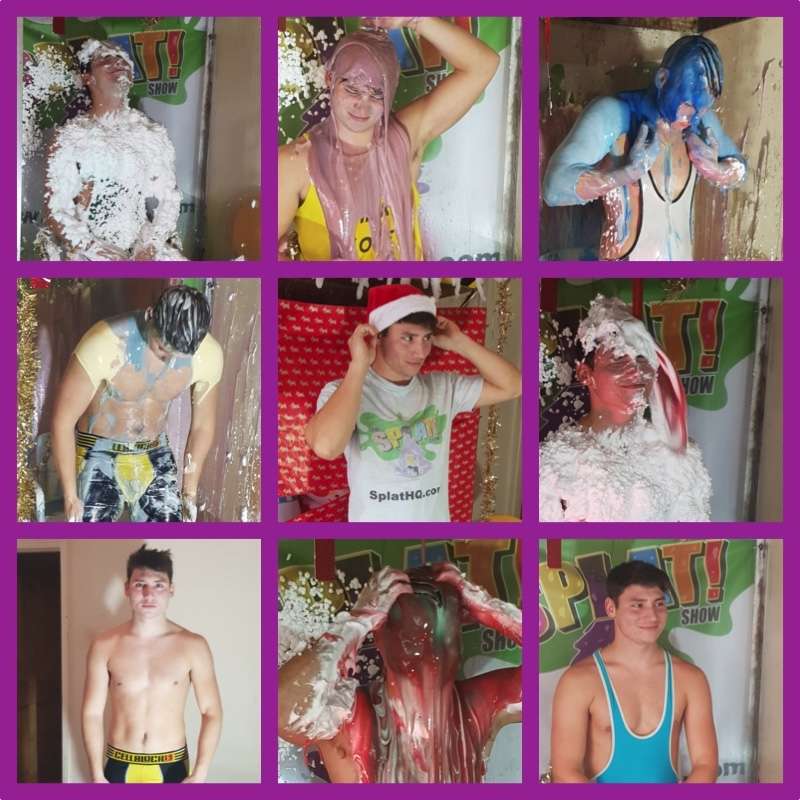 2 Festive Phil Picture Packs
View two picture packs taken at Festive Phil Shoot  just for the Fan Club. Please note that these two picture packs differ from the Festive Phil Shoot Pack available to purchase.
Festive Phil Fan Cam Footage
View the fan cam footage from the Festive Phil Shoot. Fan Cam footage is shot on a handheld camera and gives you new angles at some of the action from the shoot. Mainly used for different Gunging angles but includes other elements too. This footage is not featured in the main release and can only be viewed on The Splat! Fan Club.
View the cut footage from the Festive Phil Shoot. Featuring clean downs, cut footage and other bits that didn't make it into the show edit.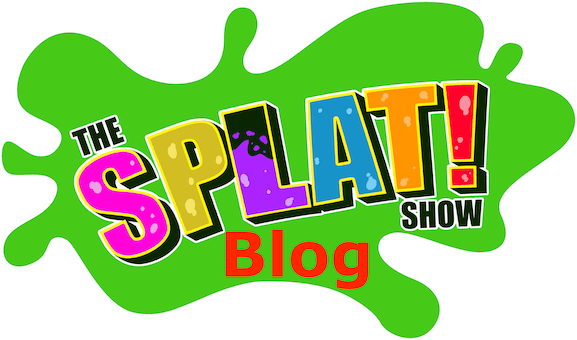 Find Out More About The Production Of This Splat! Show
This Splat! Blog entry is written by show co-producer James. Read more Splat! Blogs on other show pages.
Necessity is the mother of invention they say and, whoever "they" are, have clearly seen how we plan and shoot the Splat Show. Today was one of those days where we had a FANTASTIC plan…. and promptly threw it out of the window. I'm not saying that nothing went as planned today but anyone who was watching on the live feed will have seen a lot of improvisation going on (well, until I tripped over it and accidentally stopped it!). Know what though? When the star of the show is the fantastic Phil, it doesn't matter how chaotic things go, you know you're on to a winner.
It's the start of November, you're getting over the candy overdose that is halloween but for us that was WEEKS ago with Benji and we're stepping up for Christmas (at this rate we'll be filming Easter in December and back on Halloween in April). Phil was very much Pete's idea but Pete has impeccable taste. I had very fond memories of our first shoot with him (okay, I had very fond memories of the photography part especially) but decided not to check back in the blogs just in case what I wrote at the time didn't tie in with my memory! That was back in August though, only fractionally before the shops actually stocked Christmas things. So roll forward to November and the big day…. well actually it started a couple of days ago with a sketch pad and how I wanted the tank to look. Then there's the shopping and the checking that what's been purchased actually ties in with the idea I had. Turns out when we actually opened the packets this morning it wasn't quite was I thought I'd purchased and that was plan number one out of the window. Still, as usual, a "small" amount of over purchasing may have happened and about 20 minutes later the tank was mostly done. You see that's one of the many things that doesn't really come across on screen…. the set up time. Even a basic show needs a certain amount of setting up and a Christmas special is definitely NOT a basic show. Put it this way, this is the first time Pete asked me to clean the tank BEFORE the start of the shoot. So please freeze frame before the first gunging and witness the metal supports looking cleaner than they have in a very long time.
Next up is the gunge mixing. On average we mix up 11 buckets of gunge or so per shoot. Each bucket only takes a few minutes to mix up BUT multiply that up by 11 and even the mixing stage takes quite some time to do. We multitask (yes, we actually can do two things at once…. occasionally) and go through the plan for the day. Pete has some interesting ideas for the day but in the back of my mind I can't quite see it working, so we do the NEXT stage of improvisation and change the running order. I'm not saying my suggestion was perfect but when planning a Splat Show, we've (finally) learned that if we both go through ideas and new games then we're less likely to have critical fails whilst shooting (oh alright, *I've* learned to run things by Pete….. so back in the archives for one of Jon's shoots where my ideas really didn't work!)
Phil arrives and yup, he's EXACTLY as laid back as I remember him. Pete and I put the finishing touches to the tank and after the briefest of health and safety reminders, it's 1319 and we get started. Just remember that I've been since 10am and Pete is still just the tiniest bit jet lagged.Still, this is why we have caffeine…
Now, as with these blogs, I'm going to try and avoid too many spoilers. The interview REALLY takes me by surprise. No really. I just about keep my mouth moving to ask questions but see if you can spot the moment where, off camera, my jaw really drops. Phil gives us the goods though when the string is pulled and there's a gleam in Pete's eye that says he's happy with how things have started.
Guilty confession time…. if at any time there's a note of desperation, it's because for once, I'm the one that's set the deadline for the end of the shoot (ie I have a train booked). We've started later than planned but Phil is an absolute natural in the tank. I'm on question reading duty and Pete's on snow duty…. and Phil, of course, is trying to answer the questions. Which, as always, means that both Pete and I have to make judgement calls about how much help to offer. So, here's a serious question for you all…. how much help should we actually give? Do we get the level right or are we too nice? Today, we were nice as it's "Christmas". Well nice-ish. We can't let someone as hot as Phil leave the tank clean now can we!
The next few segments go fairly smoothly, then the tank decides to play up and Pete hands me the scissors to do the emergency balloon-ectomy. Thankfully the white chair doesn't object to being drenched in cold water. I deny there was any kind of shriek from me when the ice cold water also decided to try and wake me up as well! As I fill the tank for the umpteenth time, I also realise that the plan we have for a topless tank segment or two (as in the tank is topless, trust me, you'll see a LOT of Phil's fantastic pecs) isn't going to work, partially because of the time limit but more because my arms and balance wouldn't have been good enough. So we do MORE improvisation and re-work the end of the show.
So, skipping over the remaining segments and getting to the last thing we film…. messy e-mails. We wanted to bring this back for the anniversary year but it might not return in its current form. Most of the requests we got were doable but, as much as I would REALLY love to do a few of the more interactive ideas….. Phil has a girlfriend and I didn't have her permission to get too hands on. Also…. well Phil is a model but not "that" type of model so we had to cross a few things off the list (sadly sadly sadly). We kept in the as the last bit though. And you know how sometimes you instantly know you've made a major mistake? I suddenly realised that I was going to have to clean the tank at the end and man it STANK.
Phil's an amazing guy. Yes, I probably have a bit of a crush now if you must know but he knocked us for six today with just how fantastic he was. We've had all kinds of issues over the years with models who aren't massively keen on certain things (yes, we have had models who have said outright no to certain stuff) but not Phil. The laid back hunk on the screen is exactly what you would have seen when the cameras weren't rolling if you'd been there. Totally at ease with everything we literally threw at him…. I'm going to be keeping my eye out for him in the future because anyone who gets to work with him has got themselves a damn talented guy. He leaves at about 4.30. That means in three hours he fimed seven segments, none of which were really "easy". Pete and I had a conversation once he'd left about one particular segment. We are totally honest at Splat but both Pete and I *really* hope Phil wins our Tour de Gunge.
That leaves me 60 minutes to empty out 11 buckets of gunge from the base of the tank, scrape down the sides (again), clear up a LOT of empty custard cartons, cans of foam and a can of . I injured my foot earlier in the year (not at Splat though, now that could have been an interesting discussion!) so I depart just before 5.30 and make it down to the station for my train. It's an empty carriage so I get to flick through the pictures from the day. New camera. Stunning Phil. You're in for a treat.
Happy Christmas to you all. Unless you're re-reading this in April in which case, we're probably filming the halloween special whilst you're overdosing on chocolate so happy errrrrrrr halloweaster. And I'm probably sitting in the corner planning next Christmas. And I know who I want in the tank….. 🙂
Check Out Phil's Other Splat! Shows...