The summer 2018 heat wave has passed which has enabled us to get back to shooting our shows. We couldn't be happier to get the Gunge Tank back in action and more importantly invite new Splat! contestants on the show. And what a fantastic contestant Phil turned out to be, so fantastic in fact that we chose his show as our mid-season special! A sure sign before you even watch the show that Phil is something special.
So we have a great contestant in Phil but a show wouldn't deserve the mid-season title if the Gungings were lacking, but thankfully the gungings are up there with some of best this season. If THICK gunge is your thing then you are going to love what you see in this show. Enjoy this very special show and we really hope you enjoy watching Phil for the first time! We are sure you will see more of him on Splat! and elsewhere. Enjoy!
Ps. Why Filled Up Phil? Watch the pistermind round and you will see the inspiration for this shows title…
This Show Features…
The Splat! Interview
Brand new contestant means it's time for us all to get to know them in The Splat! Interview. Phil lives closer than most contestants to Splat! HQ and hails from Birmingham. If you love a Brummie accent then you will love this interview as we get to know Phil. We touch on all the important subjects as Phil sits patiently in The Gunge Tank awaiting his first ever Gunging. Then that time comes for the Gunge Tank to do what it does best and Phil's first thick gunging of the show takes place.
Foam Me Up – White To Black In a Blink Of An Eye
It's time for Phil to expeirence this seasons signature game in Foam Me Up. You should know the rules by now. Phil has to answer some general knowledge questions correctly. If Phil gives us an incorrect answer then the foam is sprayed. Once Phil is completely "Foamed Up" it's game over and the Gunge Tank is triggered which is full of thick black gunge to contrast a very white and foamy Phil. Of course we used this round to show off Phil's fantastic modeling bod in speedos!
Piestermind – Specialized Subject Round
After losing the general knowledge round Phil hoped he would perform better in his specialized subject round. Phil chose the very broad topic of Football for Piestermind which could be a bit risky due to questions the selection could bring up. Thankfully for Phil he did better in this round than the last round but still failed to answer questions, mainly regarding women's football. Phil got more questions right than wrong so did avoid the Gunging initially but was sporting enough to risk the tanking for the killer question. This is why Phil is a Splat! Star, he knew the viewers wanted a tanking and took the risk on the killer question and we are thankful he did and we think you will be too because the inspiration for this shows title, Filled Up Phil, is taken from this gunging. Surf suit. Open zip. Gunge Fills up Phil. Genius.
Wetter And Better Or Slimed and Stupid?
This is a game we played with Jamie but for Phil we made some tweaks to improve the format. Phil has to try to answer four (changed from three) Maths based questions correctly before the end of the quiz to be ""Wetter And Better" and to end the game to avoid being "Slimed and Stupid". BUT for each correct answer Phil gives he is sprayed with water (the balloons are gone) from the blasters and a bucket of water if he wins the quiz. Was it a mistake of us to dress Phil in a white singlet for this round? You decide.
The Splat! Debrief – Let Me Trash This Rival Teams Kit
In this final segment of our mid season special we dressed Phil in a Arsenal football tracksuit (thanks Ash!). Phil being a HUGE Liverpool fan was more than happy to get completely trashed in a rival teams strip. So thats what we did after we interviewed Phil in the Splat! debrief. It's a rare thing when a contestant wants us to add more and more gunge in the finale, but thats what Phil asked to ensure the kit was trashed so we of course did what he asked. THIS is another reason why Phil deserves the Mid-Season special title!
Video Details and Legal Information
Video Length: 1 Hour, 4 Mins and 13 Secs.
Splat! Guest Care:

Learn how we cast and look after our guests you see on the show here.
Release Status: Guest has signed a release form and given us legal consent to release this material on this website and select third party partners. Learn more.
Copyright © The Splat! Show: Do not repost or share any files you download from us. Seen our content elsewhere? Report it. Read more about your legal obligations.
Content Guidelines: Some shirtless scenes and no swear word usage. If we had to give it an age rating it would be PG. Learn more.
All shows and content will be available unless we need to remove it as per our terms and conditions.
Aspect ratio of images have been altered and cropped from the video download. Video download plays full screen in 16:9 ratio. 
Also Available From This Shoot...

Phil took on our famous Splat! Storm. The Splat! Storm is a relentless deluge of gunge from all directions. Gunge blasters, foam cannons, bucket throws and tank drops. There is nothing quite like the Splat! Storm. Running time: 7 mins 09 secs. Presented in 4k. Video download plays full screen in 16:9 ratio. 
Download Phil's Picture Pack that includes 25 high res pictures. Taken at his Splat! Show Shoot. These pictures were shot especially for this picture pack and are not screen shots from the show. This pack is different to the Fan Club picture pack.
Ben and Phil face off in the public Gunge Tank Vote. Viewers ultimately decided that Ben should get the instant Gunging with Phil attempting to escape his Gunging in the Great Gunge Tank Escape. Phil failed to escape so both got it!
Aspect ratio of images have been altered and cropped from the video download. Video download plays full screen in 16:9 ratio.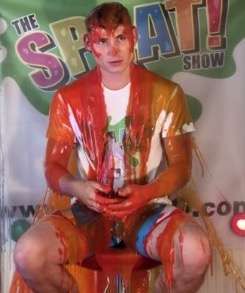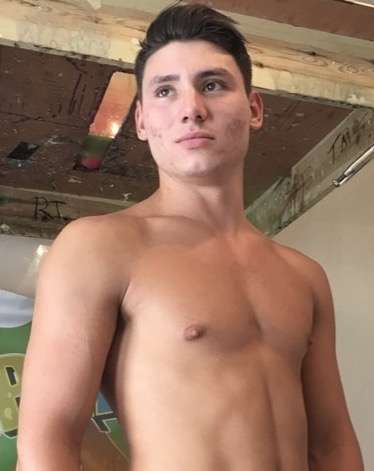 Filled Up Phil Cut Footage
Catch the cut footage from Phil's shoot. Over 20 mins of extra footage including banter and clean downs.
I think I've said it before that I write these blogs on the train back from filming. Everything is fresh in my memory, it passes the time and, more importantly for me, they act as my post event therapy.  Yes, I still have body and anxiety issues but with every Splat shoot I'm at I learn to cope with them just a little bit better. Except today when I think I must have totally left them at home as I managed something I've never really done before at Splat. Today I've left the shoot knowing that although my issues will always be somewhere… well let's just say for now that I'm on the train with a goofy grin on my face and I'm riding the wave of one hell of a confidence boost. But that's the end part of the story.  Today started quite some time back…
After all the recent issues there have been with the weather, models, my health, today almost felt unique in that the date was set a while back and didn't need to be changed, the model was really communicative and we had the script mostly planned in advance.  Given I've spent the last four days with my family, this was always down as a stress relief day as it were.  With the script planned out I even managed to do most of the supply shopping well in advance (I still think that self service checkouts are the greatest thing that could have happened to the Splat shopping I do). That just left me four days of gross over eating and trying to ignore the fact I'd damaged my foot to get through before I could let rip with the gunge. Trust me, this is relevant for later on.
So, the draft script… A week or so back Pete sends me a link to a google doc that I then read through and comment on.  I already know the chances of the final show being 100% the same as the draft is pretty remote but at least I get to see the rough plan and leave my comments.  There's one bit that I instantly dread as it's one of those things that will look great on screen but will be a back breaker.  There's a game that Pete wants me to write the questions for and there's a certain tongue in cheek comment about the specialist round meaning I'm really happy for Pete to sort that one out. All I need to do in the week or so is remember to write one game.  So of course I inevitably write it on the train journey in as family, inevitably, took up way more time than planned.
By the time I get there (10.15 or so) Phil has already asked if he can arrive at noon instead of 11am.  We actually get a leisurely set up! Seriously you have no idea how much difference this makes. Actually having time to think things through and prepare before the star arrives means that we are relaxed and calmer when he gets here.  We even have time to replan a few things when some items aren't as plentiful as thought.  Also…. without a live feed we don't feel rushed or have the need to fill time.  That's NOT why the live feed has been put on hold, uStream changed the terms of their service and until we find a replacement we can't bring them back.  Once Phil arrives we can go through everything with him and not have him feel "watched" from the word go. Between games we can get things set up without worrying about our arses filling the live feed (okay I admit it, I feel more self conscious on the live feed than I did when I did my two shows). It also means I'm not going to tell you much about the games so it's a surprise for everyone! 
The only thing I'll say is….. oh god the guilt! Seriously, I felt REALLY bad at one point.  Trust me, buy the show and you'll know what I'm talking about.  Phil was utterly brilliant but yeah, I felt bad.  Sorry sorry sorry!
We finish by 3.30.  Well I say "finish", that's when Phil departs.  Pete and I still have the tank to clean, the bathroom to wash, the supplies to tidy, the…. you get the picture. BUT it's in this bit that the miracle occurs.  We always skim through the footage once the star has gone.  As you can imagine, this is often a mixed experience for me.  Yes, I love seeing the result of the day (and if you haven't purchased the show yet then you're missing out on a true doozy of a show and I'm not just saying that because I assisted on it) but there are always those brief moments where I see myself on camera.  This has been a painful experience in the past.  Today… know what? Seeing myself briefly on screen didn't eat me up.  I remind myself I'm considerably older than Phil.  I've just had four days of being forced to over eat by my family.  Phil is in Lycra that's cut to make his arse look fantastic.  I'm in baggy trackies.  I was terrified the remnants of my limp would be seen on screen… not a trace. My brain is actually NICE to me.  I have worn that Lycra and I remind myself that people have messaged me on twitter to say I wore it well.  So I sit on the sofa, happy to see myself flit on and off screen.
Seriously, I've been doing Splat for a year now… that's never happened before. 
Tomorrow is another shoot with another new model.  Splat being Splat, there's really no way of knowing what will happen tomorrow.  The bit that filled me with dread on today's draft script thankfully never made it into today's show.  It might end up in it tomorrow, we might suddenly need to redesign a game due to supplies that disappear into thin air again.  The star is going to really have to go some to beat today's shoot with Phil.  But that's tomorrow.  Tonight I'm heading home knowing with 100% certainty that Splat has really changed me for the better.  To everyone who has messaged me on twitter…. trust me, you have made one hell of a difference.
Check Out Phil's Other Splat! Shows...