Gabriel Phoenix is one of the country's hottest adult stars (and he has the awards to prove it) but from the moment he entered Splat HQ it was clear that his personality was just as big as his… trophy 😉 This is probably Splat's liveliest shoot in a long time, with pies and innuendos flying and language occasionally as colorful as the gunge. Gabriel's made a big impact in his scene and something tells us he's about to become quite big in the gunge scene as well!
This Show Features…
The Interview: Gabriel's never been gunged before, so whilst he awaits his first tanking, we ask him about his life, his job(s) and just how do you juggle his work and the rest of his life? We found it impossible not to like Gabriel from the moment he opens his mouth (and his life) and when the cord is finally pulled… well, we think it's clear that Gabriel is going to be up for anything and a real Splat star.
Lucky or Mucky:
Season 15's traditional game… only it doesn't quite go to plan! However, the new rules that are hastily put in place give James a chance to ramp up the tension and Pete a chance to see how far Gabriel's general knowledge extends. And the eventual tanking has quite an effect on Gabriel in the surf suit!
Piestermind:
Won over by Gabriel's charm, and acknowledging that maybe general knowledge isn't his strong point, Splat's generous enough to let the star select a specialist subject. Just how well does Gabriel know his movies? Enough to avoid the custard and the pies? And this time round, he's not going to get away with misbehaving in the tank once the gunge flows. But secretly, we think he really likes it by this stage!
Foam Me Up:
It's back to general knowledge which pretty much guarantees that Gabriel's about to disappear under a mountain of foam… and that's before he realizes a lot the questions are on the subject he really doesn't know much about! Watch out for an impromptu impression towards the end and Gabriel struggling to talk with his mouth full of foam!
Farewell Interview:
You'll notice that Gabriel doesn't even start this interview clean, but you'll have to join The Splat! Fan Club to find out what happened after Foam Me Up to leave him in such a messy state. Whilst he's messy though he gives his feedback on his first day of gungings, tells us who he'd like to share the gunge tank with (you wouldn't guess in a million years) and vows that he'll get revenge on Josh (yes, THAT Josh) for putting him up for this. And yes…. It ends in the very traditional Splat style!



Video Details and Legal Information
Video Length: 59 Mins, 14 secs
Guest Care: Learn how we cast and look after our guests you see on the show here.
Release Status: Guest has signed a release form and given us legal consent to release this material on this website and select third party partners. Learn more.
Copyright © The Splat! Show: Do not repost or share any files you download from us. Seen our content elsewhere? Report it. Read more about your legal obligations.
Content Guidelines: Some swear word usage and some shirtless scenes. If we had to give it an age rating it would be PG. Learn more.
Splat! Split & Switch Status: This feature length show is enabled for Splat! Split & Switch.
All shows and content will be available unless we need to remove it as per our terms and conditions.
Aspect ratio of images have been altered and cropped from the video download. Video download plays full screen in 16:9 ratio. Video does not include Splat! Logos as seen in the images.
Also Available From This Shoot...

Gabriel took on our famous Splat! Storm. The Splat! Storm is a relentless deluge of gunge from all directions. Gunge blasters, foam cannons, bucket throws and tank drops. There is nothing quite like the Splat! Storm. Running time: 6 mins 50 secs. Presented in HD & 4K. Video download plays full screen in 16:9 ratio. 
It's Gabriel VS P.T Steve in the Gunge Tank Vote! The results are in and P.T Steve received the most votes and was instantly Gunged in the Gunge Tank. Gabriel had to try and avoid the Gunge in The Great Gunge Tank Escape!
Aspect ratio of images have been altered and cropped from the video download. Video download plays full screen in 16:9 ratio.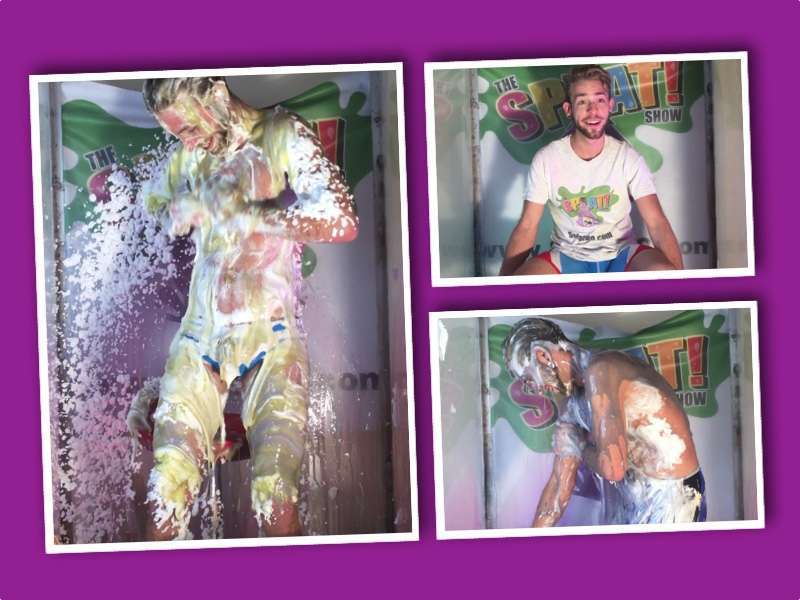 Gabriel's Flans From The Fans
Gabriel takes on the Splat! Fan Club exclusive series, Flans From The Fans! Just how many flans will the fans send Gabriel's way?
Glorious Gungings Cut Footage
Catch the cut footage from Gabriel's Glorious Gungings Splat! Show shoot that didn't make it into the show edit. Including pre and post Gungings and clean downs.
Lean more about the production of this show..
It's the start of another two days of shooting with Splat and it's something of a big weekend (again).  Both days involve faces that aren't just new to Splat but, as far as we know, new to gunge.  This makes it a leap into the dark for everyone, and potentially two very difficult shoots.  So I do what every sane person does.  I leave the house at 7.15 to head off for the train station, whilst pouring several cans of energy drink down my throat, getting as much chocolate inside me as possible and then spend the train journey playing computer games.  Anything to stop my brain reminding that the first virgin is one of the UK's hottest adult stars.  And I'll be in the room with him.  And he'll be in lycra…. I just hope no one asks me why I'm carrying a backpack full of cans of shaving foam and a carrier bag full of custard.  That could be a difficult one to explain away.
Arriving at HQ, Pete and I go through the plans for the shoot.  We can't do anything too risky, we both know all too well that if the model doesn't take to gunge then we're going to be on difficult ground.  On the flip side we can't make it too "plain" either… decisions decisions.  We also realise we don't know if Gabriel is going to be happy to talk about his work on camera as he does other jobs as well.  So instead we concentrate on the most important decision of the day. What colour gunge to start off with in the tank.
We gamble on pink.  Gabriel arrives.  We make our introductions.  And our worries fly out of the window.  Not only do we know that pink is a great starting colour but we know from the start that Gabriel is going to be very easy to work with.  Whilst he gets into his first outfit, we breathe a sigh of relief. 
Let innuendos commence!
No shoot is ever what I'd call straight forward but having someone like Gabriel in the tank definitely makes things so much easier.  He's easy going, relaxed and very easy to talk to.  The interview segment goes pretty smoothly and, even better, Gabriel seems to readily play up for the camera and knows how to entertain.  If anything, I'm finding the shoot hard to concentrate on not because he's a huge star but more because he's making me laugh so much! I keep reminding myself that Splat is very much supposed to be PG.  Mentally I decide to "accidentally" stretch it to a 12… though with Gabriel's use of language I think we're very much in the 18 category!
Lots of bucket lugging goes on.  For a five segment show, the tank probably has to be loaded at least three times.  And it takes a LOT of gunge to fill it.  I'm determined that my dysmorphia isn't going to get in the way today so I tell myself that all the lugging around counts as my gym workout for the day.  It's definitely very good for the arms and shoulders and back! I'm definitely insanely jealous of Gabriel's confidence but he's so entertaining to be around that I can keep my brain in check.  That and I know Pete is looking out for me.  He knows my issues, he knows what I can be like and drops the occasional check on me whilst Gabriel's out of the room.  Today though is a good brain day. It doesn't wander where it shouldn't.  Even my hands stay mostly under control, it's just my tongue that lets the occasional rude comment slip in.  They're accidental.  Of course.  Mostly.
The day flies by.  We thank Gabriel for being such a good sport and he heads off.  I start work cleaning the tank and Pete starts cleaning up the rest of the room.  He's even good enough to point out that if I reset the stopper in the tank it won't drip on me so much whilst I'm in there (yes, I like gunge, but not whilst I'm supposed to be cleaning!).  Pete and I chat for a bit and then I take my leave… I've offered to do the planning for day two, so I've got to get home to actually write the thing.  The train ride home though is far less stressy than the journey there.  
I've just worked with a adult star… and when you buy the video I'll leave it up to you to decide how much of the flirting was real and how much was put on for the show.  In my mind I know the answer…