This is it, the final Jon and Friends this season. For the final we asked Splat! Show fans and viewers to apply to star with Jon in the final Jon and Friends. The response was fantastic! In the end James, @Fitgeek_UK on Twitter, was chosen to come and along and film the final Jon and Friends.
It has been noted that Jon has been quite a mean guy in the previous shows towards his friends, so has he met his match with James? The only way is to watch and find out! This show, since it is the final after all, features more mess than the previous Jon and Friends and was really fun to film!
Oh, and before you download the video, please make sure you watch the video diary that James was kindly enough to film on the day. You can find it at the bottom of this page and a link to the video to the left under "Preview This Show".
This Feature show includes
The Interview: Jon interviews James and talks about why he was selected for the final four and why James wanted to do the show. James touches on some very interesting topics during the interview about himself and the show. The interview ends with a Gunging with James still wearing his glasses. Classy!
The Buzzer Round: It's no secret that Jon plays to win the games and avoid the Gunge. James told us he would also play the games fairly even though he likes getting gunged. James knows that many fans like to see Jon fail and end up the Gunge Tank and in this round, he did just that!
Stop the Snot: If you have seen Jon play Stop the Snot in our previous shows you will know he is REALLY good at this game. But again James played it to win. He put up a really good fight but Jon is just to good at this game. Watch Jon's reaction when he pulls the Gunge Tank lever on James, we think Jon might be enjoying it a bit too much…
Jon's Balloon Challenge: The game that Jon created especially for the Jon and Friends shows. James has to try and blow up the balloons while Jon tires to distract him with torrents of gunk and as this was the final show, Jon went all out. There are some classic bucket splashes and more in this segment. It's no wonder that James only managed to blow one balloon up!
Finale: Jon knows that the more Balloons his friend inflates in the previous game the closer he will be to the Gunge in this final game. Jon has to pop the balloons that James blew up before the timer runs out, sadly for James he only managed to blow one balloon up. Jon took around 15 seconds to pop the balloon and thought he had avoid the final gunging. WRONG! This is the final Jon and Friends so of course we let James pull the lever!
Wrap up interview with James: We finish the show off with a wrap up interview with James to discuss the shoot and his health issues. It's a great insight and it may help you if you are going through a similar issue with body image.
Video Details and Legal Information
Video Length: 1 Hour, 15 Mins.
Guest Care: Learn how we cast and look after our guests you see on the show here.
Release Status: Guest has signed a release form and given us legal consent to release this material on this website and select third party partners. Learn more.
Copyright © The Splat! Show: Do not repost or share any files you download from us. Seen our content elsewhere? Report it. Read more about your legal obligations.
Content Guidelines: Some swear word usage and no shirtless scenes. If we had to give it an age rating it would be PG. Learn more.
Splat! Split & Switch Status: This feature length show is enabled for Splat! Split & Switch.
All shows and content will be available unless we need to remove it as per our terms and conditions.
Aspect ratio of images have been altered and cropped from the video download. Video download plays full screen in 16:9 ratio.
Also Available From This Shoot...
It's Splat! Fan (and producer) James against Jon in this special "Custard Pie" vote. We asked who should get the custard pies and you voted for James. Jon had then had to try and avoid a trip into the Gunge Tank by playing The Great Gunge Tank Escape.​
Aspect ratio of images have been altered and cropped from the video download. Video download plays full screen in 16:9 ratio.


Jon and Friends Revenge Splat! Special: After completing three head to head specials with his friends, Jon faces revenge when he gets sent to the tank at the end of the Jon and Friend's finale shoot for one epic Gunging. Justice has been served!
Presented in HD. Running time: 12 mins, 59 secs. Plays in 16.9 ratio. Preview images cropped.
Jon and Friends 3 Picture Pack
Download Jon and Friends 3 picture pack that includes 15 high res pictures. These pictures were shot especially for this picture pack and are not screen shots from the show.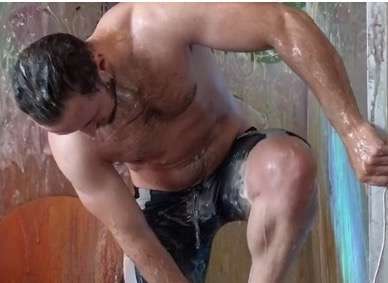 Jon's Friends Get Their Own Back Cut Footage
Check out the cut footage from the Splat! Special: Jon's Friends Get Their Own back. Including post and pre Gunging moments and clean downs.