It's now clear that Jon is our top contestant. We love working with him and it appears he loves working on the show and interacting with the fans. We work really hard to cast the contestants that appear on the show and we have worked with Jon for years now. We don't hold our contestants to contracts that they can only appear on The Splat! Show, we don't do that. So when we were approached by another site to ask if Jon would be interested in appearing in one of their videos we of course asked Jon and he said as long as it was ok with us, he would love to! So Jon went and filmed with them. It was a nice day out for Jon, even if he got Gunged but we were really looking forward to Jons return to his natural Gunge home on the Splat! Show. So in this show, we welcome back Jon with some fantastic brand new games. This is Jon's Homecoming special, his season 16 solo show!
This Show Features…
Jon's Catch Up Spin
This is was Jon's first full Splat! Show appearance for a while. He was last seen on Splat! during a private session earlier in 2018 but this show marks his first solo show for the season. We catch up with Jon with an interview. But there is a catch. After each interview question he has to spin the Splat! Wheel. Where the wheel stops is what Jon will get. As this is the start of the show the forfeits were on the tame side but still fun and messy. The game ends with a tanking!
Mucky Duckies
We have featured a game called Mucky Duckies in season 14 but this version is completely different. Jon has to fish out the rubber ducks from the vat of gunge before the time runs out. Each duck has a number written on their bellies. The remaining ducks left in the vat after the time runs out will dictate the forfeits Jon will receive…will he get the tanking too?
The Splat! Show Phone-In Battle
The Splat! Show is now interactive! If you are a fan of the show and want to help get our contestants gunged you can now take part in our Phone In Battle just like Tim did! Tim rang in LIVE during the filming of the show to try and get tank Jon. Jon did his best to fight our viewer LIVE on the show but did he succeed and stop the tanking or did our viewer on the phone release the tank!? If you want to take part in a future Splat! Phone-in Battle you can apply by emailing us at splathq@gmail.com
Balls To That and Ring Toss Double
The day before this shoot Jon took part in his first ever round of Balls to that with Adam (you can see that in Battle Royale) and was disappointed that he did not break our season record. So he asked if he could have a go at the game and try and break the record. So we granted him his wish. We also added on a game of Ring Toss too. If Jon could get all the color rings over the corresponding colored pots over two rounds he would avoid the Gunge…how does he do? Watch and find out!
Finale – The Splat! Wheel Of Torment
The Splat! Wheel is back for the finale of Jon's Homecoming Special and this time it's much more cruel than when it first made an appearance in the opening segment. Now the Wheel is the wheel of torment! Jon has three spins of the wheel and wherever it lands, thats the mess he will get. Cold water soaking, beans and a mega gunging await! A fitting end to Jon's homecoming!
Video Details and Legal Information
Video Length: 1 Hour, 11 Mins and 20 Secs.
Splat! Guest Care:

Learn how we cast and look after our guests you see on the show here.
Release Status: Guest has signed a release form and given us legal consent to release this material on this website and select third party partners. Learn more.
Copyright © The Splat! Show: Do not repost or share any files you download from us. Seen our content elsewhere? Report it. Read more about your legal obligations.
Content Guidelines: Some shirtless scenes and swear word usage. If we had to give it an age rating it would be 12 or 15. Learn more.
All shows and content will be available unless we need to remove it as per our terms and conditions.
Aspect ratio of images have been altered and cropped from the video download. Video download plays full screen in 16:9 ratio.
Also Available From This Shoot...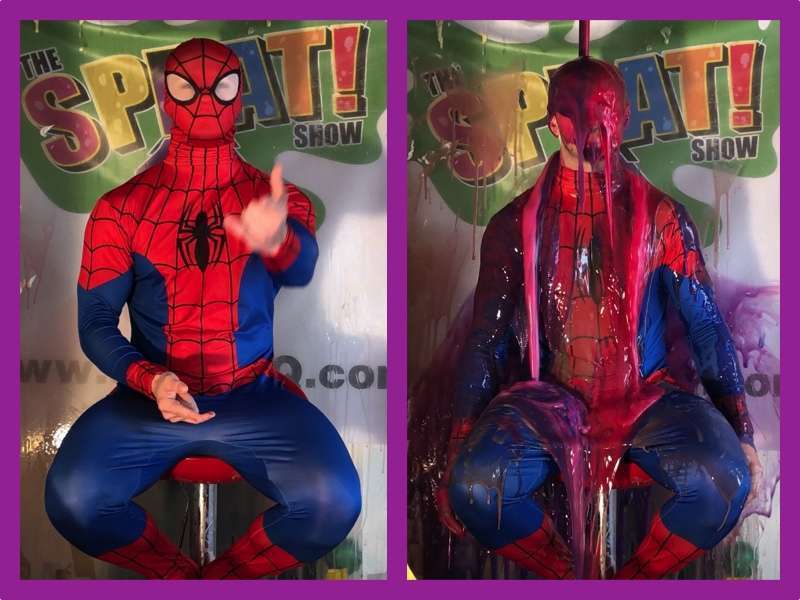 Is Jon our Spiderman? Find out on the Splat! Fan Club in Splat! Spider-Man!
For you it's probably mid/late May but at the time of writing it's late April and Splat has just wrapped on one of its more experimental shoots.  Splat doesn't rest on its laurels.  There are always new games to play and new ideas to try out… but there's a snag.  How do you try out new ideas and iron out the wrinkles when doing a retake isn't really possible? When I did the Halloween show last year it was really more a way to try a few ideas and see what was possible but as I'd actively been involved in designing them it wasn't really a fair test. Really you need someone who's comfy on camera, comfy with Splat, happy to wait around whilst things are ironed out and experienced enough that we can trust him to make the show work, even if the games don't.
In short… you need Jon.
Today was definitely one of those days where we shot what we shot because Jon is such an impossibly nice guy.  The happy go lucky and occasionally fiercely competitive guy you see on screen is how he is between games as well.  He will talk about anything and has a body to die for bit there's no ego there.  Competitive yes (don't I know it!) but with a smile and a sense of humour.  Lycra clad sexiness with a smile that cuts through the thicker gunge. We start with the "traditional" catch up interview but with our new prop. We have a spinning wheel which we can write things on! 
First dilemma: what to write on the wheel. Specific questions? Loaded with forfeits? Get out of mess free?  How many of each, how far apart… most importantly of all, what happens if he gets the tank on the first spin? From my side of things, the wheel is large, if there are pies to be thrown or gunge to be blasted, where do I position myself so as not to block the camera? As Pete tactfully points out my aim isn't the best anyway so where I stand isn't relevant (one day I plan to save up, book Jon or Adam for a private session and just spend the day working on my pie technique!). Jon shines on camera (as always) and inspires one of the later segments.  Then, of course, he takes the tank with style.
Game 2.  Yeah okay, it turned out to be much easier than planned.  Jon is a true star and agrees to play the game again with a tighter time limit.  And in a real spirit of Splat even agrees to take another tanking.  Okay, I admit I have a bit of a gunge-crush on him.  He's an absolute natural on camera and I would happily kill to be half as body confident as him.  So yes.  I genuinely do feel guilty for how trashed he got.  Most importantly of all though, we have a superb gunging on camera AND we agree a way to make the game more challenging.  The props get put to one side rather than in the bin bag.  
Game 3 and it's Splat goes interactive.  We have a phone based quiz, Splat fan trying to get Jon tanked, Jon trying to stay clean.  We don't have time for a technical rehearsal, so I spend the quiz trying to hold the phone as close to the filming camera without it drifting into shot.  It's only after the game has finished and I know it drifted onto vision a few times that I realise we should simply have just balanced the phone on something.  The quiz is a success and it's put on the definite return list.  
Game 4 and it's one that Jon himself has asked to play.  Our concern is that it's quite quick and doesn't necessarily involve mess. Pete tags on a second part to it and we have a discussion about how we can make it work, do I sit on screen wearing bunny ears? Does Jon wear them and try and catch the hoops himself? In the end we abandon the ears and set up a more fairground like version and Jon himself puts the final touch to the game design.  That's why Splat works with him so often, his creativity.  Well that and his pecs and abs of course. It does mean though that if we tank him it's his own fault for suggesting the change to the design.  Does he stay clean? Buy the show and find out!
Interval – we film a segment for separate release.   It involves a costume, a set of questions that possibly could have been worded better (not my doing for once!) and a bucket of cold gunge.  Yes.  I feel really guilty when I blast him and no I feel no guilt for making Pete take a final decision.  I'm sworn to secrecy over the rest of it though. It does however contain Jon delivering what I thought was a perfectly timed line of pure dry humour.  Unscripted and unplanned I wanted to applaud him for nearly making me go easy on him. 
Finale time.  This is where we really rely on Jon to be a true legend as, thanks to a certain random element to it he has to sit around waiting for things to be prepared mid finale.  Pete also throws in the remote chance of letting Jon get his own back on me.  For the record, the first forfeit he gets is the guiltiest I've ever felt on a shoot as I can see that the force of it takes him a bit by surprise.  I genuinely wonder about suggesting pausing the shoot for a while but we carry on.  
The shoot is over.  By the time Jon has been dropped at the station I've got the tank clean and the room mostly back to normal.  Pete and I go through some of the footage.  The games might have been a bit rough around the edges but the show also contains one of the most beautiful gungings I've seen in terms of richness of colour.
Splat has always tried to be interactive.  From fully commissioned sponsored shoots to Twitter votes and now onto phone in quizzes… So I'm going to throw a question open to you all.  What do YOU want to see on the wheel? Should we have a "Get your own back" segment on there where the model has a chance to turn the tables?  Should there be a chance they could get away clean? Should gunge blasters go for a specific target or just rely on me hitting the model rather than the tank or the walls? 
The email address is SplatHQ@gmail.com   or the Twitter feed is @SplatHQ. There's also Instagram and tumbler… whatever your chosen method for contacting us, DO contact us.  The wheel will return but what's on it is over to YOU…