Kyle has been with Splat! for two years now. Kyle was initially our surprise model for 2016 but soon connected well with fans of the show. Last season Kyle didn't get a full solo feature show so we have corrected that with this release. A chance for Kyle to play some of last seasons most popular games along with some from the current season. So we mx and matched the games for this show. It was a real pleasure to work with Kyle again and we really hope you enjoy this show filled with some fantastic Gungings!
GRAVY WISH!
In each of the show segments Kyle has to try and win a "Gravy" token. Kyle really wants to get covered in Gravy but he will have to earn it. If he manages to collect all "Gravy" Tokens he will get his wish. We have sent this feature show to viewers who ordered the pre-shoot special as we incorporated that segment into this show.
This Show Features…
The Splat! Interview
We love to talk to our contestants, especially ones who return to the show. We talk to Kyle about his recent Splat! show appearances and "that" easter show. Kyle also talks about his friendly rivalry with Ash and much more! Kyle then get's his first tanking of the show, a nice green and white combo.
Gungy Pants
The first game of the show is actually last seasons most popular game. Gungy Pants! Yep, the first mix and match for this show is having Kyle play this fan fave. For each incorrect answer that Kyle gives he has to pour gunge into his trunks. Will Kyle get to the end of the game without his trunks overflowing, or will he get tanked? To earn the Gravy token in this game Kyle had to answer the Gravy Token question correctly.
Balls To That & Ring Toss
Next up is Kyle playing this seasons signature physical game combo Balls To That and Ring Toss. Kyle has already played a version of Ring Toss in our easter special, but this time he has to try and get the rings over some cones. Kyle has to get 50 balls into his singlet in one min to win his first Gravy token. He then has to complete Ring Toss to avoid the Gunging in this part of the show.
The Splat! Rack
To earn the gravy token in this part of the show, all Kyle had to do was agree to be put on the Splat! Rack. Yes, the Splat! Rack is back after we retired it last season. Well this a mix and match special after all! Kyle agreed to give the rack a go. During the filming of this show, England were playing their second world cup match. The result of their game would dictate the number of pies Kyle got on the Rack.
Splat! Finale: Gravy Granted?
This is it, did Kyle collect all the required Gravy Tokens and get his wish to be covered in Gravy? We couldn't deny Kyle his wish could we….?
Video Details and Legal Information
Video Length: 1 Hour, 4 Mins and 11 Secs.
Splat! Guest Care:

Learn how we cast and look after our guests you see on the show here.
Release Status: Guest has signed a release form and given us legal consent to release this material on this website and select third party partners. Learn more.
Copyright © The Splat! Show: Do not repost or share any files you download from us. Seen our content elsewhere? Report it. Read more about your legal obligations.
Content Guidelines: Shirtless in some scenes and some swear word usage. If we had to give it an age rating it would be PG. Learn More.
Splat! Split & Switch Status: This feature length show is enabled for Splat! Split & Switch.
All shows and content will be available unless we need to remove it as per our terms and conditions.
Aspect ratio of images have been altered and cropped from the video download. Video download plays full screen in 16:9 ratio.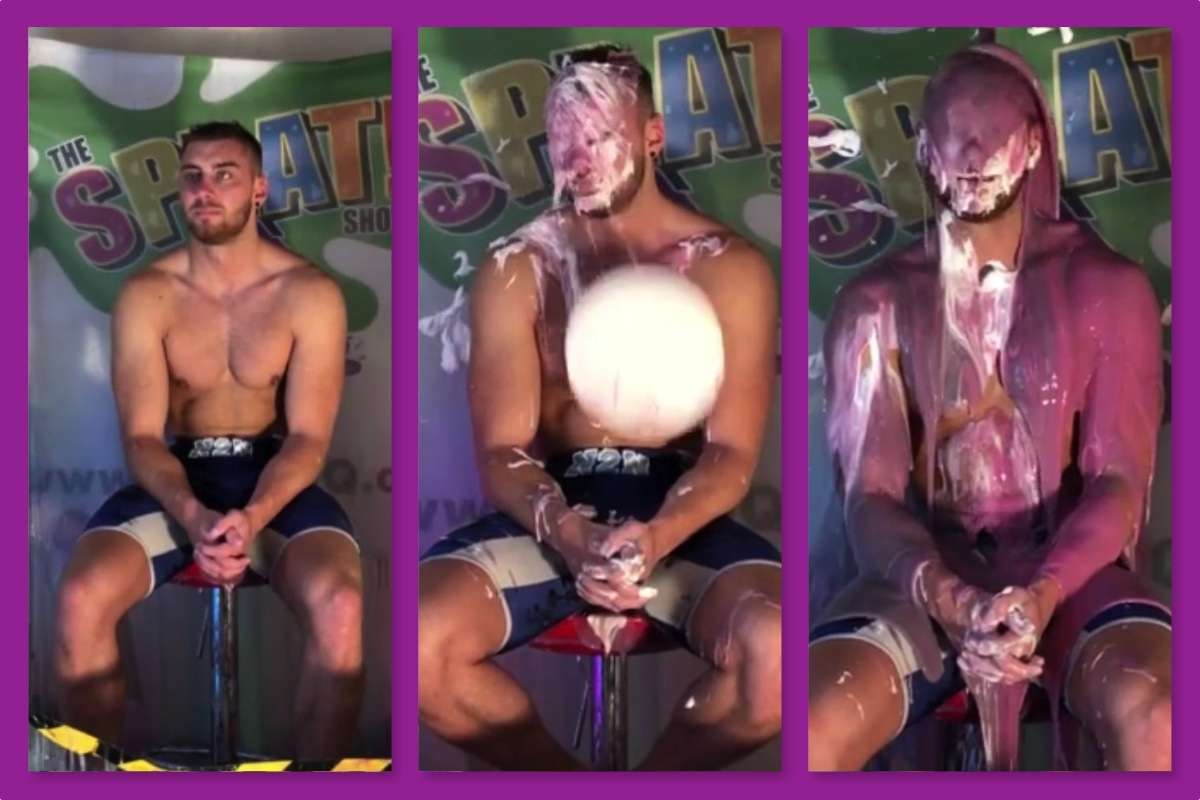 Kyle's Flans From The Fans
Catch Kyle in the Splat! Fan Club exclusive video series Flans From The Fans
Check Out Kyle's Other Splat! Shows...