Marcus or Marc as he likes to be called has a long history with Splat! If you have been following us for a few years you may of spotted Marc on the site in a run up to a shoot. Unfortunately things did not work out at the time but a few short years later Marc is finally making his Splat! debut. You could say it was fate, he was always going to be on the show! This show was co-produced by Scotland Gunge who also helped produce our fantastic season 14 mid season special with Keiron! Some great Gungings and fun new games are featured. Read on to learn more about Marc's Messy Fate…
This Feature show includes
The Interview: Don't say that word: As customary with our shows we kick off Marc's show with a interview but with a catch. There is a secret Gunge release word that will release the Gunge in the tank all over Marc if he mutters the word during his interview!
The Splat! Rack: Marc is tied to the Splat! Rack, an improvement on the first Splat! Rack game we played with HOTSteve. For every wrong answer Marc gets pied. How will he cope on the Splat! Rack? No wiping allowed! At the end of the game Marc is sent to the Gunge Tank for the results!
Gunge Tank Roulette: Lucky or Mucky is back and this time is better than ever with Gunge Tank Roulette! A number of cords are in front of Marc, but one is attached to the Gunge Tank. For each wrong answer Marc has to pull one of the cords, but will he pull the Gunge cord and effectively Gunge himself!?
Balloon Bonanza: A new game for season 15! The Balloon game from seasons past has been replaced with this new Balloon themed game. Rules are simply. Various numbered balloons are filled with gunge, water and foam and are attached to the top of the Tank. Each numbered ballon that Marc pops after getting a question wrong has a messy forfeit attached. Gunge Throws, pies and Gunge Blasts. One also drops the Gunge Tank on Marc. How far will Marc get and will he get to the last balloon before he pops the Gunge Tank?
The Splat! Show Finale: We wrap up the show with Marc with a farewell chat and Gunging in the Tank. Marc's reaction to this gunging is a pure instant classic! We hope that Marc will be back on the show soon after his fantastic debut in this show!
Video Details and Legal Information
Video Length: 53 Mins, 23 secs
Guest Care: Learn how we cast and look after our guests you see on the show here.
Release Status: Guest has signed a release form and given us legal consent to release this material on this website and select third party partners. Learn more.
Copyright © The Splat! Show: Do not repost or share any files you download from us. Seen our content elsewhere? Report it. Read more about your legal obligations.
Content Guidelines: Some swear word usage and some shirtless scenes. If we had to give it an age rating it would be PG. Learn more.
Splat! Split & Switch Status: This feature length show is enabled for Splat! Split & Switch.
All shows and content will be available unless we need to remove it as per our terms and conditions.
Aspect ratio of images have been altered and cropped from the video download. Video download plays full screen in 16:9 ratio. Video does not include Splat! Logos as seen in the images.
Also Available From This Shoot...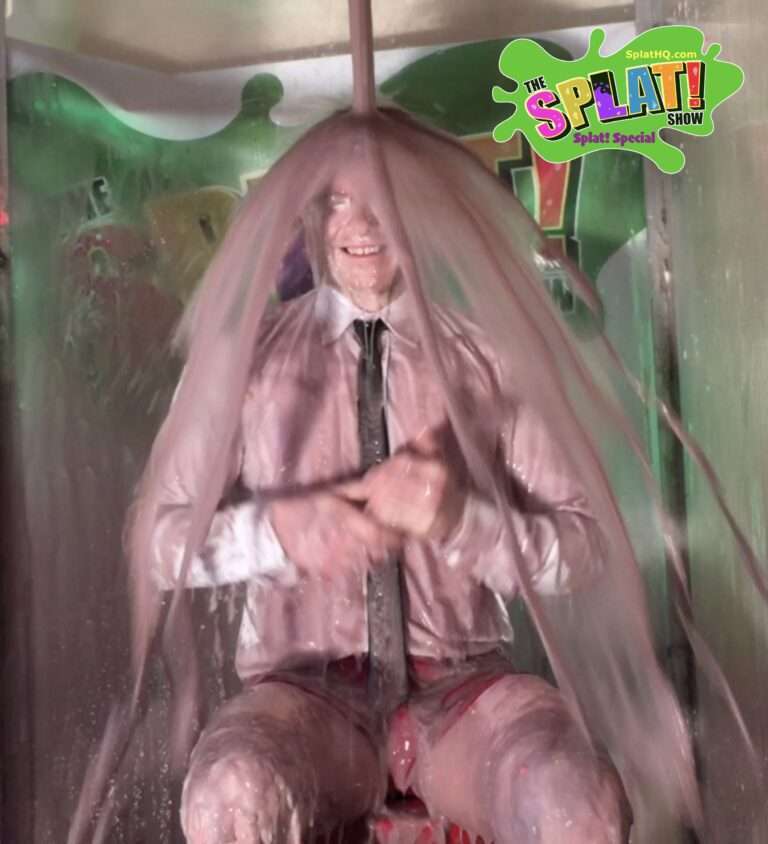 Splat! Special: Marc's Splat! News
Marc Splat! Show News – Splat! Special : Marc takes on the role of the Splat! News host where he has to try and complete his news bulletin while being Splatted. The news ends when the tank empties. HD 7 mins, 24 seconds. Plays in 16.9 ratio. Preview images cropped.
It's Brett VS Marc in the Gunge Tank Vote! The results are in and Brett received the most votes and was instantly Gunged in the Gunge Tank. Marc came runner up. Marc had to complete the great Gunge Tank Escape to avoid his gunging.
Aspect ratio of images have been altered and cropped from the video download. Video download plays full screen in 16:9 ratio.