Before the our old site closed it's doors for good, we teased our first 15th anniversary special show. That show was going to feature UK celebrity and singer Sam Callahan. Two months after we announced Sam would be coming to Splat! we shot his show. There were many doubters who said we couldn't possibly secure Sam for the show and who could blame them? Having Sam on our show is a BIG DEAL for us, and it seems for others too. Our announcement even caught the attention of a certain journalist, who claimed (among other things) that we had tricked Sam to come on the show. Well of course we didn't, we secured Sam in the correct and honest manner we secure all our guests and Sam appeared on The Splat! Show for our first 15th anniversary special as planned. His show is now ready for you to download. We can't wait for you to see Sam Callahan on The Splat! Show!
Don't forget to download Sam's Splat! Show picture pack too! You will find it below.
This Show Features…
The Splat! Interview – A Superstar Makes His Splat! Show Debit!
After months of negotiations and planning for this first 15th anniversary special, celebrity and Singer Songwriter Sam Callahan makes his Splat! Show debut. Securing Sam for The Splat! Show is dream come true for The Splat! Show team and is a fantastic way to kick off our new website and 15th anniversary specials. So how did Sam end up in The Gunge Tank? Well it's all discussed in this interview along with everything else you want to know about Sam. Of course the interview ends with Sam's first ever Gunging in our Gunge Tank!
Master Slime
For the first actual game in Sam's show we play our own version of Master Slime. Sam has 90 seconds to answer a set of simple general knowledge questions. Each wrong answer means gunge is thrown at Sam. After the 90 seconds are up Sam has to answer the "Super Slime" question to try and avoid the Super Slime forfeit! A tanking and more gunge throws.
Flan Sam
With two Gungings already under his belt, it's time to mix up the mess and move onto the pies! Sam chose music (duh!) as his specialised subject to be quizzed on. For each incorrect answer Sam will be flanned. Sometimes a game's title is all you really need to know to understand the game. Question is, will music save Sam from the flans?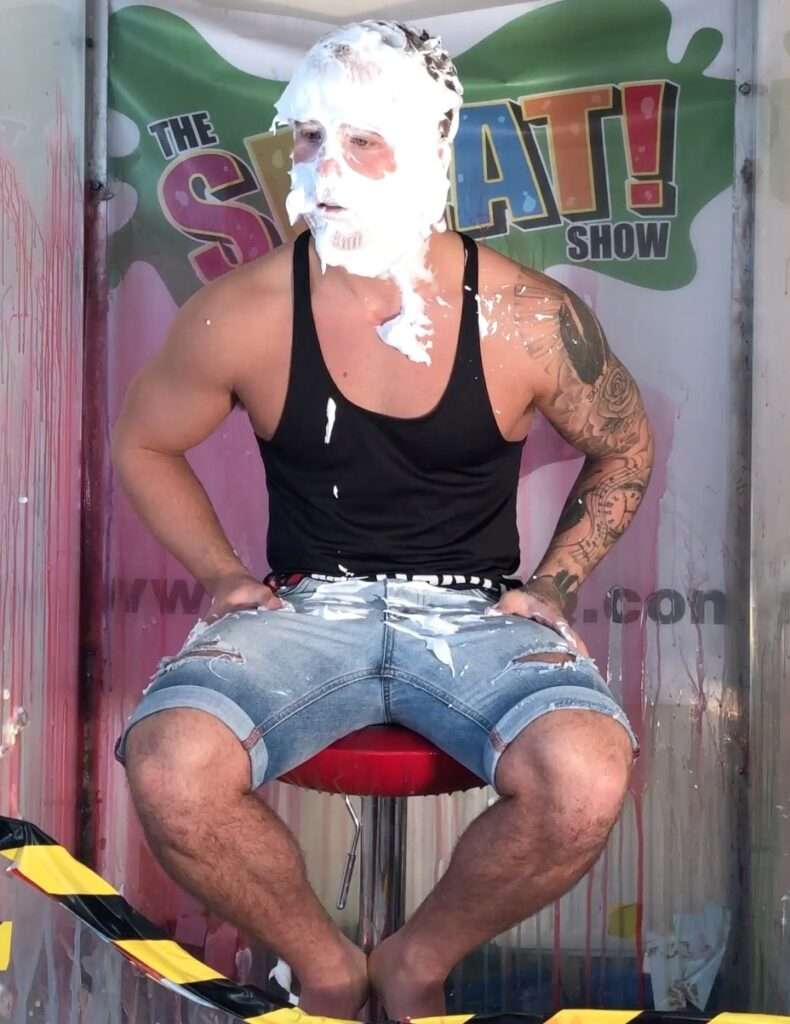 Wheel Of Misfortune
Its time to bring in the Splat! Wheel for sam to test his luck. The Splat! Wheel has the following items written on it. Head Dunk, Avalanche spray, Pie sandwich, Gunge Blast, Gunge Yourself and Tanking. Sam has to spin the wheel of misfortune until it lands on the "Tanking" part which will end the game. How long will it take Sam to spin the wheel and end the game? Whatever happens, it's going to be a messy one!
Finale: Name That Tune
We had to end the show with a music theme. After all Sam is a terrific singer and talented songwriter. In Name that tune Sam has to correctly identify a song from a collection of lyrics presented to him. Sam needs to get more than eight right to win the game and avoid his final tanking in the Gunge Tank. Anything less than eight and Sam gets it!
We want to thank Sam for being a great sport by agreeing to come on the Splat! Show. Sam was a pleasure to work with. Sam is a genuine star who works hard to peruse his dream. We all here at Splat! respect him deeply. We really hope you enjoy his show!
Video Details and Legal Information
Video Length: 45 Mins, 31 Secs.
Guest Care: Learn how we cast and look after our guests you see on the show here.
Release Status: Guest has signed a release form and given us legal consent to release this material on this website and select third party partners. Learn more.
Copyright © The Splat! Show: Do not repost or share any files you download from us. Seen our content elsewhere? Report it. Read more about your legal obligations.
Content Guidelines: Some swear word usage and no shirtless scenes. If we had to give it an age rating it would be PG. Learn more.
Splat! Split & Switch Status: This feature length show is not enabled for Splat! Split & Switch.
All shows and content will be available unless we need to remove it as per our terms and conditions.
Video Length: 45 minutes and 31 seconds. Presented in HD and 4K.
There is no Splat! Fan Conetent for Sam's show at his request.
Splat! Guest Care:

Learn how we cast and look after our guests you see on the show here.
Aspect ratio of images have been altered and cropped from the video download. Video download plays full screen in 16:9 ratio.
Also Available From This Shoot...

Sam took on our famous Splat! Storm. The Splat! Storm is a relentless deluge of gunge from all directions. Gunge blasters, foam cannons, bucket throws and tank drops. There is nothing quite like the Splat! Storm. Running time: 5 mins 32 secs. Presented in HD & 4K. Video download plays full screen in 16:9 ratio. 
Buy the Sam picture pack featuring 29 high resulotion pictures taken at Sam's Splat! Shoot. These pictures were shot especially for this picture pack and are not screen shots from the show. Manual and automatic downloads available.
For this Gunge Tank vote, we asked you what type of clothing should Sam be wearing in the tank. Smart and causal or sports wear? Watch as we reveal the results and same takes on the gunge in the clothes you wanted!
Aspect ratio of images have been altered and cropped from the video download. Video download plays full screen in 16:9 ratio.