Halloween: Dress Up Mess Up
COVID-19 Secure: This shoot was shot under our COVID-19 Shooting Safety Framework.
It's the Halloween special we know that many of you have been waiting for. Kyle, who has already starred in Easter and Christmas Splat! Shows over the years has now shot his final Splat! Show holiday special and thus completed his Splat! Show holiday trilogy. Halloween has always been one of our favourites to film and for a moment we thought this years special wasn't going to be able to go ahead. We don't need to tell you that COVID-19 has seriously effected our commercial output this year and that is why we didn't announce the shoot until the day before, and even that was a small scale announcement to the fan club. But you are reading this which means we do have a Halloween show for you this year and it's a dress up special too!
So Kyle, last seen on the show nearly a year ago (again, thanks COVID), finally takes on the Splat! Show Halloween special for our annual Halloween celebrations. Instead of going for an "evil" show like we did with Benji last year (sorry Benji!), we went for a more fun and silly Halloween special with Kyle this year because let's face it, we need some silly fun this year. Halloween is more of an American holiday and take the dressing up part really seriously. So we decided to base our Halloween special with Kyle around dressing up. Good fit don't you think? We mean, he did that Cosplay special last year too so this should be right up Kyles street.
We hope you enjoy Kyle's Halloween Special: Dress Up MESS Up.

Halloween 2020 Kyle's Dress Up Mess Up Feature Length Splat! Show Features…
The Gunge Tank Interview + True Or False Halloween Quiz: It's been nearly a year since Kyle was on the Splat! Show so before we get into the show we catch up with Kyle with a little interview. It's then straight into the first Halloween themed game of the show. The costume for this round? The Splat! Show outfit or course! It's Kyle's first time in the new outfit too. To beat the Gunge Tank in this round Kyle has to get more true or false questions right, failure to do so means the first tanking of the show.
Let's Make A Monster with Kyle!: It's time for the first spooky costume and this time we are also going to make a monster! We thought long and hard about the Monster that Kyle should turn into and we settled on Frankenstein. Kyle puts on the mask, but something doesn't look right. His body is not green! We soon fix that as Kyle takes on a quiz all about famous monsters. For each incorrect answer some green gunge is blasted. Once Kyle has been completely turned into our monster it's game over and the gunge is released to kill our monster. It turns out that the Gunging actually made our monster more terrifying than we could imagine. Watch and find out why!
Death Quiz with Gladiator Kyle : Things turn a bit morbid for this Quiz but its actually a good fit for the costume that Kyle is wearing for this round. A Gladiator. No, not the Lycra clad Gladiators from 1990's British Television, but the ones from Rome. Gladiator Kyle his quizzed on famous deaths that have occurred over the last 100 years. For each incorrect answer, Gladiator Kyle has to spin the Splat! wheel. Land on a Thumbs up and it's all safe, but land on a thumbs down and it's a life lost. Land on the thumbs down three times and it's game over for Gladiator Kyle and it's Gunge Time!
Baywatch Lifeguard Kyle's Splat! Storm: What's this, a Splat! Storm included with the actual show? Yeah, like last year The Splat! Storm is included in our Halloween special. We thought it would be fun to have Kyle dressed as a Life Guard (from Baywatch no less) for the Splat! Storm. In what is possibly the most brutal Splat! Storm that Kyle has faced to date, he does his best to make it through the torrent of Gunge. No one said being a Life Guard would be easy, especially when you are dealing with gallons and gallons of Gunge.
Caveman Kyle Plays Feet Slop Bobbing: We've already done Slop bobbing with Lucas and his head (see it here) but now we are doing some slop bobbing with feet. Kyle, dressed as a Caveman has three minutes to get all the balls out of the buckets of Halloween slop. Failure means Caveman Kyle gets a tanking. Does Kyle have the feet skills to complete the final challenge for his Halloween special and avoid the Gunge Tank?
Gunge Tank Cam Footage: This release features Gunge Tank Cam footage of the Gungings. Get the tanks POV with the Gunge Tank Cam!

Video Details and Legal Information
Video Length:
56

minutes

and 48 seconds (including Gunge Tank Cam Footage).
Splat! Guest Care: Learn how we cast and look after our guests you see on the show here.
Release Status: Guest has signed a release form and given us legal consent to release this material on this website and select third party partners. Learn more.
Copyright © The Splat! Show: Do not repost or share any files you download from us. Seen our content elsewhere? Report it. Read more about your legal obligations.
Content Guidelines: Minor swear usage. Clothed in part during the segments. PG. Learn more about our Content Guidelines.
COVID-19 Secure: This shoot was shot under our COVID-19 Shooting Safety Framework.
Splat! Split & Switch Status: This feature length show is not eligible for Splat! Split & Switch until October 11th 2022.
This does not mean this show will be added to Split & Switch at this date as not all feature length shows will be added to Split & Switch.

All shows and content will be available unless we need to remove it as per our terms and conditions.
Aspect ratio of images have been altered and cropped from the video download. Video download plays full screen in 16:9 ratio. Logo is not in the video.
Also Available From This Shoot...
Splat! Halloween 2020 Picture Pack
Halloween 2020 Splat! Shoot Picture pack featuring 53 high resolution pictures taken at Kyle's Mess Up Dress Up Shoot. These pictures were shot especially for this picture pack and are not screen shots from the show.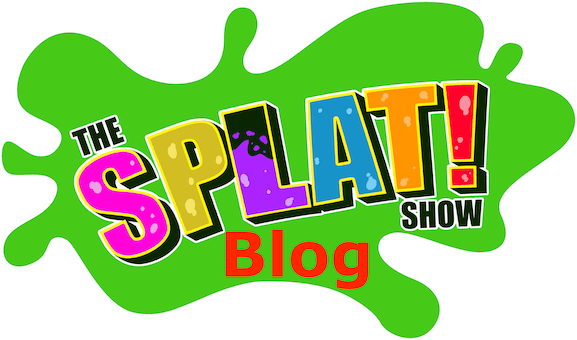 Find Out More About The Production Of This Splat! Show
This Splat! Blog entry is written by show co-producer James. Read more Splat! Blogs on other show pages.
Been a while, hasn't it…. not through our choice though.  A few small world events basically put Splat on hold for a while – along with quite a few other things admittedly – but Splat doesn't give in.  Pete has been working away in the background on a LOT of ways to keep things going and you'll have seen the results slowly coming out.  Like everyone else on this planet, I've also had a few things going on in the background but there was no way I was going to miss today's shoot.  Especially as I've been booked to help out on it for at least a year now 😀
If you want to skip straight to the stuff about the shoot, skip this paragraph by the way, it's a short bit about ummmmm well, as we filmed this on World Mental Health Day, a mental health update.  It's actually relevant though, promise.  If I'm booked for a Splat shoot/private session (and to everyone who I've done sessions with, you're ALL fantastic people, your private sessions are soooooo much fun to do) and it's with a model that I've worked with before, I actually go back and rewatch some of their older shows to check for "quirks" I might have forgotten about.  Without naming names, it's definitely been useful to remember which models use the white stools to, ahem, try and grab the focus by manspreading and swinging from side to side, which models try and scrape the gunge off them as soon as possible and which ones STILL need a reminder to actually sit under the gunge! I've filmed with Kyle twice before and they've both been great shoots but still decided to skim through some of his others…. and yes, this dumb idiot managed to trigger his body issues meaning that I might have been a little wound up about today's filming, especially as I was heavily involved in the planning.  If I sound a little croaky in the show, I swear it's not covid, it's my nerves showing through about working with one of the loveliest (no…. THE loveliest) regulars we have.
Two or three weeks back we finally agree that, if we plan things ultra carefully, we can get a show done and make it a damn good one. We've been promising Kyle a halloween shoot for years now so we had the star, the theme but how to make it different and special for Kyle? Well last year he did a dressing up show which went down very well so… LOTS of backing and forthing between Pete and myself and we get a full set of costumes agreed.  We even agree on which size to get to ensure that Kyle remains decent on camera! Costumes sorted, and I roll into town 10am on the day of the shoot.  Of course, one of the games requires props which we normally have in stock and are normally really easy to get hold of.  Naturally I have to go to about five shops before I can find them and turn up at HQ dripping in sweat having overheated…. but hey, at least when you're dripping with sweat in the middle of a fever related pandemic, people DEFINITELY socially distance from you.
The only downside to shooting today is that Kyle (VERY unusually) is on a time limit.  So teaser number one, if you want to know why Kyle had to get back to check on the state of his carpets, you're going to need to watch the show. What it does mean though is that, although I'm there over an hour before Kyle arrives, with gunge mixing and finishing off the set I only get about ten minutes to try out one of the ideas I'd had and errrrr realise that it won't work.  It involved balloons but because covid meant we had to have the windows open and good ventilation…. no way would the balloons have been controllable in the way that the game needed.  I tried it with the plastic balls from "Balls to That" and it made the game far too easy.  So if you're wondering why there are occasionally balloons talked about or briefly in shot, it's from an abandoned game idea.
Kyle arrives, gets a brief overview of the show from Pete and then heads onto set where I get to see his current look.  Thankfully, with the costumes chosen, I can see them working really well. The opening segment is an interview and a true/false quiz and if you want to know if Kyle's quiz track record is down to his usual standard well just buy the show.  But yes, of course he gets gunged and damnit it's the first of five seriously good tankings for him.
Game two sees the start of the costumes, I expect you'll have seen the preview photos on the show page by now so it's no surprise that it's a Frankenstein look for him.  Kyle is such a damn good sport, we tease him right the way through the game about a lack of knowledge of certain things… hand on heart, this guy looks utterly amazing in this segment..  
Next downside to filming a costume special during a pandemic…. trying to get the model into costume whilst remaining 2m away from them…. I actually wish me trying to give Kyle guidance on how to tog up as a centurion had been caught on camera. As someone who can't tell left from right, trying to help Kyle work out which shoulder piece went on which shoulder was something of a challenge! Kyle just smiled his way through the experience and then went on to give us an outstandingly upbeat performance in a decidedly downbeat game.  I felt bad about any laughter I let slip during this one but Kyle is such a naturally relaxed person he just makes even the most "serious" segment great fun.
Segment four… a Splat Storm.  Kyle's been through these before, twice from me and a few from Pete, but at the end of it even *I* think I've been harsh with it, especially as by this stage we're starting to run tight on time.  And I still don't have a decent replacement last segment.  Of course, Pete steps in and comes up with a quick and easy last game to film.
And I know I rarely downright taunt you in these blogs but just before we started the game, Kyle had to race back to the bathroom for an emergency costume update. 
Shoot done.  Kyle gives one last off camera moment of wonderfulness as he struggles with technology and then he heads off.  Pete and I get the clean up done (still maintaining social distancing and yes, I had my mask on for the whole shoot… even the storm and some of you know how much those exhaust me) and then we look at the footage.  
Yes, it was a short shoot but everything about it just felt perfectly normal for Splat. It was a melancholic end to a fantastic day.  Oh believe me, we have lots of POSSIBLE shoots lined up but we do have to be safe.  There's photographic evidence of how genuinely seriously we take the covid responsiblity so rest assured, we will film at every possible safe opportunity.  We're even chatting with <redacted> about doing a show… all I will say though is, even with my body issues flaring up, I couldn't imagine a better shoot to have done with someone who really does truly deserve the title of Splat Star