Limited Release: Available Until November 5th 2019. Only available this year, will not see a re-release in the future.
Last year we failed to produce a Halloween special happen, so this year we made sure we had a Halloween special shoot penciled into our diary. Actually, we started to plan this Halloween special at the end of June, proof that our shooting schedule this year has been incredibly tight. But thankfully all the planning paid off, as we have managed to produce a fantastic and very fitting Halloween special for you all!
Well before we set the shoot date, we already knew the guy we would call on to star. Having shot with Benji on two previous occasion, we knew he would relish the chance to star in our Halloween special for 2019. Benji just oozes joy, fun and a playfulness and is a great match for this spooky special.
We hope you enjoy our Halloween special, just make sure you catch it before the end of November 5th. It will not be available after this time. Seasonal release.
SplatOween With Benji Features The Following Spooky Segments 
The Halloween Gunge Tank Interview Two Tricks – Zero Treats – It's been two years since Benji's last Splat! Show appearance. Things have changed quite a bit for Benji, having gone through a messy breakup with his boyfriend Jordan and a change of job, we talk to him about all of this and more. This being a Halloween special, this interview had a few surprises, well we should we say tricks! Benji got a tanking as soon as he stepped into the mucky (intentionally left dirty from a previous shoot, to add to the mood) Gunge Tank and then got another one at the end. Trick or Treat? Seems like the tricks are on Benji in this Halloween special, but will he get any treats?
Benji The Terrible Vampire – What is a Halloween special with out some dressing up? It's not a Halloween special! So Benji dressed up as a very dashing Vampire to feature in our Halloween themed quiz all about October 31st. So what happens when Benji get's a question wrong? Well he gets squirted with some blood red Gunge of course! A tank full of black Gunge awaits Benji if he gets more questions wrong than right, making Benji the vampire disappear! 
The Splat! Rack – The Splat! Rack makes a return for our Halloween Special. The Splat! Rack is a feature that many have asked us to bring back, but we don't really feel it's a fit for our usual gameshow fare. BUT the Splat! Rack is perfect for Halloween! Benjiis strapped onto the Rack for a torturous round featuring pies a plenty! Where will the pies go? Only the torturer knows. 
Monster Mash Pumpkin Popping – Benji was kind enough to bring his own Halloween costume to the shoot, only for us to cover it gunge! Benji dressed in his evil Halloween pumpkin morph suit takes on the Balloon popping game. We did tell Benji the rules and that no cheating was permitted. You will see that he didn't really bother listening to us. Naughty! So we made him pay! 
The SplatOWeen Storm Finale – A Splat! Storm in a feature show? What hocus-pocus is this we hear you say! Well, since Benji has yet to experience the joys of The Splat! Storm we decided to feature one in our Halloween Special. We think our storms can be a bit terrifying, especially if you haven't had one before so it's the perfect fit. Benji takes on this special SplatOween Splat! Storm complete with Halloween themed gunk, custard added to the tank and a collection of (fake) spiders. While this was supposed to be a terryfying Splat! Storm,  but Benji's constant laughing and giggling during the storm means it was anything but for him. A fitting end to SplatOween!
Video Details: Video Length: 54 minutes and 04 seconds. Presented in 4K. Help playing videos.
Content Guidelines: Shirtless in some scenes. Some major (one use) swearword usage. If we had to give it a age certificate: 15. Learn more about our Content Guidelines. 
A small selection of stills taken from the video for SplatOween Special 2019.
Aspect ratio of images have been altered and cropped from the video download. Video download plays full screen in 16:9 ratio.
The Trailer For SplatOween With Benji
More On The Splat! Fan Club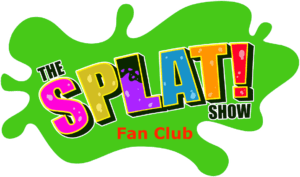 SplatOween with Benji Picture Packs
SplatOween With Benji Cut Footage
View the cut footage from the shoot for SplatOween. Featuring clean downs, cut footage and other bits that didn't make it into the show edit.
This Splat! Blog entry is written by show co-producer James. Read more Splat! Blogs on other show pages.
One of the things that people often comment on when they come to Splat for the Private Experience days is "wow, there's a lot of behind the scenes bits going on, I had no idea".  So along with singing the praises of Benji, this blog is going to be a bit more detailed than usual abut what went in to this year's Splatoween Special.
As this was going to be a special shoot, we really wanted to make sure the boat was pulled out. Therefore, the planning for the shoot on 30th September began in July.  Maybe June. The first discussion is usually "Okay, do we know how to make this different?" The discussion then starts with the wild ideas we'd like to do and gradually settles down to slightly more realistic ideas. The single most important thing we agree on straight off is that it has to be a returning model.  
Pete then goes off and thinks through models and I go off and look through my own archives. Pete hits the jackpot this time around and suggests Benji.  Now I'll freely admit that I have a bit of a soft spot for Benji as he was one of the first shows that I watched on the live stream (yes, okay, I get all sentimental and nostalgic). So we have our idea.
Next up, for a special we need stuff that isn't kept in the Splat stores…  so this means the first of many shopping trips.  With Kyle recently having done his cosplay special, we decide that at least one of the games has to be in costume, there will need to be set dressing (but not a repeat of the Aiden one) and inevitably we will end up getting some non regular gunge.
Fast forward to about a week before the shoot and Pete puts together the rough outline.  At this stage it's still very much in a draft form and it'll be a few whatsapp conversations before the first problems are ironed out.  Two and a bit years of working together have taught us to accept this will change massively on the day so we aren't precious about the contents.  With a whole load of private experiences done recently, it's also time to check the stores and do another shop for custard, foam, plates and paint. 
"Finally" Monday arrives…. and yes, naturally, there's rail issues.  However, this gives me time to top things up en route to HQ and then Pete and I can set the tank up at a slightly more leisurely pace.  Oh yes, and mix the gunge.  That, in itself, takes time as the first eight or so buckets need to be filled with water, the powder added and then left to thicken up.  
Midday… and Benji arrives.  You know how sometimes someone walks into the room and you instantly feel as though you've known them for a very long time.  That's Benji.  I know I say this a lot but he is the epitome of being laid back and easy going. And that smile….. oh boy that smile.  I do all the photography for the picture packs and I think every single picture has the broadest grin in it.  He's even bought a fancy dress outfit of his own!  Pete wants it to be an evil show so yes, Benji is treated to a double tanking as part of the interview.  I'm watching from the side of the room thinking "okay, we're really pushing this…." but Benji was absolutely magnificent.  And yes, he's a pup and yes this means he's really playful and yes I absolutely LOVED working with him.  His playful side means that the "before" photos are bliss to do.  Some models have to be coerced into posing for the camera, I've had a few models who need to be told what sort of poses to pull…. Benji is just a ball of energy and quite frankly, if we weren't working to a tight schedule I would happily have photographed him for hours.
Now, the other absolute blast of the day was Benji's sense of humour.  He has no pretences about his general knowledge ability,  but don't mistake this for him being thick.  Trust me, he's not.  Two years of working with models and fans have really made me see people differently.  Benji is quick witted and the answers he gave for the questions, I was struggling not to burst into hysterics.  The Halloween quiz is now officially one of my top three segments I've filmed since working with Splat and yes, it helps that the gunging is pretty damn impressive.
If you've read all the blogs then you'll know that the Splat Storm is usually the last thing we record.  However, going by our original plan, there just wouldn't have been time to do it last, so unusually Benji gets the storm half way through the day.  You might notice that I'm maybe a bit lower in energy half way through the final edit, that's because the storm totally knackers me! Whilst Benji is showering after the storm, Pete and I look at the remaining plan and go "No, this isn't going to work… let's rewrite it!"  And so we did.  Today is a perfect example of the original plan looking fine on paper but when it comes to the actual shoot, we suddenly realise that for various reasons it won't work and we improvise.  Today's result….. well I hope it comes across as well on screen as it was to film.  
For me though, the best bit of the day was between games when Benji filled me in on the delights of being a pup. Turns out that Benji is a pup for very similar reasons to the ones that make me do Splat.  The headspace is bliss.  When I'm at Splat, I'm not a "responsible" adult.  I'm a child again and I'm having fun.  I'm making custard pies, I'm throwing buckets of gunge around.  I'm making some VERY smutty jokes.  Before I started actually working at Splat, I always used to think "Oh it must be fun working with all those fit guys".  Yes, that's still very…. pleasing.  But today REALLY made me remember what Splat's all about.  It's pure, escapist fun.  I spent nearly all of the shoot today with a goofy smile on my face, trying not to laugh over Pete reading the questions because every one in the room today was on the same wavelength.  Pete starts putting on silly voices.  Benji exudes personality.  Everything abut this show came together.
I'm not going to say too much about the rest of the segments we filmed because more than ever I want this one to be a surprise for people. All I'll say is that Benji is an absolute hero for what we put him through.  I think this is possibly the messiest shoot I've been on and, as you probably know, that's really saying something. 
Benji goes at 4.45.  He could have gone earlier only we just stood around chatting like a bunch of old friends after the shoot (I did my usual of starting the clean up whilst the star was taking their last shower).  Weirdly, by shooting the storm towards the start of the day (and careful choice of other segments), for a shoot that's gunge heavy the clean up goes really quickly.  Just after 5.20 I head off for the train, leaving Pete with the very final part of the clear up to do.  Of course, it doesn't end there.  There's footage to edit, this blog to write, publicity to plan….  yes, it was a special, but the hour or so of footage began life three months ago and still has another day or two before it's released into the wild.
When I started at Splat, I had the idea (thanks to my dysmorphia) that I needed to be more like Jon or more like Adam.  Today, I've done a shoot that's left me with a huge amount of memories and a new philosophy for the future, one I think that we could all benefit from.  The world, at the moment, is a turbulent place.  I think we'd all have a lot more fun if we all adopted the mind space of a pup and said "In 2020, I'm going to be more Benji"