Daniel's Splat! Star Induction Special!
Our Splat! Stars are a unique group of guys who we regularly work with. While they are not exclusive to us, they do appear in more features, shows and specials than our other guests. It's like a small Splat! Family, purely here to entertain you.
We said a fond farewell to two Splat! Stars during 2019 when Adam and Ash left. That meant we had two vacant spots to fill. Well, we have now finally filled one of those free positions.
Daniel, the brother of our biggest current Splat! Star Jon, is our newest Splat! Star. When Daniel made his Splat! debut during 2019's Daniel Vs Jon Splat! Show, we knew that he would make an ideal Splat! Star candidate. Thankfully Daniel leapt at the chance to become one of our newest Splat! Stars when we asked him. 
Fast forward to over 6 months after his first Splat! appearance, Daniel made his way to Splat! HQ to shoot his Splat! Star Induction special. And what a fantastic Splat! Star Induction special it turned out to be!
This Splat! Show features…
The Splat! Star Gunge Tank Interview: Daniel takes a seat in The Gunge Tank to have a chat about why he wanted to become a Splat! Star, his feelings and memories from The Daniel Vs Jon Shoot, what he wants to get out of the Splat! Star role and so much more. Daniel then get's a Gunging from the tank with classic Green Gunge. Watch and listen to Daniel's reaction…there might be a clue here to why he wanted to become a Splat! Star!
Daniel's Gunge Wheel: The Splat! Show Wheel Of Misfortune will be a signature prop during season 18, so with that in mind we decided that it was only fitting that Daniel played a round during his induction special. We shot this show just before the UK's Coronavirus measures were put into place so we didn't use pies as that required physical contact. Instead we used a combination of Gunge blasts and bucket throws on the wheel. For each incorrect answer Daniel gives, he has to spin the Splat! Wheel Of Misfortune. Gunge Blast, Bucket Throw and tank feature….including the odd re-spin and fact options too. The game ends when the Splat! Wheel Of Misfortune lands on Tank and releases a torrent of Gunge onto our latest Splat! Star.
The Splat! Star MEGA Gunging: Daniel arguably received the best Splat! Storm during 2019 (see it here and here) so for the finale for his Splat! Star Induction, we decided to resurrect The MEGA Gunging and throw in speedos too just for good measure. Our MEGA Gungings are slightly smaller in size and scope to our Splat! Storms but do feature a bigger Gunging from The Gunge Tank towards the end. Being a Splat! Star means you have to go above and beyond than our regular guests, so when asked if he wouldn't mind wearing speedos for this round, Daniel agreed without any fuss. That is a true sign of a Splat! Star. Watch as Daniel gets a MEGA Gunging and a fantastic tanking in the final part of his Splat! Star Induction special.
Gunge Tank Cam Footage: This release includes Gunge Tank Cam footage featuring a birds eye view of the gungings. You can also download the full complete Gunge Tank Cam footage featuring the whole show, not just the Gungings. Look under the "Also Available From This Shoot" section below.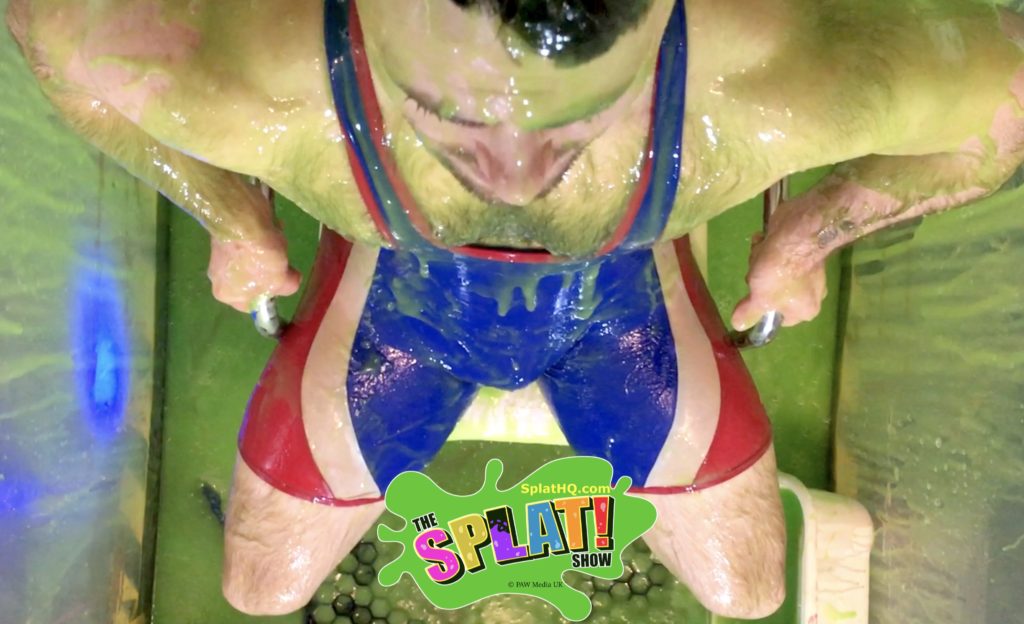 Video Details and Legal Information
Video Length:

 36 Mins and 00 Seconds (including Gunge Tank Cam Footage). 
Splat! Guest Care:

 Learn how we cast and look after our guests you see on the show here.
Release Status: Guest has signed a release form and given us legal consent to release this material on this website and select third party partners. Learn more. 
Copyright © P.A.W Media UK:  Do not repost or share any files you download from us. Seen our content elsewhere? Report it.  Read more about your legal obligations.
Content Guidelines: Some minor swearword usage. Clothed in part during the segments. PG. Learn more about our Content Guidelines. 
Splat! Split & Switch Status: This feature length show is not eligible for Splat! Split & Switch until April 6th 2022. 
This does not mean this show will be added to Split & Switch at this date as not all feature length shows will be added to Split & Switch. 

All shows and content will be available unless we need to remove it as per our terms and conditions.
Aspect ratio of images have been altered and cropped from the video download. Video download plays full screen in 16:9 ratio. Video does not feature the logo
Read reviews for this show sent in by viewers. Want to write a review? Contact us here. We won't post your full name in any published reviews.
Also Available From This Shoot...

Complete Gunge Tank Cam Footage...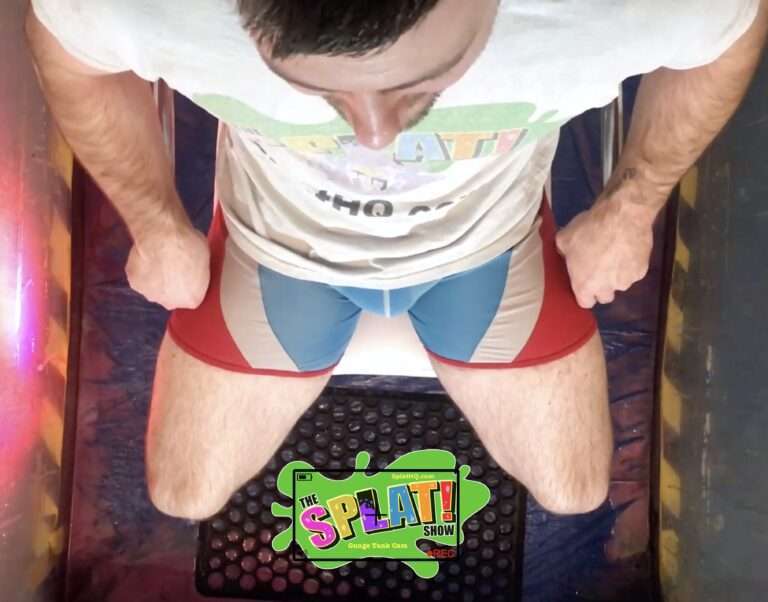 Not Just The Gungings - The Whole Show!
You can watch Daniel's Splat! Induction Special from the perspective of The Gunge Tank Cam. A birds eye view. This download features the WHOLE show taken from The Gunge Tank Cam. The whole show shot from The Gunge Tank Cam and not just the Gungings. Full Gunge Tank Cam footage can be downloaded to keep from this page or you can stream it on The Splat! Fan Club.
Video Details: Running time 39 minutes and 35 seconds.
Video does not include Splat! Logos as seen in the images.
Check Out Daniel's Other Splat! Shows...