There is not going to be numbered season during 2021. Since we were only able to start production in the middle of 2021 due to the Coronavirus pandemic, this special season will run from June 2021 until the end of 2021. Season 19 will start in 2022 and this show and other shows released in 2021 will form part of this special season.
We seem to be making up for all that time we were unable to shoot. Since re-starting our in person operations from early June 2021 we have now completed more shoots in the space of a month than the whole of 2020. You guys love new faces, and while it is becoming harder and harder to find guests who haven't stepped inside a Gunge Tank before these days, we do have some new connections that we will be using going forward. Take Darren as a prime example (and Ben before him) of our new casting strategy where we have been using modelling agencies, social media connections and even past guest connections to bring you the best new faces to The Splat! Show. You will also be seeing guests who've appeared on other websites make their Splat! Show debut soon too.
Initially we hoped that Darren would kick off this special season of shows but it took us a few months for our diaries to line up. So July was set and unfortunately for Pete, the shoot also happened to fall on the hottest day of the year so for the UK. If you have ever been to The Splat! Show studio, you will know it's warm and often hot even at the best of times. But thankfully Pete pushed through to work with Darren to produce a stellar show for inclusion in this special season of shows that we hope will be our best yet!
In the run up to the shoot Darren was worried he would come across stupid if he failed to get some of the many questions right during the show. As with all first time guests, nerves and trepidation are always high because our shoots are not what many would consider "normal" and we totally understand it's very niche. So how did Darren feel after he turned up and started to shoot? Those nerves disappeared and he soon got into the Splat! Show spirit, even though his first Gunging could be considered the worst we've had on the show for a while. After a rocky first Gunging, things vastly improved and features some the BEST Gungings of the season so far!
Also, for this show we have included The Splat! Storm which has replaced the Splat! Debrief at the end of this show. We are always testing new things and we want to see how this change is received by you guys. We know the Splat! Debrief is not anyone's favourite part the show (even though we included the waving at the end recently. We know, revolutionary right!?). We feel having a big gunging at the end of the show brings the show to a nice close.
We hope you enjoy seeing Darren on the Splat! Show and taking on The Gunge Tank.
Darren The Dashing Features The Following…
Guest Introduction: New for this special season we are introducing the Guest Introduction card. A brief video screen showing Darren looking happy and waving to the camera as we detail some stats about Ben and what's coming up during the show.

The Splat! Interview: We are making some slight changes to the format with this special season. The formal interview will now take place outside the Gunge Tank at the top of the show before we move into the games. We talk to Darren to find out why he is at Splat! HQ, how he is feeling about the shoot that's to come and so much more.
Spin My Life: It's time to bring on the Gunge Tank and start the mess in Spin My Life! We already covered the basics with Darren in the interview but now we dig deep in Spin My Life. Darren spins the Splat! wheel which lands on a number which corresponds to a "get to know me" question. After ten spins the game is over and Darren experiences the Gunge Tank for the first time. Honestly, we feel this Gunging is probably the worst we've had on the show for a while. A combination of Darren not being correctly under the Gunge Tank and Darren's attempt to avoid the Gunging (even though he was told not to do this) meant that Darren's first Gunging is a little bit weak. Thankfully the Gungings that follow were much better and could be considered some of the best of the season so far. Swings and roundabouts right?
Foam Me Up: Round two features the return of Foam Me Up. Foam me up is one of our favourite games we play and while we have considered retiring the game, it's just too good to give up yet. In the first game to test Darren's quiz abilities (something he was nervous about performing well in) Darren get's sprayed with foam with each incorrect answer. There is a set number of questions and if Darren manages to get to the end without being completely covered in foam then he wins. However, if he get's foamed up before the end of the questions then the Gunge Tank is triggered and adds gallons of gunk to the foam to create a whole lot of mess!
True Or False Splat! Blast: Spoiler! Our new Gunge Blaster is a bit too powerful. Since we were unable to test it before Ben's shoot, he was the poor guy to find out just how powerful our new Gunge Blaster is. Featuring a longer barrel, our new Gunge Blaster is pretty brutal. In True Or False Splat! Blast the new Gunge blaster's power is on full show. For each incorrect answer Darren is blasted with Gunge blaster. If Darren manages to get more questions right than wrong the mess stops. However, the ever threat of The Gunge Tank is never far away and is triggered if Darren get's more questions wrong than right!
Specialised Round, Splat! Upon High: Sometimes new game formats just happen organically. Just like with Splat! Upon High as first seen in our Season 18 Finale with Daniel. This specialised round (where the guess picks the theme for the questions) puts our guest high up in the Gunge Tank close to the gunge. Our guests are high and mighty since they chose the subject for the questions so in theory they should win this round. But as ever, The Gunge Tank is waiting to bring our guests down and in Splat! Upon High this is exactly what can happen if they fail. Darren chose 90's music as his specialised subject and was incredibly happy to do very well in this quiz.
The Splat! Storm Finale: As mentioned earlier, The Splat! Debrief has been replaced in Darren's show with The Splat! Storm. Usually released separately from our main feature length show releases, we've added Darrens Splat! Storm to the finale for his feature length show as we test bringing shows to a close with a BANG! We will be making this change to some future shows this season, and may even re-introduce the MEGA Gungings for the finale instead. We have other plans too and we will test these new ideas in future shows. Darren's Splat! Storm will not be released on it's own and is only available in Darren The Dashing Splat! Show.
Gunge Tank Cam Gunging Footage. This release features Gunging footage taken from the perspective of the Gunge Tank cam. A birds eye view of the Gungings.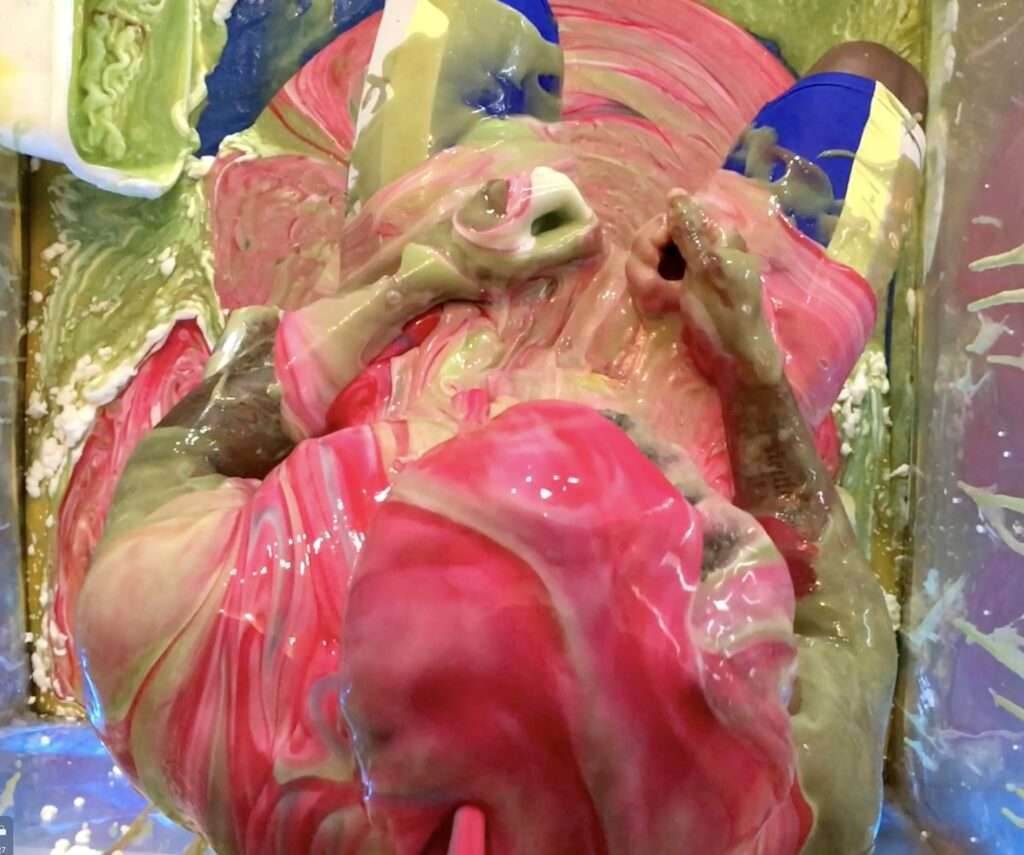 Video Details and Legal Information
Video Length:

1 hour, 10 minutes and 27 seconds.
Splat! Guest Care: Learn how we cast and look after our guests you see on the show here.
Release Status: Guest has signed a release form and given us legal consent to release this material on this website and select third party partners. Learn more.
Copyright © The Splat! Show: Do not repost or share any files you download from us. Seen our content elsewhere? Report it. Read more about your legal obligations.
Content Guidelines: No swear usage. PG. Learn more about our Content Guidelines.
Splat! Split & Switch Status: This feature length show is not eligible for Splat! Split & Switch until July 18th 2023.
This does not mean this show will be added to Split & Switch at this date as not all feature length shows will be added to Split & Switch.

All shows and content will be available unless we need to remove it as per our terms and conditions.
Aspect ratio of images have been altered and cropped from the video download. Video download plays full screen in 16:9 ratio. Logo is not in the video.
Trailer...is coming soon...