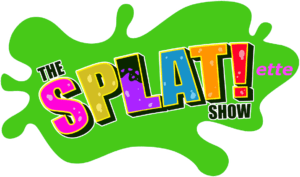 An Update From Us During These Tough Times – Sunday April 5th
Hey there, it's been a while since we checked in with you all. How's it going? The current and ongoing Coronavirus pandemic is a challenging time for us all. Sadly we have had to put all production of new material on hold until things stabilise.
To try and lift your spirits we have cut all our Splatette! Show material in half until the end of May 2020. That's 50% off on ALL current Splatette! Material.
Please take care of yourself and others during these though times. We will be back with new material when we can.
Eva's Splat! Storm Now Available.
Eva's Splat! is now available for all to download. Splat! Storms are our biggest and messiest Gunging experience featuring a non stop, relentless torrent of Gunge from all directions.
Eva's Splat! Storm is available to download from her feature length show show below "Also Available From This Shoot" towards the bottom of the page.
Eva's Splatette! Show Out Now!
We are pleased to announce that we have released our next brand new Splatette! Show starring  brand new guest, Eva.
Eva was on top form during the show and we can't wait for you to see the show. So stop what you are doing now, head on over to the show page and download Eva's Splatette! Show today.
Alaine's Splat! Storm UNLEASHED! 
Alaine's Splat! Storm has been released. The Splat! Storm is a relentless barrage of Gunge from all directions. Check out Alaine's Splat! Storm today! You can find Alaine's Splat! Strom towards the bottom of her feature show page.
Alaine's Splatette! Show is OUT NOW!
We have been working overtime to get the first new Splatette! Show for nearly a year ready for release.
Alaine's Splatette! Show is out NOW. We had a wonderful time working with Aline to make this brand new Splatette! Show and we hope you enjoy!
All Splatette! Shows Now Available
All Splatette! Shows are now available to access here on the new website.  They are now located in the Splat! Show Index.

The Splatette! Fan Club MASSIVE Update!
The Splatette! Fan Club today has relaunched with a whole host of new content. The Fan club has been updated with our Splat! Babes Archive shows. These shows are no longer available to download on the website since they are from our old days before we became known as The Splatette! Show. So all shows branded as Splat! Babes is now available to view on the Splatette! Fan Club. This joins all the other content on the Club and we will of course be adding even more when we start filming our next Splatette! Shows.
You can view the full list of content currently available on The Splatette! Fan Club on the Club page.
Welcome To The Splatette! Show News Page
Hey Splatette! Show fans. Thank you for being patient while we created the new website. While the Splatette! Shows have been on the new site for a while, we haven't had the opportunity to flesh out the remaining section of The Splatette! Show until now.
This page you are on now is the Splatette! News page where you will find all the latest news regarding the show. This page is also the main page of the Splatette! Show section. You will see the Splatette! section menu at the top of this page. Please use those links to browse the Splatette! Section of the website.
We hope you enjoy what we have coming and we hope to share more news with you soon.