Whitie's Returner Special
How long have you been a Splat! Show fan? From 2004 or more recently when the Splat! Show was re-launched? Well depending on how long you've been a fan, you might recognise the star of this very special show.
Whitie first made his Splat! Show appearance in 2010 (well, actually the show was known as Splat! HQ instead of The Splat! Show back then). Many of you know that we ourselves are not huge fans of this period when the tone of the show changed drastically with material having really low production values. However, there was one guest during that time that stood out. And that guest was Whitie.
Whitie took part in three different Splat! HQ Shoots over the course of 2010. Whitie had charisma, the looks and did not take himself too seriously. All qualities that we look for in our Splat! Show guests, and you bet he would've been one of the most popular Splat! Show guests during seasons 1 and 2 if he had featured in those founding seasons. Sadly however, Whitie joined Splat! HQ during that "off" period and his Splat! Show potential was never reached.
Well, that has now changed. We had been talking to Whitie on and off for years, but we could never get a date into the diary for Whitie to make a visit. During the last lockdown he messaged us informing us that he had some holiday time coming up. The only issue was it was a week away. We knew that if we didn't make this happen, we might have to wait another couple of years. We shifted things around and sped up some of the changes we were working on and the rest is history.
It was amazing to have this Splat! Legend back on the show after 11 years. While Whitie has changed quite drastically looks wise (thanks gym), you will be glad to hear that his charisma and tomfoolery is still on point. Whitie was only Gunged once in a Gunge Tank, if you can call that thing he got Gunged in a Gunge Tank, and it was pitiful. That has now been corrected as Whitie takes on our famous Gunge Tank in a show that has been 11 years in the making!
We hope you enjoy Whitie's Returner Special!
Whitie's Returner Special Features The Following…
Guest Introduction: New for this special season we are introducing the Guest Introduction card. A brief video screen showing Whitie looking happy and waving to the camera as we detail some stats about Whitie and what's coming up during the show.

The Splat! Interview: We are making some slight changes to the format with this special season. The formal interview will now take place outside the Gunge Tank at the top of the show before we move into the games. This is one interview long time fans will not want to miss as we talk to Whitie about what he has been up to in the 11 years since his first Splat! HQ shoot. Spoilers, some big and life changing events took place during those 11 years and it's inspiring to hear how Whitie handled those life challenging events.
Spin My Life: 11 years is a long time. So maybe you think that you already know everything about Whitie? Well people do change, especially after 11 years. So we played a round of Spin My Life, spin the wheel which then stops on a number which then also corresponds to a get to know me questions! Now, this is also the first time that Whitie has been in our Gunge Tank. Having seen our gunge tank in action before (he follows us on social media), Whitie knew that there was no chance of history repeating itself and him getting a rather weak gunging. The look on Whitie's face as the Gunging approached is priceless as his initial reaction. History has been corrected at last!
Foam Me Up: Having being covered in food (yuk!) during his first Splat! HQ shoot all those years ago, it must have been nice to hear that won't be happening again. But there is something Whitie hasn't experienced before, and that is our foam! This one also features of the best looking recent Gungings to take placed on The Splat! Show. Of course Whitie isn't very good at general knowledge and is soon covered in foam and the inevitable tanking is not too far away. An instant Splat! Show classic that will go down in Gunge history!
True Or False Splat! Blast: The new Gunge blaster (last seen in Ben's Splat! Show and the Pride Splat! Storm) is back and this time has Whitie firmly set in it's sight! So with a 50 / 50 chance to avoid the gunge blasts, will luck be on Whitie's side? Turns out, Whitie isn't very good at true or false questions either! Blast after blast comes his way and of course his rather rotten run in this game concludes with the Gunge Tank doing it's thing. Anyone for some swamp looking gunge?
Specialised Round, Splat! Upon High: Sometimes new game formats just happen organically. Just like with Splat! Upon High as first seen in our Season 18 Finale with Daniel. This specialised round (where the guess picks the theme for the questions) puts our guest high up in the Gunge Tank close to the gunge. Our guests are high and mighty since they chose the subject for the questions so in theory they should win this round. But as ever, The Gunge Tank is waiting to bring our guests down and in Splat! Upon High this is exactly what can happen if they fail. Each incorrect answer. Ok, so we admit, we did feel sorry for Whitie during the last few general knowledge and true or false rounds. So we took the questions for his specialised round from the….BEANO! Yes, the kids comic. Turns out he got these right, but the forfeit for getting easy questions? Yep, you guessed it. A Tanking Whitie thought he would avoid!
The Splat! Debrief: It's the end of the show so as usual things are wrapped up nicely with a Gunge Tank Debrief with Whitie. How did Whitie feel about his return Splat! Show experience and what did he enjoy and not enjoy during his visit to Splat! HQ? All this covered during The Splat! Debrief which ends with Whitie waving to the camera while he get's his final Gunging of the show!
Gunge Tank Cam Gunging Footage. This release features Gunging footage taken from the perspective of the Gunge Tank cam. A birds eye view of the Gungings.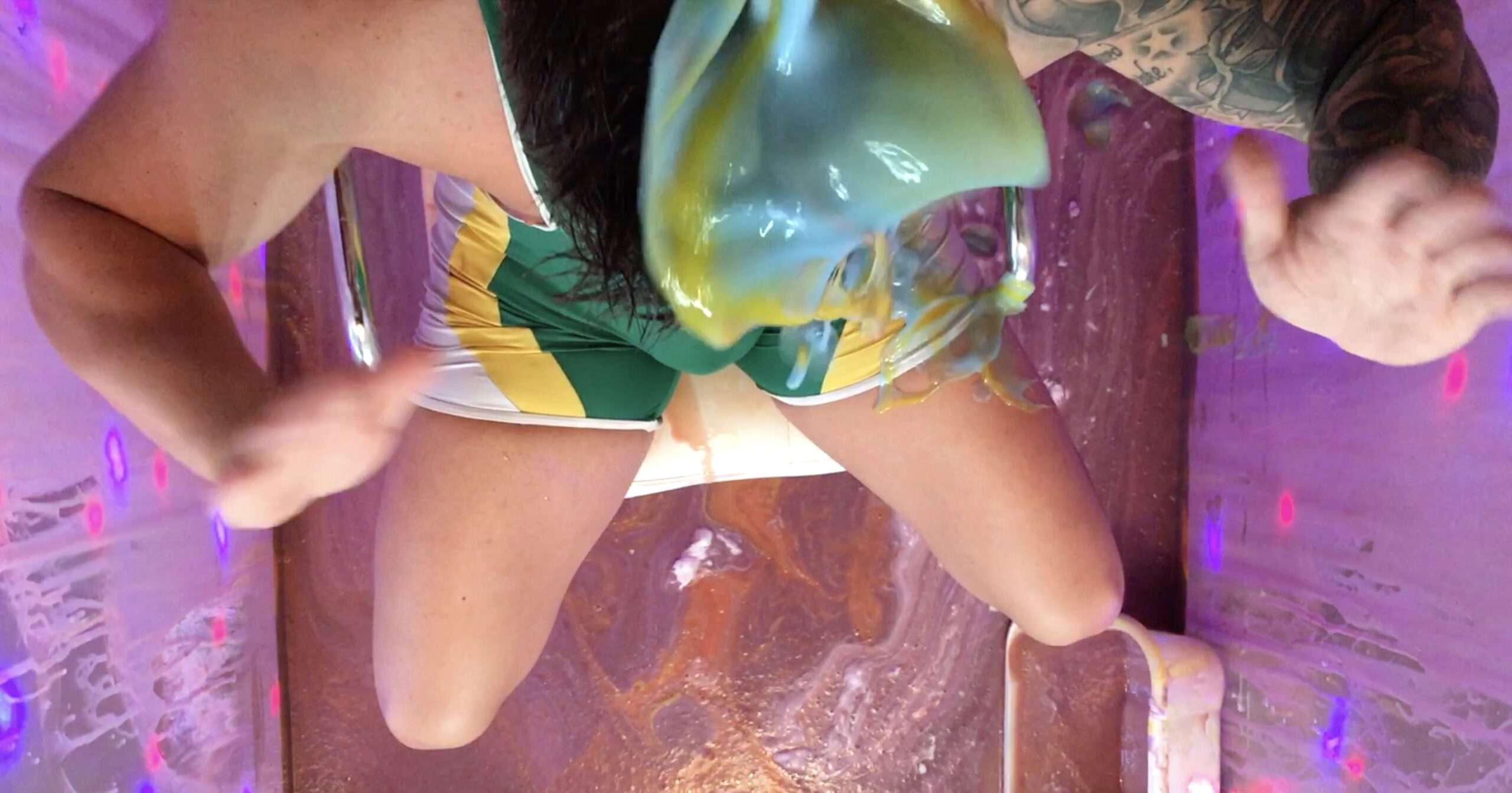 Video Details and Legal Information
Video Length:

1 hour, 21 minutes and 24 seconds.
Splat! Guest Care: Learn how we cast and look after our guests you see on the show here.
Release Status: Guest has signed a release form and given us legal consent to release this material on this website and select third party partners. Learn more.
Copyright © The Splat! Show: Do not repost or share any files you download from us. Seen our content elsewhere? Report it. Read more about your legal obligations.
Content Guidelines: No swear usage. PG. Learn more about our Content Guidelines.
Splat! Split & Switch Status: This feature length show is not eligible for Splat! Split & Switch until July 2nd 2023.
This does not mean this show will be added to Split & Switch at this date as not all feature length shows will be added to Split & Switch.

All shows and content will be available unless we need to remove it as per our terms and conditions.
Aspect ratio of images have been altered and cropped from the video download. Video download plays full screen in 16:9 ratio. Logo is not in the video.
Also Available From This Shoot...

Whitie takes on the Splat! Storm! A relentless barrage of Gunge blasts, bucket throws and Gunge Drops. Goggles are worn by Ben as our new Gunge blaster is more powerful (as we found out in his feature show) than our old gunge blaster.