Long time fans of the show might recognise Rhys as he appeared a few years ago. Rhys' first show was one of the specials that filmed before The Gunge Tank was introduced. Rhys is also a Splat! fan and has been here for a few private experiences. Rhys was recently here for his first experience with The Gunge Tank and he has kindly offered his experience for release so you can all see him back on the show. We know there are a few Rhys fans out there, so we hope you enjoy seeing Rhys on his second Splat! Show, now with The Gunge Tank!
Thanks to Rhys for coming back to The Splat! Show, the first Gunge Gameshow he appeared on.
Rhys Returns Features The Following…
The Gunge Tank Interview: We talk to Rhys about what he has been up to since his first Splat! Show and what he is looking forward to during this shoot, his first shoot with The Splat! Show Gunge Tank.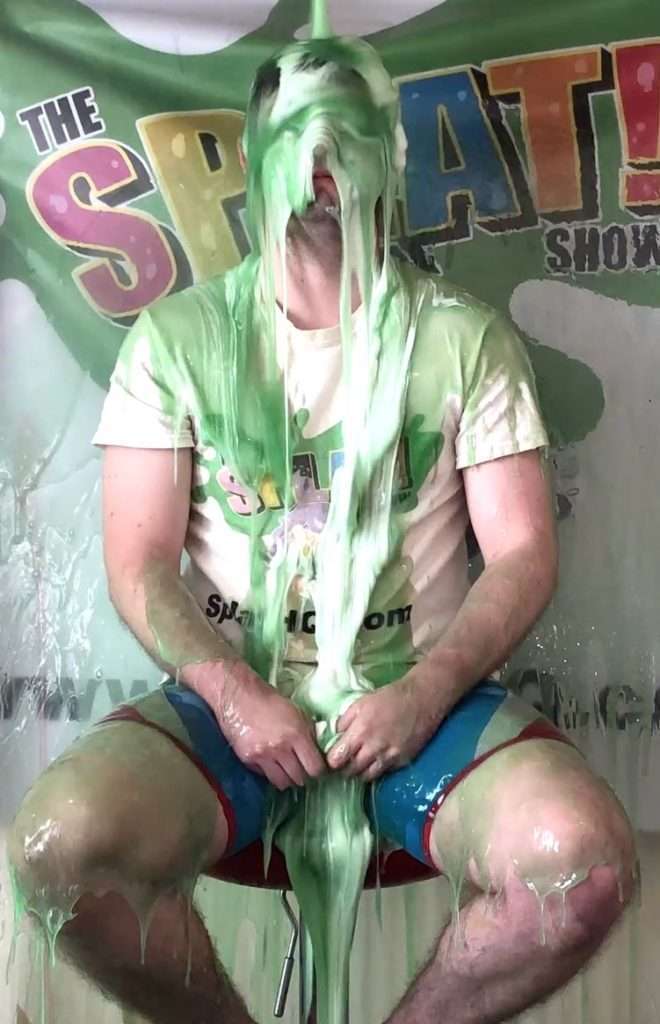 Lucky Or Mucky: Rhys takes on the season 17 game of the season in Lucky Or Mucky. Rhys told us that he really enjoyed the tension that this game provides and while he did well, he didn't quite make it to the end and avoid the gunge!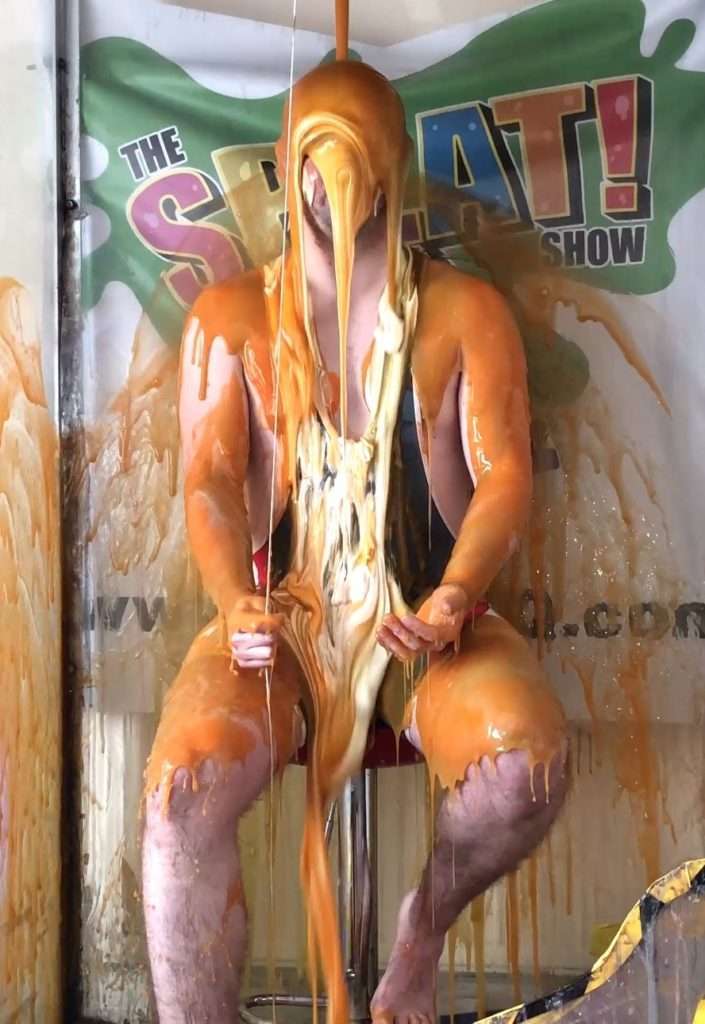 The Custard Pie Round: Rhys wanted to mix things up for this round, so the custard pie round was suggested. Of course, what Rhys wants, Rhys gets. As Rhys is a Gunge Fan, for this round he had to get the questions right to get the Custard Pies BUT he also has to try and get more right than wrong to trigger the custard filled Gunge Tank.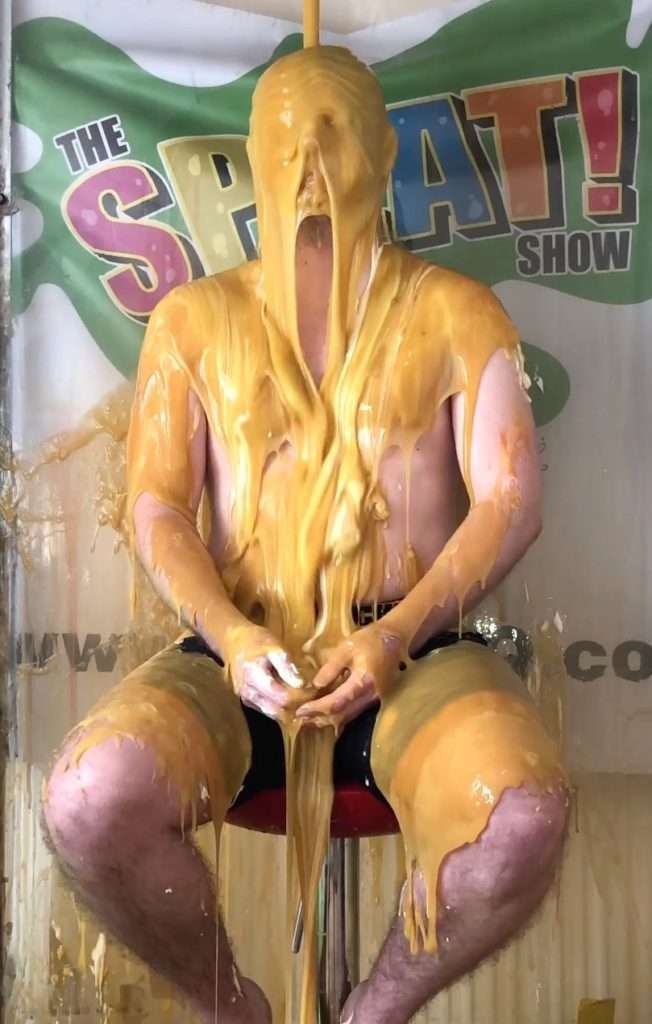 Stop The Gunge: Rhys decided he wanted to play something different for the penultimate round, so we went right back to the start of Splat! and brought back the classic Yes Or No Game. We try to make Rhys say yes or no, if he fails three times then the tank is triggers. Can Rhys go 5 minutes without saying yes or no!?
The Splat! Debrief: Rhys' second Splat! Show is at an end. We talk to Rhys about how this experience with The Gunge Tank compares to his first. Then the last Gunging from the tank is ready to drop and end Rhys' return!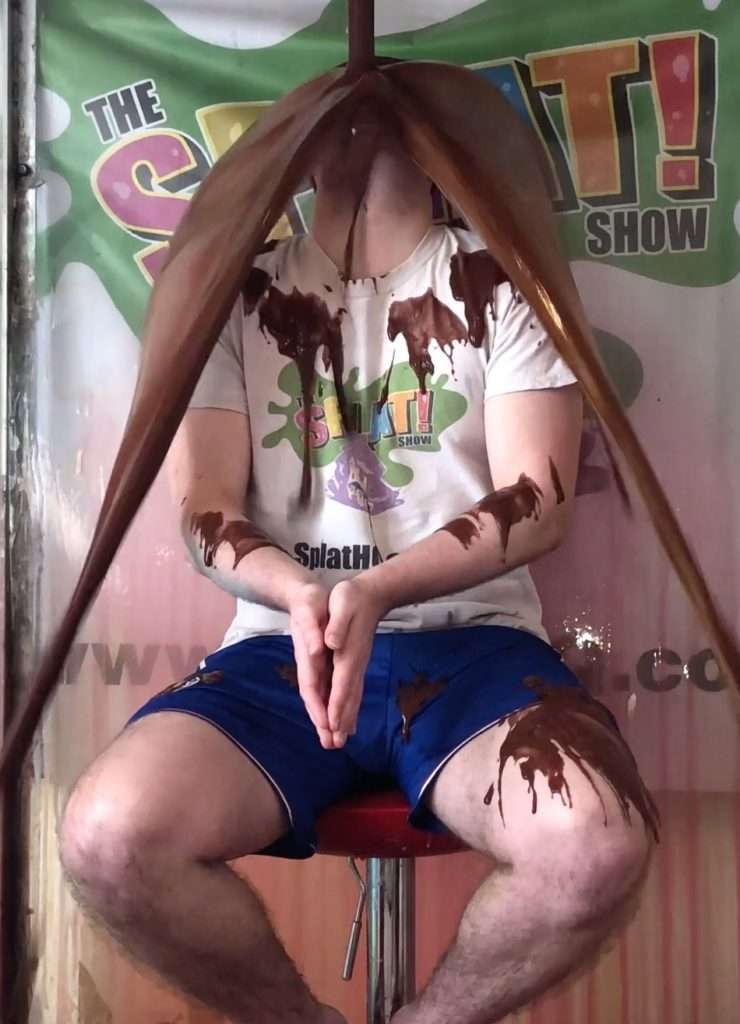 Video Details: Video Length: 57 minutes and 11 seconds. Presented in 4k and HD. Help playing videos.
Splat! Guest Care:

Learn how we cast and look after our guests you see on the show here.
Content Guidelines: Shirtless in some scenes. No minor swearword usage. If we had to give it a age certificate: PG. Learn more about our Content Guidelines.
Splat! Split & Switch Status: This feature length show is not eligible for Splat! Split & Switch until June 12th 2021.
This does not mean this show will be added to Split & Switch at this date as not all feature length shows will be added to Split & Switch.
All shows and content will be available unless we need to remove it as per our terms and conditions.

Aspect ratio of images have been altered and cropped from the video download. Video download plays full screen in 16:9 ratio. Video does not include the splat logo.
Also Available From This Shoot...

Ash finally takes on our world famous Splat! Storm at his final Splat! Shoot. The Splat! Storm is a relentless deluge of gunge from all directions. Gunge blasters, foam cannons, bucket throws and tank drops. There is nothing quite like the Splat! Storm. Running time: 7 mins 04 secs. Video download plays full screen in 16:9 ratio. Presented in 4K