It's the end of the season and it's time for one of our messiest shows ever.  So before we refresh our games, we thought we would give some of this seasons regulars (plus a few viewer favourites) one final outing.  Will our favourite hunk-in-trunks, Kyle, be up to the challenge or will he end up a messy muscled mess?
Since this is our season finale, we have gone all out to include a number of bonuses that feature in the download version of the show. As well as getting the full show as usual, your download also includes extensive Gunge Tank Cam footage from each of the games, a special picture pack taken at the shoot just for this release and a copy of Kyle's Tour De Gunge. It's all included in your download, so download today and enjoy! 
Download Season 17 Finale Splat! Show Here...
50% off until Jan 1st 2022
Thank you for Supporting The Splat! Show!
Kyle's In-Depth Interview: This show features one of the biggest and most in-depth interviews ever with Kyle. We have provided a free-to-view version of this interview which you can watch below. 
You also get to download and keep this interview with every download which also includes a few questions that didn't make it into the free-to-view version including a topic that Kyle discusses, in a frank and open manner, about a few of the deeply unpleasant possibilities that young model wannabes face and this might upset some viewers.
The Kyle Quiz: With Kyle being one of our Splat! stars, we wanted to make him really feel the centre of attention so, along with one of our most in depth interviews, we thought we would give him the chance to walk free from the tank without his own clothes getting gunged.  To stay clean, all he has to do is answer a set of questions about the shows he has already been in.  Easier said than done…
Pied Under Pressure: We know how much the fans love pies but we also know what Kyle's track record is with quiz games.  How about if we let him select his specialist subject?  Quiz games are hard enough at the best of times but with the pie ready in front of his face at the start of the each question, will Kyle's fortunes change or will he end with a face full of foam?
Lucky or Mucky: It's Kyle v General Knowledge, round one and time to take a last chance against the tank.  In an unusual display of generosity, the game is turned into a multiple choice round but, when things go slightly wrong, more than ever before it becomes a case of who is luckier… Kyle or the fans?
Balloons or Bust: There's no escaping the mess in this one, all Kyle can do is hope that he doesn't trigger the full tank.  All that stands between him and relative cleanness is a packet of balloons, a countdown and a host armed with the gunge blaster. Let battle commence.
Foam Me Up – Full Throttle: In the final game, Kyle takes on his second attempt at a general knowledge quiz.  This being the finale though, not just of the show but of the season, there's no holding back.  And in one of those moments that Kyle seems to specialise in… you would think by now he would know not to say something stupid.  This really is the absolute messiest finale in the history of Splat! 
Kyle's Tour De Gunge: Our season 17 finale wouldn't be complete without the season's signature game, Tour De Gunge. Kyle's Tour De Gunge was filmed during the summer at a private experience (released with consent) and is now included with every s17 Finale with Kyle download!
Extensive Gunge Tank Cam Footage: The Gunge Tank Cam makes a triumphant return for our season finale after being tested at recent private experiences. s17 Finale with Kyle features extensive Gunge Tank Cam footage from all the main games, included with your download.
Kyle at s17 Finale Shoot Picture Pack: Your download also features a special picture pack taken at our s17 Finale shoot.
Aspect ratio of images have been altered and cropped from the video download. Video download plays full screen in 16:9 ratio. Logo is not in the video.
Video Details And Legal Information
Video Length: 2 hours, 45 minutes and 15 seconds (including Gunge Tank Footage). 
Splat! Guest Care:

 Learn how we cast and look after our guests you see on the show 
here
.
Release Status: Guest has signed a release form and given us legal consent to release this material on this website and select third party partners. Learn more. 
Copyright © The Splat! Show:  Do not repost or share any files you download from us. Seen our content elsewhere? Report it.  Read more about your legal obligations.
Content Guidelines: Shirtless in some scenes. Some swearword usage, one major use. Non free-to-view interview features a discussion with Kyle that some viewers might find upsetting. If we had to give it an age certificate: 15. Learn more about our Content Guidelines. 
Splat! Split & Switch Status: This feature length show is not eligible for Splat! Split & Switch until December 10th 2021. 
This does not mean this show will be added to Split & Switch at this date as not all feature length shows will be added to Split & Switch. 

All shows and content will be available unless we need to remove it as per our terms and conditions. 
Also Available From This Shoot...
Splat! Special: Kyle's Splat! Cyclone: Kyle has already taken on The Splat! Storm (twice) so when it came to his season 17 finale Splat! Show we decided to pilot a new idea. The Splat! Cyclone. The Splat! Cyclone features different segments instead of the free for all as seen in The Splat! Storms. We will be building on what we learnt from Kyle's Splat! Storm as we develop the concept further.
To keep Kyle on his toes, we thought we would throw in something new to catch him off guard.  We know Kyle has put a lot of work into his body (you only have to look at him to see the effort he has gone to) but just how well does he know what the bits are actually called?  He can't escape the mess completely in this one, but he could escape a tanking….. but you know Kyle and quizzes!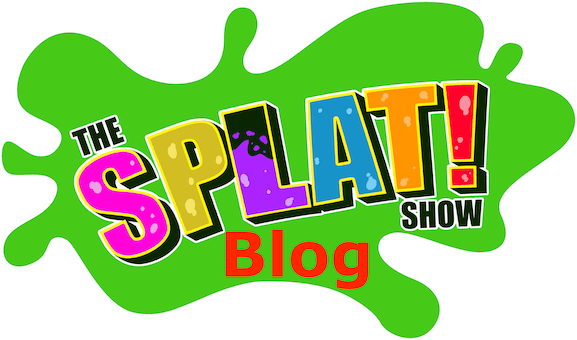 Find Out More About The Production Of This Splat! Show
This Splat! Blog entry is written by show co-producer James. Read more Splat! Blogs on other show pages.
"So we're doing an end of season special yes?"
I'll let you decide which way round that conversation was between myself and Pete but, for an end of season special…. we started bouncing ideas around quite some time ago. I've worked with Kyle once before (I definitely still remember that shoot) but never on a solo show.  I've *wanted* to for some time but this is Splat and things tend to get talked about, thought of and then something comes along and it doesn't happen. This time round though, we pulled out the stops to make it happen.  Hence the Saturday shoot (first one we've done in a LONG time), the weeks of planning (yes genuinely) and  one of the biggest supply shops I've ever done. The end of season special is going to be big….. oh and apparently I'm doing it solo.
About two weeks ago, Pete and I start talking ideas.  We know what we want from the shoot, a glorious send off for some of our regular games before we rework them for next season.  First thing we need to do is decide on which games we want him to play.  So we go through ALL his previous shows and draw up a list. There are a couple we want to get him to play as he's never really played them before.  There's a few things we want him to play because they're damn good fun.  And there's one I want him to play….. just because really! A provisional script is put together but, at this stage, we haven't decided how to make it bigger and better as befitting an end of season special.  Pete's not too keen on one of the games but doesn't know what he wants to replace it with.  
"Oh and the pre-shoot needs to be MESSY"
"But he's already done storms…."
"Don't worry, I've had an idea."
At the start of this week, Kyle confirms everything's still good and gives us his specialist subject.  It's definitely NOT what I was expecting.  That's one on the list to write.  Pete's idea to make the pie game look different seems fine on paper but I'm thinking I'm going to need about 4 hands to do it solo.  There's Lucky or Mucky (because we love it) and so it's not a whole series of identical quizzes, I decide to make it multiple choice.  That's two on the list to put together.  There's Foam Me Up, between us we agree that as Kyle's never played it then it would make a good finale if we REALLY go overboard on the foam. We need a way to make the interview "new" as Kyle's done a few already and after much back and forthing of e-mails, we agree to put in a Kyle quiz.  That just leaves something for the club, the exact planning of a "Splat Cyclone" and the "surprise" segment.
Friday night…..  quizzes written.  Script signed off.  Honest I'm not starting to have anxiety. I mean it's Kyle…. easy going, really relaxed, staggeringly hot Kyle.  Maybe just the tiniest bit of anxiety.  Thankfully Pete knows me VERY well and sends lots of support.  So of course I then over sleep!
Saturday.  I'm due to arrive at 10, Kyle's due to arrive at 11.  Pete's due to head off about 10.45 so set up is peppered with "here's the passcodes for all the tech, here's the tank and ummmmm good luck".  Actually Pete has left me a VERY detailed set of notes and it's a huge reassurance. I just need to mix gunge, sort the room out, get my head around certain aspects of the script… oh and wait for Kyle to arrive and let him.  For those who have said they're jealous of me working with Kyle, want to know the truth?  Yes, he's hot.  Yes, he's lovely.  But for the seven hours I'm at HQ, he's actually the least important thing on the list in my mind!
Kyle arrives, we run through a few things and already in the back of my mind there's a major technical issue to deal with.  Sorry folks, the live feed is completely out of our control, we use third party bits and pieces and if they decide they're going to have an off day, there's genuinely very little we can do about it.  I feel really bad for people who were going to watch live but yeah, I'm just as gutted because for the first time ever I actually wanted it on.  Ah well.  Such is the joy of technology… and why we keep the mechanics of the tank very low tech!  
Interview and quiz done (note to self, next time switch ALL the lights on and don't pretend that it was the plan to put the flashing ones on half way through) and Kyle has the patience of a saint whilst we set up the pie game.  Turns out that the camera was slightly wonky, next time I have a cunning plan to sort that out.  Just take the slightly wonk as an upping the tension thing.  Honest. Kyle is brilliant though, there's all kinds of background noise we have to deal with (a few bits will still have made it onto the final film but trust me, you have no idea just how many times we had to stop!) and my idea that I'll need four hands is an underestimate.  Especially as I keep picking the bits and pieces up in the wrong hands! More things I have running through my mind that knock thoughts of Kyle away…. am I making the pies large enough, did I fill the tank full enough, is the tank cam going to work.  As fantastic as Kyle is, the technicalities of the shoot come first and they spin through my mind whilst also trying not to laugh too much at the word "booby".  Just watch the show, it WILL make sense.
We'll skip over what happened during Lucky or Mucky.  It wouldn't be possible to hint at it without major spoilers.  What I *will* say though is it's a balancing act of time, being nice to Kyle, trying to make the most of a technical disaster and getting a good segment recorded.  Thank goodness it is an experienced splat star, if this had happened with a newbie…. no, not even going to think of it, I was seriously panicking enough as it was at the time!  
Surprise segment shot (I had three potential games on my list, I'm fairly sure that I made the right choice) and then a bit of out of sequence shooting.  We go through all the games with the models before we start recording and for exceptionally valid reasons, Kyle and I decide to adjust things from the original plan.  He is totally brilliant though and smiles the whole way through the re-planning and damn he gave me what I really wanted for the segment.  Again though, I'm thinking "time, oh god I have to clean this all up, how do I pronounce this…" and not actually sitting there thinking "wow, Kyle".
The last two segments are massive on the mess front.  The final segment for the show is an insanely messy one and half way through I'm thinking "Okay, this looks good but it's going to be hell to clear up" along with "Damn he's getting too many right, I need to make sure he gets them wrong" and more than a hint of "how am I going to get from one side of the room to the other without walking in front of the camera".  On that last one, I actually don't remember if I kept out of shot or not…… that could be interesting to re-watch!
Final segment is done.  It's the "Cyclone".  It's been very specifically advertised so my first priority is to make sure it's what was on the web site.  Second priority is keeping Kyle happy (he has reservations about one bit so he brilliantly suggests a way round things) and the last priority is wondering how on earth I'm going to get this filmed without tripping over myself or slipping on the gunge!  
Kyle leaves just before 4.  That gives me 90 minutes to empty and thoroughly clean the tank, dispose of 9 or 10 buckets of gunge that's so thick it doesn't actually like being disposed of, clean up the bathroom, clean up the set and clean myself up!  My day at Splat is about seven and a half hours. When I lock the door behind me, THEN it kicks in… I've just filmed with Kyle.  And THEN the dysmorphia kicks in.
Seven seriously messy segments, a major clean up operation and the need to check that the footage is safely stored… all solo.  I've never left Splat so exhausted.  What I will say though is I've done my best.  All I can do is wait for Pete's comments and then feedback from fans.  And THAT is when the anxiety really kicks in.  Kyle, you were an absolute legend. And yes, I WILL find a way to make your next shoot with me even bigger.  You're worth it 🙂
Check Out Kyle's Other Splat! Shows...