COVID-19 Secure: This shoot was shot under our COVID-19 Shooting Safety Framework.
Who's ready for our first new feature length show since February!? Well the time has finally arrived!
We want to thank you all for being so patient as we carefully resumed our shooting operations after the Coronavirus lockdown. We started small with Mark Anthony's special shoot back in July which enabled us to test if our new COVID-19 Shooting Safety FrameWork was sustainable for our shoots. The fact that you reading this today means we were able to resume our shooting operations while keeping our team and guests safe. The amount of work and expense invested by the team to get us to this point cannot be underestimated. We pushed through for you, our fans who we know needed some light relief now more than ever during this challenging year. You kept us going through the lockdown, now it's our turn to return the favour.
So who do we have for our first new feature length Splat! Show? James contacted us a few years ago expressing his wish to feature on The Splat! Show. James, 24 and from London, has shot with a few other messy websites before but has always seen an appearance on The Splat! Show as his ultimate goal. We originally set a date earlier this year for his first Splat! Show shoot but then, well…you know what happened. As soon as we could resume production we set out plans to make sure that James would be the first guest to feature.
James was a real pleasure to work with who is really interested in making sure he is the best guest he can be. James knows what our fans expect from The Splat! Show being a big Splat fan himself. James is well spoken and dare we say it… a little posh too which brings a bit of class to his appearance. James has already told us he would grab the opportunity to feature in future Splat! Shows but that all depends on how well the show performs with you guys. If you enjoy his show please do let us know because we already have some ideas for his future potential return to the Gunge Tank.
James's Splat! Show Features The Following…
The Gunge Tank Interview: The Gunge Tank interview is always an interesting starting point for our guests. This is their first time in the famous Gunge Tank and they know what's coming. But before that first Gunging takes place we want to get to know more about our guests. James thankfully is the talkative type so his interview just flowed. There is no awkward pauses or fluffs, just a guy sitting in a fully loaded Gunge Tank telling us about himself. The interview ends with James's first Gunging.
Lucky Or Mucky: James told us before the shoot that he is pretty good at quizzes. To be fair, most of our guests say this too and it turns out not to be true on the day. With James, it appears that he might actually be really good at quizzes! Well, thats the impression he gave us during Lucky Or Mucky anyway James takes on the Gunge Tank with Lucky Or Mucky. Get a question wrong and select a number, one number will tigger the tank. We had to change the trigger number for James because being a Splat! Fan, he knew the usual number we use. Just how far will James get before triggering the Gunge Tank!?
True Or False Splat! Blast: After his stellar performance during Lucky Or Mucky we were expecting James to put in a repeat performance here. If anything, it should be a little easier for him right? We mean, he has a 50 50 chance this time. It's a little odd then that he actually did pretty bad during this round of True or False Splat! Blast. To make things worse for poor James, on this time occasion each incorrect answer is greeted with a Gunge Blast and / or Gunge Bucket throw. After a shaky start and a lot of Gunge already blasted and throw James starts to find his feet but by this point it is too late. The Gunge Tank is about to tigger and it's game over!
Wetter Is Better. Slimed Is Stupid!: James had one request for his shoot. He wanted to play Wetter Is Better, Slimed Is Stupid! After having seen the game during Phil's Splat! Show it's one of the only games he insisted he wanted to play at his shoot. So after being stellar in Lucky Or Mucky and rather terrible during True Or False Splat, just how well will James perform during a game where you can be called stupid (the shame!) if you trigger the tank. Spoilers, he actually did pretty well and got thoroughly soaked. So yes, he is better than most but James being the Splat! Fan he is, also asked us to trigger the Gunge Tank. Of course we obliged!
The Splat! Debrief + The Messy TV Quiz: We are changing up the usual Splat! Debriefs starting with James's Splat! Show. We still perform a post shoot interview with our guests but we are also adding a special quiz at the end to see if they can escape the Gunge Tank for their last Gunging. We may also try new games here too, so keep a look out in future shows! By this point the gunge is FREEZING COLD so out of all the Gungings this is the one people want to avoid. The make that happen they must answer a series of questions based around messy TV shows and Splat! History. It's game over as soon as they give an incorrect answer. So James being a Splat! and Gunge Fan should have no problems here right and should be able to walk out of The Gunge Tank Clean…you would think….right!?
Gunge Tank Cam Gunging Footage. This release features Gunging footage taken from the perspective of the Gunge Tank cam. A birds eye view of the Gungings.
Video Details and Legal Information
Video Length:

1 hour, 12 minutes and 26 seconds (including Gunge Tank Cam Footage).
Splat! Guest Care: Learn how we cast and look after our guests you see on the show here.
Release Status: Guest has signed a release form and given us legal consent to release this material on this website and select third party partners. Learn more.
Copyright © The Splat! Show: Do not repost or share any files you download from us. Seen our content elsewhere? Report it. Read more about your legal obligations.
Content Guidelines: No swear usage. PG. Learn more about our Content Guidelines.
Splat! Split & Switch Status: This feature length show is not eligible for Splat! Split & Switch until September 14th 2022.
This does not mean this show will be added to Split & Switch at this date as not all feature length shows will be added to Split & Switch.

All shows and content will be available unless we need to remove it as per our terms and conditions.
Aspect ratio of images have been altered and cropped from the video download. Video download plays full screen in 16:9 ratio. Logo is not in the video.
Also Available From This Shoot...

James took on our famous Splat! Storm. The Splat! Storm is a relentless deluge of gunge from all directions. Gunge blasters, foam cannons, bucket throws and tank drops. There is nothing quite like the Splat! Storm. Video download plays full screen in 16:9 ratio.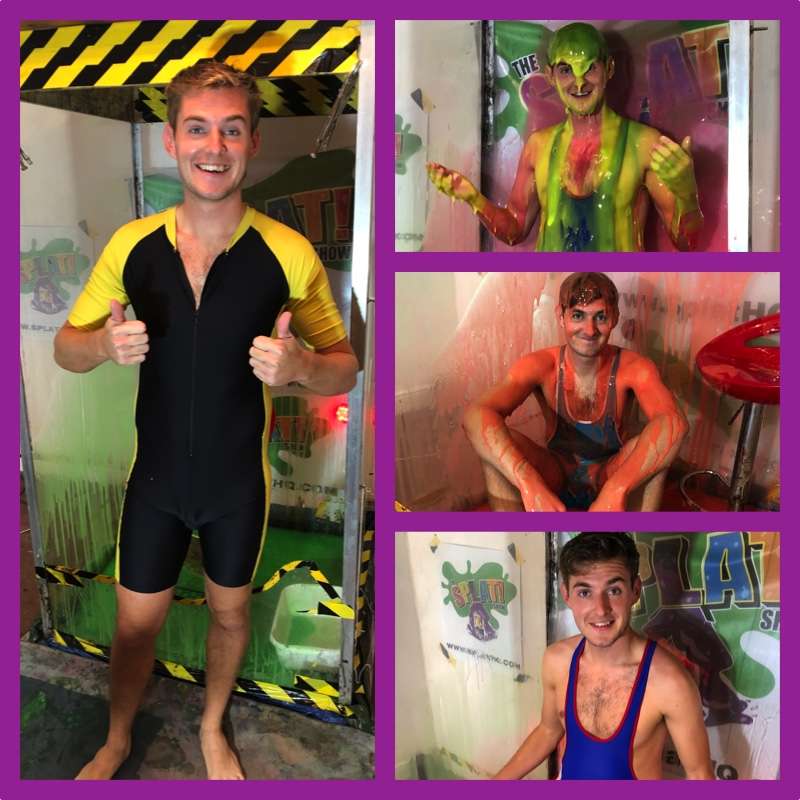 James's Splatography Pack
James' Splat! Shoot Picture pack featuring 45 high resolution pictures taken at James's Splat! Show shoot. These pictures were shot especially for this picture pack and are not screen shots from the show. 
This is the second and last Gunge Tank Vote for 2020. It's James Vs Adam in the Gunge Tank vote. James received the most votes and was instantly Gunged in the Gunge Tank. Adam will play The Great Gunge Tank Escape when he shoots his Splat! Show in early 2021. Viewers who order this video will also be sent Adam's part when it is available. 
Aspect ratio of images have been altered and cropped from the video download. Video download plays full screen in 16:9 ratio.
Complete Gunge Tank Cam Footage...
You can watch James's Splat! Show shoot (including the Splat! Storm and GT Vote Results) from the perspective of The Gunge Tank Cam. A birds eye view. This download features the WHOLE show taken from The Gunge Tank Cam. The whole show shot from The Gunge Tank Cam and not just the Gungings. Full Gunge Tank Cam footage can be downloaded to keep from this page or you can stream it on The Splat! Fan Club. 
Video Details: Running time 1 hour, 42 minutes and 51 seconds. 
Aspect ratio of images have been altered and cropped from the video download. Video download plays full screen in 16:9 ratio.

James's Splat Shoot Cut Footage
Check out the cut footage James's Splat!  shoot featuring bits that didn't make the show edit. Includes extensive footage of James before the gungings, after the gungings including clean downs and footage of James getting into and out of the gunge tank plus much more.