James T's Returner Special
Out of all the guests we've had on over the years, it is James T who waited the longest to get into our Gunge Tank. Casting our shows takes time, usually a few months. Getting our diary aligned is always the challenging bit. James T was originally supposed to shoot with us a whole year before he finally made his eventual debut. It was worth the wait.
Now two years past since his first Splat! Show appearance, James T is back making his final appearance in our Gunge Tank. Our returner specials have always been highly anticipated by fans and we really hope you enjoy our first returner special in quite sometime.
This Splat! Show Features…
The Splat! Wheel Of Misfortune Gunge Tank Interview: Instead of us pre-planning the games for James's returner shoot, we decided to let the Splat! Wheel Of Misfortune decide. Before James spins the wheel for the first time, the crew interview James to find out what he has been up to in the two year gap between show appearances. Then it's time for James to take the first spin of the wheel. If it lands on his chosen colour he escapes the gunge!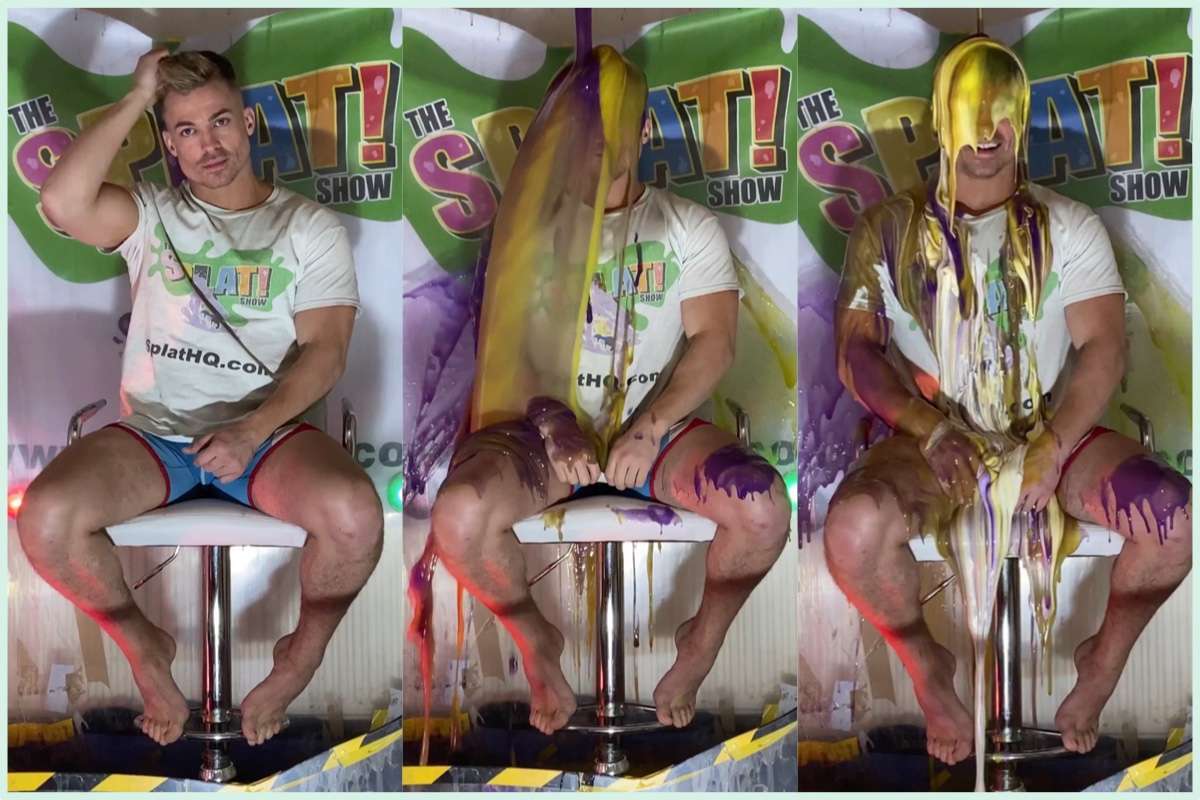 The Splat! Wheel Of Misfortune: The Mega Gunge Quiz: For the first game in the show, the wheel selected Mega Gunging for James. In this round, James is gunged every time he gets a question wrong. From Gunge Blasters, bucket throws and the inventible tanking, this quiz is mega mess on so many levels.
The Splat! Wheel Of Misfortune: Fill Ya Pants: For the second game of the show, the Splat! Wheel landed on a firm fan favourite from a few years ago. Fill Ya Pants! If you don't know the rules, they are simple. Each incorrect answer James has to fill a cup of gunge in his pants, if they start to spill out it's game over. Game over means James has to take his seat for a Gunging.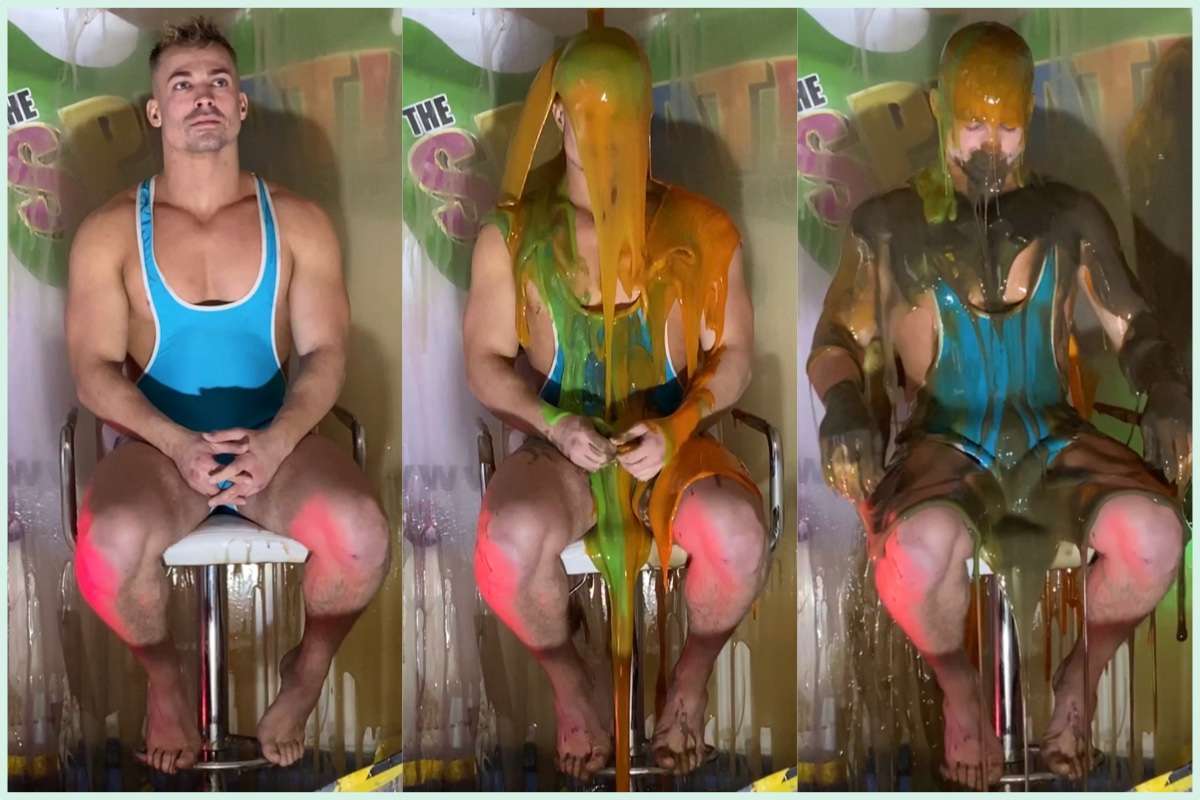 Splat! Pie Target Challenge: Season 17 had Tour De Gunge, Season 18 has Splat! Pie Target. As with Tour De Gunge, Splat! Pie Target will run throughout this season. James, Splat! Show producer has ten pies. He has to aim for the head to get a point. James is playing for the guests here. To encourage our guests to sit still as possible so James can get a clear shot, the model with the most spot on hits will win this season's non messy prize. Of course they have to get messy to win, so it's a win win for all parties.
The Splat! Wheel Of Misfortune: GUNK THE HUNK & Debrief: For the last spin of the show the wheel selected Gunk The Hunk for the finale and debrief. First season way back during season one of The Splat! Show, GUNK THE HUNK sees James try and persuade us he ISN'T a Hunk. A challenge for James and the majority of our guests. Will James persuade us he is just a normal guy under that hunky exterior or will he get The Gunk!
Gunge Tank Cam Footage Included: James T's Returner Special features Gunge Tank footage from the Gungings.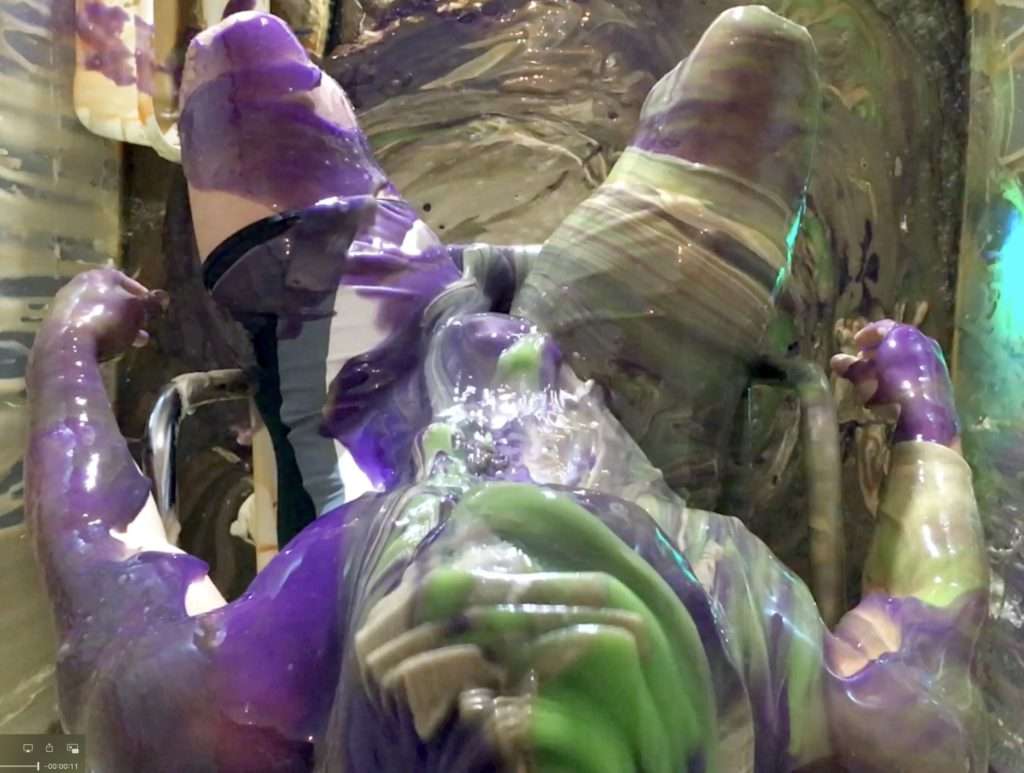 Video Details and Legal Information
Video Length: 1 hour, 1 mins 10 secs, (including Gunge Tank Cam Footage)
Splat! Guest Care:

Learn how we cast and look after our guests you see on the show here
.
Release Status: Guest has signed a release form and given us legal consent to release this material on this website and select third party partners. Learn more.
Copyright © The Splat! Show: Do not repost or share any files you download from us. Seen our content elsewhere? Report it. Read more about your legal obligations.
Content Guidelines: Some swear usage. Clothed in part during the segments. 12. Learn more about our Content Guidelines.
Splat! Split & Switch Status: This feature length show is not eligible for Splat! Split & Switch until January 23rd 2022.
This does not mean this show will be added to Split & Switch at this date as not all feature length shows will be added to Split & Switch.

All shows and content will be available unless we need to remove it as per our terms and conditions.

Aspect ratio of preview images have been altered and cropped from the video download. Video download plays full screen in 16:9 ratio.
Also Available From This Shoot...

James T took on The Splat! Storm. The Splat! is a relentless deluge of gunge from all directions. There is nothing quite like the Splat! Storm. 
James Returner Special Full GT Cam Footage
You can watch James's Returner Special from the perspective of The Gunge Tank Cam. A birds eye view. This download features the WHOLE show taken from The Gunge Tank Cam. The whole show shot from The Gunge Tank Cam and not just the Gungings. Full Gunge Tank Cam footage can be downloaded to keep from this page or you can stream it on The Splat! Fan Club. 
Video Details: Running time 49 minutes and 20 seconds. 
Download The picture Pack
James T's Returner Splat! Shoot Picture pack featuring 43 high resolution pictures taken at John's Splat! Show shoot. These pictures were shot especially for this picture pack and are not screen shots from the show. 
Check Out James' Other Splat! Shows...