Splat! Team Production Blog
Welcome to The Splat! Show Team production blog. Here you will find important updates from the team that make the Splat! Show a reality.
If you want to contact us, please go here.
Updates From The Splat! Show Production Team
Updated: Thursday 12th May 2022.
Hey guys, just a quick update about our plans for the summer months now that Season 20 has officially started.
This year I am going to be taking a break over the summer, things have been pretty hectic over the past few months and I need to take a mental health break and a break in general from planning our commercial shoots. Our commercial shoots take up the majority of my time and while I will continue to work on the site by providing updates and running and hosting private experiences, our commercial shoot productions will be taking a break over the summer months. They will resume later in the summer and into the Autumn.
Updates to the site will continue over the summer with content yet to be released (there is a ton) and of course the Splat! Fan Club will receive their respective monthly updates (and other updates) over the summer too. Private experiences will continue over the summer and will continue to be available over the summer. However, we may be blocking off September and October for private experience bookings (as in they won't be available) for when we resume our commercial shoots but we will announce that officially if that is the case.
As always, plans can and do change and I will do my best to keep you all up to date. Thank you for making the start of the season a great one!
Pete
Season 20 Gets Underway - A update
Updated: Tuesday 3rd May 2022.
Season 20 of The Splat! Show is now underway. It's taken us longer than we would've liked to get going, but life issues got in the way this year. But that's now in the past and production of the season is now in full swing.
So what can you expect from The Splat! Show this season? Well we want to cast a wide selection of guests to appear on our show as we continue to evolve what the Splat! Show is. Our casting for this season so far has come from very unconventional sources, which is giving us the choice to cast a wide selection of guests. We have models, actors, sports people and even fitness models on our radar already and we will continue to aggressively cast to get the biggest and best selection of guests we can. The Splat! Show means different things to many different people and we hope that whatever your interest in the show, that this season you find something you enjoy. 
Our private experiences are also heating up with bookings continuing to accelerate. We have already met so many fans this year at our experiences and continues to be a highlight to meet so many fans of the show in person. If you have yet to pay us a visit, then why not consider booking one? You deserve it!    
So with season 20 now in active production and our experiences blowing up, what else can you expect from us in the future? We always have plans but we have learnt not to announce anything too far in advance. So we won't be announcing any future plans in advance, they will just appear when and if they are ready. This way means we don't over promise and under deliver and also gives you all some nice surprises if our plans do work out. 
Thank you for making the start of the season so strong, it's only a few more years until our 20th anniversary. We have only survived so long and overcome many challenges due to your support and the hard work from the team behind the scenes. 
Thank you for the support.
Pete 😉
Season 20 & Other Updates
Updated: Sunday 10th April 2022.
What a whirlwind the last week has been. Not only have I been stuck down with Covid but we had to deal with PayPal terminating our account and then for them to reverse their decision a few hours later. We don't really know what happened, but we can only assume that PayPal reviewed the site and then reinstated the account after their investigation was complete. We have been using PayPal since the show's inception nearly 20 years ago, so any issues should have been flagged to us before. But it appears to be good news that they reversed their decision for us to continue using their service after their review. We do our best to make sure we follow all terms and conditions for any service we use and ensure that our content can be viewed by a wide and varied audience. The about us pages did their job well!
The last week also marked the start of our new fiscal year, this means that Season 20 can now start. We are working on a slightly revamped format for the main shows, we are taking the brutal buckets format we introduced last year and expanding on it. You will find out more when the first shows start to roll out. We are hoping to get some great guests on this year and casting is just about to get underway. I can't say when the shows will start to roll out as casting takes a considerable amount of time but as always we will do our best. I am very much looking forward to welcoming James back to the shows too, he is getting better by the day and having him back on the productions will be great!
Finally, I want to announce that the website complete redesign that started a few years ago is now complete. The Fan Club moving to the site was a massive challenge for us but the pay off has been more than worth it. We will continue to tweak the site as always, but the new design is now complete.
I hope you all are looking forward to the season ahead!
Pete
xoxo
March Update - Resuming Operations
Updated: Wednesday 9th March 2022.
We are now back running our in person operations after taking a small break at the start of this year. In my last post I mentioned that my father was in hospital. Unfortunately he is still there and remains sick. But the show must go on. Thanks to those who have reached out to me regarding this matter. It is really appreciated. If anything happens that could effect operations I will be sure to let you all know.
We have already hosted a few private experiences since restarting a few weeks ago and our first commercial shoot for 2022 is coming up this weekend. We will be welcoming Mitch to The Splat! Show. If you don't know, Mitch comes all the way from Australia and Mitch has appeared on other sites like ours. This will be his first and possibly only time on The Splat! Show. His show will headline of our Red Nose Day hub this year with all profits from this show being donated to Comic Relief. We can't wait for Mitch to put on his Red Nose on and enter The Splat! Show Gunge tank for a very special show!
We will also be welcoming Louie back to the show a week after Mitch's shoot. Louie will be coming to shoot his Splat! Star special as he gains Splat! Star status after completing three Splat! Show shoots in record time. Louie will then be taking a break from the show as season 20 gets underway but he will star in one of our Holiday specials during s20 and also a very special show that we are planning with a Fan.
We hope you are looking forward to the upcoming special shoots with Mitch and Louie and then season 20 from April.
Pete
xoxo
Update! February 2022 - Life Gets in The Way...
Updated: Saturday 5th February 2022.
What's up guys? Just wanted to give an update now that we are into February.
There is a big change happening behind the scenes later this month as we move to a new shooting location. We have been packing for over a month now and should all be settled in our new place by the end of February. Our new location should enable us to try a few new things over the rest of the year and we will highlight any changes as they happen. It is an exciting time and we can't wait to get back started again.
In other news, I want to mention that my father was taken into hospital recently. It is a worrying time for myself and I will try my best to keep the site ticking over with updates. If you a notice a slight slowdown or there hasn't been any social media posts for a few days, please don't think anything is wrong. With the move happening and my father in hospital, things are going to be quite stressful over the next few weeks but I will do my best to keep any disruption to a minimum.
Finally an update on season 20. While season 20 won't officially begin until April, we do have a special commercial shoot penciled in for March. We should be in a position to reveal more soon so I hope you look forward to that.
Px
Updated: Wednesday 19th January 2022.
 Hey guys, 2022 is here so I just wanted to update you on what is going on for the first few months of the year.
We do not have any shoots planned to take place in January or February at the moment as we prepare for season 20. This is so we can take some time off from shooting and also make a few changes behind the scenes. There will still be updates to the site as we have some season 19 content still to release and we plan on adding a chunk of content to The Splat! Fan Club too over the next few months. As soon as we are ready to share our plans for season 20, we will let you know.
I hope the start to 2022 has been kind to you and I hope you are looking forward to what we have coming during this year. There is plenty of content waiting for you to explore on the site before new content arrives, so I would encourage you to check that out if you haven't already.
I hope you look forward to brand new content soon!
P
End of Year / Season Blog Entry
Updated: Friday December 17th 2021.
Written By James, Show co-producer.
Well, dear Splat fans, welcome to a very different end of year write up. Before I even get into what's been going on gunge wise in 2021 I'm going to start with the obvious but important statement.  If you're reading this then you've made it through one of the toughest, most challenging years that there has been in an exceptionally long time. This wasn't the year any of us planned (certainly it wasn't what I planned but, as usual, I'll leave that part till the end) but yes, the year is nearly over and 2022 is nearly upon us.  I'm not even going to speculate on what it might bring globally but I DO know that there will be gunge.  2021 didn't manage to completely stop us and I refuse to let 2022 beat us either 😀
This also won't be my usual Lord of the Rings length end of year write up for all the very obvious reasons. Instead I'm just going to pick a few of my favourite shows – yes I've been buying them all again – and fill you in on a lot of behind the scenes stuff. And then yes, a bit about where I've been this year and why I've not been filming.  I am still very heavily involved with production though and… yeah, let's do the reviews first.
The weird thing about 2021 is that it feels as though this has been the year, against the odds, where we hit our stride with double headers and it's no surprise that my two favourite shows were two-player specials, even if one of them clearly wasn't a public favourite. I'll start with the Benny and Darren head to head.  For whatever reason, and it's rare for this to happen, the show didn't do well.  We never really have shows that flop at Splat but this one just didn't take off.  Which is utterly criminal as it's an absolute scream.  I've picked this as one of my two favourites because I genuinely and truly loved every minute of watching it.  Without naming names we have done double headers in the past where it's been two models and the chemistry hasn't always been there but hell, this one is friend vs friend and it REALLY comes across on camera.  These are two guys who really want to get one up on each other and send each other into the tank.  With models they have their pride I guess but here we have two people who know each other very well and are desperate for the other to 'suffer'.  And yes, I was furious that I missed out on this one as it's two damn muscled guys who bulge in ALL the right places in lycra (seriously, I'm glad I loaned my two surfsuits to Splat because these guys definitely fill them well) and look superb when covered from head to toe in gunge.  Darren, of course, had his own solo show which was also great fun to watch but yeah, friend vs friend is always something special and it was great to see Benny make his debut.  If you're looking for a show to lighten up your Christmas then this is one to go for.
It would also have been my number one show of the year if it hadn't been for the final show of the year which absolutely hit every single button. Louie vs Phil, both technically returners so both know exactly what's wanted when they're in the tank and, more importantly, two from the guys-next-door category that make me desperately want to move…. Next door. I have raved about Phil in the past, none of it was exaggerated by the way, and I was genuinely heartbroken that I didn't get to see him this year.  He's such a wonderful guy and I did actually wonder, on the basis of the chemistry, if he'd known Louie before the shoot but nope, this is a model head to head where they truly click and bounce off each other.  I've yet to meet Louie, it's on my 2022 bucket list, but really this guy just comes across as a natural on camera and in the tank. And go on, it's Christmas, treat yourself to the Special Edition. I'm trying to remember just how long I've been buying/watching Splat shows and hand on heart I cannot remember one in a very long time that I feel was as hot as this one.  The deleted scenes bit definitely is eye opening at one point.  Trust me you will not be disappointed.
The other thing you'll possibly have noticed is that this year we've started the process of upgrading everything.  We'd just got the new cameras sorted before lockdown hit and we've used the time to start working on new lighting systems and camera gear.  That's only the first stage though, this time next year The Splat Show should look VERY different indeed.  I'm not going to spill the beans just yet because that's still very much a behind the scenes secret we want to hold off on the reveal of but I can let you in on a few other things.
There have been comments and questions about why we've set up the 'free membership' route for the Splat Website.  The full story is very long, dry and technical but the short version is that long term it's going to give us much greater control over the content, the fan club, the freebies etc.  Depending on the sort of person you are, you may or may not know that half way through the year the Only Fans platform announced that they were going to suddenly and massively change the style of content that could be posted on there.  The Splat Show is not porn.  We wouldn't have had any problems meeting their new criteria, in fact a lot of what they introduced to protect models we already did anyway.  It did however make us realise that we were very dependent on 3rd party platforms and that we could, potentially, find ourselves without a host for the videos without warning purely on the whim of a banker.  Therefore we took the decision to set up our own system that others couldn't faff around with – Only Fans changed their plans time after time after time – and that would help us implement self-ownership in a much easier manner.  And if you're worried about signing up with your real name etc…. we really don't mind if you set up a free googlemail address to log in with under a different name, in the long term I promise that everyone will benefit from the new system no matter what other companies try and throw at the industry.
Model wise, well this year we've been slightly limited as to who we can film with because, you know, pandemic.  What HAS made us happy behind the scenes is the number of models, both new and returners, who have expressed interest in coming back now we're up and running and have shown we can film very safely in the current situation. is demanding to know why he hasn't filmed again yet, is still very keen for more gunge antics and has made it very clear indeed that they want to be tanked whilst sitting in the tank with someone else.  We've got a few new people that we're keeping our eye on and in the new year we're determined that once phases two and three are done we will start bringing in larger, messier and gungier games.  New lycra too. Oh and even though they haven't been seen on camera in quite some time, is still indicating they're happy to get involved in the new developments as well.  
I really was upset that I didn't get to film with Benny, Darren, Phil and Louie this year.  I won't go into the full details because there are some things that you don't need to know, but covid has not been kind to me.  I was hospitalised in part due to it and I've still got long covid.  It sucks. Seriously, I wouldn't wish this on anyone.  HOWEVER, there is finally light at the end of the tunnel.  Whilst P has been keeping me going on the mental health front, the GPs have started working on my physical health and I'm now at the 95% confident stage that I'm gonna be back when filming resumes next year.  When I finally admitted on my twitter account how ill I was, not going to lie, the messages of support I got from some Splat fans practically reduced me to tears of happiness.  Splat has been a massive part of my life for years now and no matter how disappointed I've been that I didn't get to film with models, it's the fan shoots that I've missed the most.  You lot are insane, brilliant, wonderful, funny, sexy, knowledgeable… everything under the sun.  Being out of the filming loop for the private experiences has been the hardest part of the year for me but they would have been the most dangerous for me to do.  The one thing that it still hurts to do, though it is now getting better, is laugh.  And that's what I miss most about the private shoots, it's the laughter.  So to EVERYONE who's messaged, I love you all.  Truly and deeply.  And to the person who actually said they were postponing their private shoot till I was healthy enough to join them in the tank…. Oh you are gonna get soooooooooooo messy when it happens.  Trust me, I'm saving up my pie arm for that shoot and you're going to get FILTHY.  And I cannot wait.
2021 is pretty much over.  2022 is around the corner and P, the models and I cannot wait to get into lycra, into the tank and into all kinds of messy situations. And yes, I have a private experience of my own booked.  No it won't go on sale.  But yes, I'm sure if you ask nicely….
See you next year x
P's Thoughts
That's it! Season 19 has officially wrapped production. This season turned out to be bigger than we originally planned. You may remember that we said this season wouldn't receive a number after production only started in June (half a year later than normal) so it was called the "Special Season"up until late September. Why the change? Well it turns out you don't need a full calendar year to plan, shoot, edit and release a full season. So season 19 has come and gone.
With James absent throughout this season, it was down to my lonely self organise and run the shoots this year. While it was challenging at times (season finale was a nightmare!), I actually enjoyed the experience and reminded me that I can do pretty much anything if I put my mind to it. With James due to return to Splat! early next year (he is getting slowly better from long COVID), it will be nice to have another person at the shoots. James, you have been missed! 
It has been a season full of gunge and fun. Having Whitie back on the show was personal highlight, but working with Louie has been the biggest highlight this year. Sometimes we cast guests to feature who just fit right into the show and Louie is that rare guest who just clicked. His show has been the best performer this year. 
This year has also seen some major changes to the website. We introduced site accounts and laid the groundwork for new features that will rollout from April next year. Some of these changes are not going to down well with members who don't actively support us through download purchases, fan club memberships and private experience bookings but as we approach our 20th year of existence, things are going to change.  We have only lasted this long due to the fans who support us. We don't run adverts on this site and never will, we are reliant on downloads and other income from our content to continue. I can't say much more now, but me and James have been making plans over the past few months. Our content is made for the fans who support us, and it's only right they get to enjoy everything we have to offer. If you enjoy our screenshots and trailers (which will be hosted on the site and removed from Youtube next year) but don't actively support us, then we probably won't like the changes coming next year.  We will also be closing our UMD store next year so you will only be able to access our content here. The Fan Club has already moved onto our own site (onlyfans was never really the right move or fit for our content) and is performing better than ever. Taking full ownership of our content is well overdue and we will be addressing this in the new year. 
Of course we are also making plans for season 20. The aim is to have that run as normal from January to December barring any covid related issues. We will be continuing the "Brutal Buckets' format that we introduced half way through season 19 and will continue to offer special edition downloads which have exceeded our initial expectations. We will also be expanding our casting scope to feature the best new faces. Casting is already well underway and we will be announcing our first season 20 show early next year. It's about time we did another "Celebrity Splat" don't you think?
Finally, I want to thank all the guests who we have featured on the show this year, thank you for trusting us as a safe place to work and have fun and the fans who have visited Splat! HQ this year for their own private Splat! Show experience. For me, meeting the fans is a true highlight. I have met so many over the past six months and it has been an absolute pleasure to meet you all and hear what Splat! means to you. 
Thank you for the support this year and I hope you are looking forward to the season 19 finale with Louie and Phil. It's a cracker! 
P XoXo
End of year Updates Coming soon!
Updated: Monday December 13th 2021.
Hey guys, just a quick update to say that we will soon be posting our end of year update blog post. Although James has been absent from the in person shoots this year, he will be writing this years wrap as is custom. It will give you guys a different perspective on what has been happening at HQ this year as we resumed our in person shoots. I will of course be adding my own thoughts too.
Early next year we will be unable to shoot for a few weeks as we make some set changes, but we will be back before you know it!
Look for that end of year blog post very soon.
P XoXo
Site Accounts Update - Radical Changes Planned
Updated: Wednesday 20th October 2021
We have been operating our new site account system for nearly two weeks now and over 500 accounts have been created. We want to thank you for being patient with us as ironed out any early bugs but the roll out did go better than we expected. We have also seen a bigger than expected demand for our The Splat! Fan Club. This has given us confidence to look at making changes to our business model and we will be making some important changes next year.
We can only produce new content and keep the site running thanks to users who actually purchase from us, book an experience or buy a fan club pass. These customers are why we are still here today, nearly 20 years after we launched.
We will not be announcing any changes yet and we will be carefully exploring these options. They may not be rolled out, but as is our promise is to be open and transparent with you all we wanted to let you know we are considering some radical changes. Any changes will ultimately benefit the site and our shooting operations for the better. We know that we will face some resistance from some, but change is never easy. Our priority is to serve our customers who actively support us.
Introducing Site Accounts
Updated: Friday 8th October 2021
Over the past week we have made some substantial upgrades to the website by introducing site accounts. You now need to create and log in with these accounts to view most sections of the website. You can still view the news page and about us pages without an account, but you will need to create a Splat! Show account to view the other pages. It is free to join and view the pages but this could change in the future.
We have introduced accounts so we can bring some new features to the website. Our Fan Club for example is now hosted on the website, and we can easily upgrade accounts to access the Fan Club. We are also planning other new features that will take make use of site accounts.
With site accounts we have also introduced some new security systems to keep your account details safe. You may trigger these security features when trying to create an account. If you are having issues with account creation, please reach out to us here and we will help you.
Please note that we will be ban user accounts that are found to be acting in bad faith and have triggered the security system. If you try to log in as a site administrator or one of the Splat! Show team (these are protected with two factor authentication) for example, we will be alerted and we will block any IP address from creating an account or accessing the site. This ban will be permanent as there is no excuse for attempting to log in as a site administrator.
If you buy a Fan Club pass and upgrade your account, we will update your account with two factor authentication on your behalf. Please ensure you have access to the email you used to create your account as this where the two factor codes will be sent. We will email you about any changes we make to your account.
Updated: Saturday 2nd  October 2021
Yesterday we announced that The Splat! Show Fan Club will be moving from the Onlyfans platform and will now be hosted on the website. I just wanted to give you all a bit more detail about how this move came about.
If you follow the news, you will know that the Onlyfans platform has been surrounded by controversy over the last year or so. Onlyfans is mainly a adult performer platform hosting explicit adult material and this has caused some major issues. You just have to google Onlyfans to see the problems that the platform is having. We launched on Onlyfans shortly after they launched, we liked the simplicity of the platform and it was easy for us to post exclusive content on there and at the time it was not known as an adult platform. Since then, the platform has become rather sinister and we are best to distance ourselves from their platform.
We have been planning to move to the Fan Club to the website and off Onlyfans for a while now. We even removed some Jon content last month in preparation for this move so we could host the fan Club content on our own servers.
Yesterday we received an email informing us that Onlyfans would be closing our page in 48 hours as we could not meet their new requirements that have now come into force in a effort to clean up their image. All our models and guests sign a model release form, but Onlyfans now requires all people that appear on their site to follow their requirements. A model release form that we use is not enough for them, they expect us to take a picture of our participants holding a print out from Onlyfans (which they provided in their email to us) along with their government issued ID saying they give permission for their image to be used on their platform. It is impossible for us to contact our past guests (going back years) and then arrange them for us to visit us to meet the new OnlyFans requirements. This is why we are leaving the Onlyfans platform and the public imagine problem they are having. We need to distance ourselves from them for us and our participants. 
As I said, we had been planning this move for a while now but Onlyfans new policy forced our hand earlier than we thought. Remember, our content is not explicit but still onlyfans required us to follow their new rules. The Fan Club is now active on our own website and we have some exciting new features that we are planning now we have the Fan Club within our own site. 
If you recently joined the the old Fan Club Onlyfans then we have been told you can contact Onlyfans support for a refund. 
We have managed to reduce the price of our Fan Club subscription too now that we are hosting the fan club internally.
I want to thank all those members who supported the Fan Club over the years and we hope you look forward to more content coming to the Fan Club, now integrated into our own site.
P xxx
Updated: Friday  17th September 2021
Earlier this week we announced the first set of shoots that will take place in the second half of this season, a season we are calling "Special" after the COVID lockdowns. 
We are shooting with James on Sunday 3rd October and Louie a week before on Saturday 25th September. James is a seasoned Gungjee having appeared on QuizBob and others over the past 12 months, but he credits The Splat! Show  as the reason why he agreed to appear on those shows in the first place. Let's hope we can make his Splat! Show experience a top tier show.
Louie is completely new to Gunge and is yet another brand new face that you will see first on The Splat! Show. A personal trainer and a father of three, Louie will certainly becoming very gooey when he steps into The Gunge Tank for the first time on Saturday 25th September!
A Gunge Tank Vote is running between James and Louie and is already the biggest Gunge Tank vote this season by a massive margin. I can't tell how the vote is going, but I can say that it's looking very close but I don't think it will be another tie as we saw in the Ben Vs Daniel vote. TAKE PART IN THE VOTE HERE.
Also we are back to offering two Splat! Storms for the price of one with these shoots. We are playing it safe after the unintended problems with Darren and Benny's Friend Test, Gunge Fest pre-shoot for the their shoot. ORDER THE PRE-SHOOT OFFER HERE
We will also be trying something new with both James and Louie's shows when they are released. We are still working out the details, but we are working on something that we hope will offer increased value for our fans looking to own a special version of the shows. We will be announcing more details when these shows are released. 
I hope you are looking forward to these shoots and I want to thank our fans for making this season such a success so far. 
P xox
Site Changes - DYnamic And Eye Catching
Updated: Saturday 14th August 2021
For well over a year now we have been working incredibly hard the website design, that design process is now coming to an end with the finished layout now rolling out across the site. It takes many hours to test a new design, to make sure it looks and displays correctly on different devices and then roll it across a site that has never been bigger.
You may have already seen the animated show video tiles for each show. With a unique comic book feel that represents the theme of the Splat! Show well, it adds a nice dynamic to the site and catches the eye. We are now rolling out more video tiles across the site. These will be rolling out on Splat! Storm, Vote and Fan Club content that is listed below each show page under "Also Available From This Shoot" sections. At the moment we are not sure if these will be rolled out to their respective indexes as we need to stress test these due to amount of content on those pages.
We hope you enjoy the new dynamic look. If you spot any mistakes, please let us know. After the new designs complete their rollout, we will moving to correct the grammar and spelling issues, which I admit has never been a strong point for me. But that will be corrected next!
Thanks for your support as always. We hope you look forward to more positive changes in the near future. 
P xox
Update On Plans For August
Updated: Thursday 5th August 2021
So I just wanted to update you all on our plans for August. The past two months have been incredibly busy and in order to prevent myself from getting burnt out I haven't planned many commercial shoots for this month. I am currently running all the shoots, both private and commercial as James is still recovering from long COVID. 
I will still be busy with Private Experiences and will continue to make plans for the future. But after two hectic two months I don't want to overload myself and suffer from any form of burnout.
There is a ton of new content for you explore and the fan club will be getting some beefy updates this month too.  Thank you for the support and please look forward to future updates!
P xox
Updated: Friday 30th July 2021
We are now in the twilight days of July with August just around the corner. Our last update last month mentioned that June was our biggest ever month ever, well July has now over taken that and is now our biggest month.
I want to take this opportunity to thank you if you have downloaded a show, joined the fan club or even booked a private experience. It's humbling that our return to full operations has been met with such such enthusiasm by the fan base. 
We hope you've enjoyed the latest releases with some fantastic new guests and returning faces. The effort has all been worth it and the messages we have received over the past two months have been really touching. I would've have never imagined that we would be still here when I relaunched the show back in 2014 and we are bigger than ever, and I will never ever forget that we are only still here because of the tremendous support you have shown us. 
The only thing missing is James, who sadly still cannot be at the shoots. due to long COVID (no, he didn't  catch it at HQ). I send my love and wishes to James (I speak to him near daily) and look forward to his return. My storms pale in comparison to his efforts! 
With our 20 year anniversary (god!) just a couple of years away, we are already thinking about how we can celebrate that massive milestone. If you thought our 15th anniversary was massive, you ain't seen nothing yet! 
We will continue to give it all as we move forward and expand into new areas.
Thank you all! 
P xoxo
Updated: Saturday 3rd July 2021
We have now finally started to roll out the first new content since we re-started our in person operations at the beginning of June. The reception has been great and thank you for showing us your support as we started back up. June 2021 is now officially our biggest month ever, it may be a post lockdown bump, but whatever the reason we are truly humbled by the support you have shown us. Thank you!
We are not slowing down. Currently we are working our way through a big chunk of private experience bookings and it's so nice to welcome back fans to the Gunge Tank for some post lockdown mayhem. We will be shooting some commercial releases in July, including one with another brand new guest and we will also be welcoming back some Splat! favourites too. Someone is due a Gunge Party to mark an important Splat! milestone after all!
Once gain, thank you so much and we hope you look forward to what we have coming in the near future!
P xoxo
Updated: Thursday 17 June 2021 
It's taken us months and months of preparations but we are finally back in the Splat! HQ studio with our commercial shoots and private experiences. The new content is just starting to roll out, and I just want to thank all our fans for helping us get to this point where we can start in person operations again. The past fifteen months or so have been the biggest challenge we have faced in our near 20 history. But we made it through mainly to you all, our fans.
We have some great content planned over the rest of the year and we all here at Splat! Show hope you are looking forward to us returning to normal. 
The Gunge Tank is back and we are so glad you are here with us as we start another new chapter! 
We will be back this summer!
Entry Posted: 14th April 2021 – Written by P, Show Producer and Founder
We are now planning our re-start preparations as we work towards the 17th May. The 17th of May is the next stop on the governments lockdown easing roadmap where we will be able to re-start our operations.
Today we have emailed all customers who have an outstanding private experience booking with us to update them on our plans for re-opening. As it currently stands, we are only working towards the 17th May as a guide as the easing of restrictions could pause before then. So we will be making preparations for resuming our operations from the 17th of May but no shoots will be booked before the 17th of May.
We will be back producing brand new content sometime this summer and we cannot wait to get back started again. Stay tuned!
Best wishes, P XoXo
End Of Season Blog Update
Entry Posted: 17th November 2020 – Written by James, Show co-producer.
Don't worry Splat fans. This isn't going to be a doom laden blog about how a certain pandemic messed up everyone's messy plans. Yes, it'll have to be mentioned at some point I guess BUT there's so much more about this year to talk about because, know what, all the damn good stuff we were hoping to do this year has only been postponed, not cancelled. So I get to tell you about all the behind the scenes planning that has already been done and the fun stuff we've thrown around because it becomes a trailer for next year. I can tell you some tactful truths about some shoots and I can tell you, with total honesty, just how important the fans are. Oh and I can even launch the (very unofficial) Splat FAQ! So grab a seat and rewind the clocks by what only feels like ten years to the start of the decade… because by the start of January, we'd already been hard at work to get the year underway.
The truth isn't always brilliant to admit but yeah, I was the one who pushed to get James T back and it wasn't the fantastic return I'd hoped for. I knew he'd bulked up and I'd been exchanging messages with him for a while because yes, I had the hots for him. So yeah, I freely admit that I probably over sold him to Pete as a returner. Do not get me wrong, he is a great person to film, but I let my own desire to work with a muscled guy get in the way of possibly finding a slightly less bulked up model to start the year. I'm still at the stage of trying to get my head round all my body image issues and this was one of those times where I let my own 'interests' go ahead of commercial ones. It IS a good show though and even if his body type isn't entirely your favourite, go on, give it a look. There's a LOT of mess, a pilot for a season long idea that didn't take off – mostly because of the production delays – and a speedo clad storm. A damn nice guy, I'm glad I saw more of him.
Now, if you're observant, you might have noticed that I've not been at so many commercial shoots this year…. that's because most of the ones I was booked in for were the spring and summer ones goddamnit. The irony of me not being at the Jon special isn't that I missed out on working with Jon, it was that I REALLY wanted to meet his fan 😀 I've met sooooo many at private shoots but I want to thank this particular fan who has provided soooo many great ideas to shoots that I wanted to thank him in person. Plus, actually, if Jon was tied up in the tank…. oh I would have tormented him so much. It's not that I don't like him, as you know he and I go back a few years as it were, but at times he can be a bit much for me to deal with as he's a very large personality in the room! And yes, I do occasionally chat to Jon away from Splat so there really isn't an issue between us. I was just a bit less than my best that day.
So from Jon and Johnathan to John the athlete. Now, I did enjoy this shoot. My overwhelming memory of this one though is his voice. Now, I'm not going to say that we don't have intelligent models on the show – some of them have been seriously clued up on all kinds of things – but it's rare for them to actually sound posh. Did that make me more or less likely to gunge him? Oh come on, this is Splat 😀
For Daniel's induction, as it wasn't going to be a full shoot, Pete didn't need me for it BUT that didn't stop me getting involved. You see a few days before Daniel's shoot, I'd bought myself a private session in the tank. So first off, yes I HAVE been through a storm – just not one of mine – but yes I have been stormed and I will be again. Along with wearing a lot of the Splat lycra, I'd also taken a few bits of my own with me and though I wasn't brave enough to wear speedos in my private (seriously, I'm relaxed around Pete but not relaxed enough to be in those speedos) *I* was the one that suggested they might be a good look for Daniel's welcome to the show 😀 So sorry, those will never be in one of the Splat sales…. they are MINE 😀 😀
So yeah, I had the private session, then Daniel had a shoot and then March happened. So we can skip quite a few months… and then a few more. I REALLY wish I'd been at the Marc Anthony shoot but because of the pandemic I chickened out of the travel. It's basically two hours each way for me, I had anxiety issues BUT Pete has said that when he comes back (and yes, that's a when…. you heard it here first!) for his encore curtain call, I'm gonna be there. Splat IS a job and you're allowed to travel for work mostly so yeah, he is gonna get stormed and then some. Someone who has done sessions with other sites as well as Splat turned to me at the end of the storm and said with a HUGE grin on his face
"Other sites are like being tickled with a feather when they say they're gonna gunge you a lot…. that was like being punched by gunge"
And then I simply wasn't available for James and Lucas. Dear lord though I purchased the shows – still a Splat fan at heart – and if we get them back again, I'm going to fight to be there.
The Kyle Halloween special and the end of season special were the last two shoots for me of the year. I chose the costumes for Kyle, and one day I might allow you to see ME modelling them before I took them to HQ as Pete needed to see them in advance. And guess what, the speedos featured in the season finale…. are also mine 😀 Good job I have accidentally left so much lycra there isn't it 😉
And I treated myself to another private session in the tank. It was supposed to be done the day after the season finale was shot but both Pete and I agreed to postpone it for a week so there weren't two important shoots back to back.
And then, of course, lockdown happened. And by now you'll know who the star of the season finale was and then you'll realise that I'm now banned from booking my own private sessions within a month of their shoot for the good of the country. But damnit, I WILL have another session in the tank. Depending on when this gets uploaded, I might already have done it. I've already told Pete that he's got permission to put the storm on the website so James T, Kyle, Daniel, John and every other model I've attacked…. now is the time to get your own back. Depending on when I do it, I'm also tempted to make one part of it a U control. Along with the commercial shoots I've been at a whole host of private sessions this year and a worryingly large number seem to want to get their own back on me, so yeah… I won't put people through anything I wouldn't do myself so go for it.
And I know some of you want to see it because you've DMd me on twitter to tell me…. which leads me to the highly unofficial Splat FAQ. What follows is a mixture of questions I've either had on twitter OR people have e-mailed in to Splat during 2020. I'm not going to answer absolutely all of them here, got to save something for the follow up post, but yeah, these are ALL genuine.
1) Will I do another commercial shoot? Unlikely, Splat prides itself in getting damn hot guests for the shows and yeah, I'll happily play along at the privates but I don't think I'm really tank material for money.
2) When <redacted> was (apparently) obviously flirting with me, did it continue off camera? Oh man I wish it had. I very rarely actually get a crush on the models but one really did send my pulse racing but they were just being camera friendly and it didn't continue off camera (sadly).
3) If I do a private shoot, could you please use <insert list of some very nasty stuff> on me? As much as we'd love to, there are actually health and safety considerations when filming at Splat and we're only covered for covering you in certain things. Plus I'd have to clean it up, and after the rice pudding incident and the gravy, I'm drawing the line somewhere. Until someone asks me nicely and then I'll probably cave in and agree. That's how I ended up <totally and utterly redacted> at a private session.
4) Will model XYZ ever come back? We never say never, unless the models tell us they can't. And though I can't say the name because nothing has been signed I CAN say that *I* have persuaded someone that they really want to come back and do a new show in the tank for us. No, not James T again, someone I know a LOT of people really liked. I approached him, I persuaded him and I will definitely be at that one.
5) Could you do more games featuring <name of body part>? You tell us what you want us to feature and we will do our best. As long as it's not obscene I'm sure that we can work it in somehow.
6) When is wrestling coming back? I'm only blowing that ruddy pool up again if I get to wrestle <redacted> in there myself 😉
7) Have you ever seen "things" that got edited out for decency's sake? Yes. I saw how old <redacted> really is, I know how <redacted> REALLY got injured and I know <redacted>…. actually, that one is <uber redacted>
So what does the future hold? I promised you some teasers for next season but don't hold me to all these. They're all things we really have planned but got shunted and thus *could* go ahead but might still get put offf…
a) More dressing up. Costumes are already in stock, games are written…. but yeah, we need to reschedule the shoot they were intended for.
b) At least two head to heads are on the cards, all parties had agreed because, well, grudges…. just need to rebook them.
c) Some returning models and some new ones need to be rebooked. We NEVER stop casting and approaching people and we had n whole batch of people lined up. Call us the Gunge Mounties because we are determined to get our men…
d) A comic relief special… well we still have time to get that one done before the 2021 Comic Relief. We hope.
e) A major set upgrade and I do mean MAJOR. And that one WILL happen and you WILL love it.
So there you have it. 2020. It's been the year where more than ever before we've both been thankful for the fans. Your messages of support through what has been a "challenging" time have kept both Pete and I absolutely determined to keep Splat going and in 2021 we're going to make sure you get shows like you've never seen before. We've made our list, we've checked it twice… and the models will get it, both the naughty and the nice!
Entry Posted: 12th October 2020
This past week we shot two brand new shows. One shoot was long in the planning and the other was a spur of the moment opportunity. I think you can guess which show was the long in the planning one. Kyle has been doing our holiday / event shoots for a few years now. Having starred in our biggest Easter show to date and also featuring in a Christmas special, Kyle has been our go to guy for holiday event shows. The last holiday we wanted Kyle to star in was Halloween. We have also tried to get a new Halloween show out each year and we do our best to make each one unique and we think we have done that with Kyle and our 2020 Halloween special. It was fantastic to have Kyle back on the show and we really hope you enjoy his Halloween and final holiday special.
The other show we completed this week was with Lucas. Lucas contacted us out of the blue to ask if we would consider him for a shoot. It was an opportunity that we would've been stupid to ignore. Lucas has appeared on two other respectable Gunge themed websites to date and usually we try not to cast guests who have appeared on other websites out of respect. And the two shows / websites that Lucas has appeared on are two very good websites too so we were delighted that Lucas wanted to appear on our show too!
We hope you all enjoy the brand new shows. Thank you for your continued support, especially during this challenging year. The future is going to be bright, messy and fun!
Pete
James's Splat! Show - A Thank You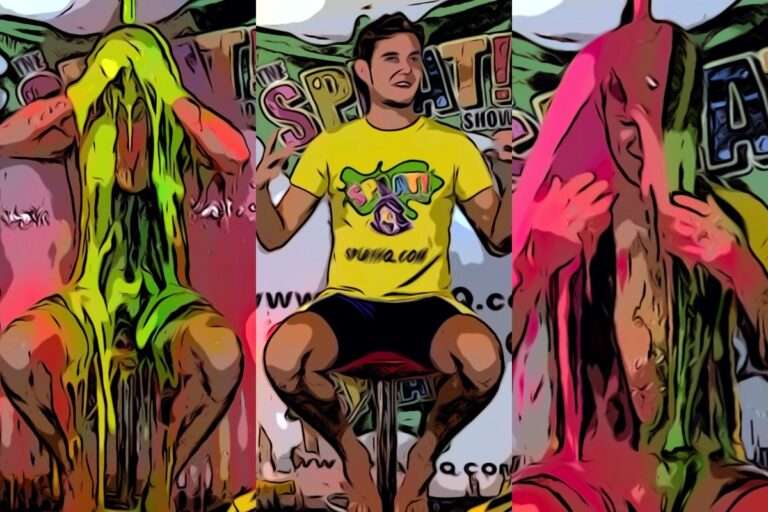 Entry Posted: 18th September 2020
Last Sunday we completed production on our first full feature length Splat! Show since February and before the Coronavirus lockdown.
We had a great time with James and we are really pleased on how the show turned out. More importantly, we want to thank you for supporting the show since the release. The response has exceeded our initial expectations and we just want to say a BIG THANK YOU from us for supporting the show.
As you know, this year has been a tough one. Not just for us, but for everyone. We will do our best to continue to produce new shows as the months roll but there will be some delays along the way until the world starts to get back to normal, whenever that may be.
Thank you from us all here at The Splat! Show. Take care of yourselves and others.
End Of Season 17 and 2019 Update
Technically there's still a month of 2019 to go but I've just looked at the Splat diary (and my own one!) and realised if I want to get a "Review of 2019" done…. well I'm going to have to do it before 2019 is actually done. Don't worry, this isn't just going to be a copy and paste from previous blogs and it's not going to be one of those "month by month" things either….. mostly because, as you'll see, 2019 has been something of a blur. Instead, I thought I'd fill in a load of blanks, let you know a few things that have been going on behind the scenes and do a bit of a tease for some up coming things. There's one other thing this blog needs to do as well…. but more of that later.
So, you may have noticed that Splat's output hasn't been as voluminous as it has been in other years. Yet, at Splat, we've NEVER been busier. Let's start with what the majority of you HAVE seen. It's been the year of the duo shoots (well it was our anniversary year, we wanted to make it a good one) and they've been hysterical. When I started at Splat, in my show against Jon…. well never in any of my wildest dreams did I think that I'd still be doing shows with him 2 and a half years later. His two head to heads couldn't have been more different, against Adam there was a serious alpha male contest going on (no, I'm not going to say who won, that would be cruel to them both) and against his brother, Daniel, sibling rivalry on a huge scale (and I thought I was competitive with my own brother!). We were supremely lucky with Jon's brother, same as with Gabriel's brother Uriel. And believe me, in the blog for that shoot, you really wouldn't believe some of the bits I left out to keep it PG rated. Would not have missed that day for the world, Gabriel is an impossibly wonderful human being and working with him is a sheer joy. Shepherding him and his brother from London to Splat, via a rail replacement bus will live in my memories for a hell of a long time! Mind you, so will the unexpected gunging at the midnight before the Jon vs Daniel shoot….. though that was memorable for all the wrong reasons!
We had some returners (Phil and Benji) and those are always dream shoots. They remember enough from their first visit so as we don't have to do a load of info dumping with them but they're not sooooo familiar with the tank that we can't surprise them 🙂 Benji had me in hysterics for the whole shoot and Phil was just so relaxing to work with. Pete shot with Oliver and Marius and yes, when I'm not doing a show I *AM* a Splat fan and yes, I got them both. Watching shows and not knowing what happens next…. I still love that too! Same as with Kes, man I am jealous Pete did that one solo! All I'll say is "speedos" and take a five minute break from writing this whilst I go and enjoy the sights again 🙂
So, if we haven't done all that many shows, why have we been so busy?
2019 was very much the year of the fan… and wow, what a year!
I've lost track of how many fans I've filmed this year for Splat Experiences. Pete's done even more (I had to take a break in the middle of the year due to an injured foot…. oooooops). I never EVER give out specifics of what goes on at the Private Experiences, they're very personal to the people involved but I thought it would be interesting for people to know the vague details of some of the things that have gone on especially as I am seriously proud of what Splat has done. I know Pete can't believe how they've taken off or how varied they've been. The weirdest thing is I can't believe I ended up doing all the things I've done as well. You see, the privates took a very strange turn early in the year. I'd been asked to attend one purely as a stage hand. I wasn't even actually going to be in the room whilst it was being filmed (yes, I voluntarily travel from London to HQ even if all I think I'm going to be doing is cleaning up!). I arrived to find that due to unfortunate circumstances, the plans had all gone into disarray. Without conscious thought about what I was saying, I said I'd happily jump in and do the head to head elements that the person had asked for.
I definitely didn't know I'd be tanked. I've yet to get payback on the person that should have been in there but trust me, it will happen!
At the end of that session, Pete and I sat down and really stupidly I said "oh that was fun, how about we make head to heads part of the offer?". The result? Well this might come as a surprise to you all but when I do the head to heads… I play to WIN. Yeah, I'm a gunge fan but I'm also quite proud of my quiz skills. I'm currently one game down across the whole year (though some of the head to heads have been very close!). And if we play "Pass the Pie", do not expect to get off lightly. One of the days where I played that, the pies were flying everywhere. When I took the surf suit off to shower at the end…. well I do mean I got pied EVERYWHERE. Even when I'm just host or stage hand, I absolutely adore the private experience days. Yeah, everyone thinks I must love working with the models but I truly love the experience shoots more. Fans are FUN. We get to give them things they've always wanted, we've learned so much about what people remember from their childhood, we've had a VERY interesting list of celebrities that they want to see gunged (oh if only we could…. I have my own top three that I'd like and it turns out that a few fans want the same too) and if there's something specific they've wanted, we've really tried to give them what they asked for, whether it be specific games, colours, temperatures of gunge (one person wanted cold gunge…… they REALLY got it!). I even, for one shoot, had to do a load of improvised acting to help stitch someone up (it was explicitly asked for before you worry, 99.9% of the time there's no stitching up at all). We pull the stops out, we love it when you leave with a smile on your face and we do our best to make sure you don't leave with gunge still behind your ears 🙂
I'd love to say it's been an easy year. Just as I won't give away specifics of what went on with whom at the private experiences, I won't go into the specifics of some of the things that have happened behind the scenes. I don't think you'd believe some of the messages we have been sent and, whilst we try not simply ignore them, there have been a few that… well….. let's move on. We've been let down by a few people as well which didn't help either and, whilst we have tried to keep most of it from the fans, occasionally we have put snippets on line. Your support has been AMAZING. Pete and I are always lost for words when we read the messages of support that you lot leave us. At the start of this blog I said there was something and I would come back to and here it is. We live and exist because of you guys. I don't just mean the private experiences (which we absolutely LOVE) but we love it when you message us, when you send us comments during the shoots (sorry if we don't reply instantly, something about having to clear up umpteen buckets of gunge and pies whilst the model showers off) and when you tell us what you'd like to see. You are an amazing bunch of followers and when things have been rough, trust me…. we kept going because of you.
Coming soon then….. well in little under a week we're doing the end of season shoot and *checks notes* well I don't think we've ever planned quite such a messy shoot before. I think I'm going to need a LOT of protective plastic sheeting for the floor for this one! We've also got a revamp coming up. Pete's told me that I mustn't tell you about the , that we're planning , we've got a whole new and as for the new game …… hmmmm, well if a certain person shows up to play that one, yeah…. I will definitely be getting my own back for the tanking!
There are three golden rules that we stick to at Splat
1) We're honest. We might desperately hope a vote will go one way but EVERY single vote we've gone with whatever you've voted for. Games are played for real. And yeah, Tour de Gunge was 100% honest. Well done to by the way!
2) We totally respect the models. Doesn't matter if it messes a bit with our plans, we never want the model to feel uncomfortable and we work around them every single time. We tell them exactly what they're coming in to (we send them a link to the site) and discuss everything with them as we go along and
3) If you think 2019 was messy…. just wait for 2020.
It's been an amazing year, and it's all been done for you.