COVID-19 Secure: This shoot was shot under our COVID-19 Shooting Safety Framework.
There are some days when our search for a new Splat! Show guest requires little effort. We are the ones who usually initiate contact with our potential future guests. But on the odd occasion, and with increasing frequency we may add, they reach out to us. Be it through email or through our social media channels, it seems that word is spreading about our shoots and shows.
Lucas is one example of this. Having already shot with two other respectable Gunge themed websites, Lucas reached out to us to ask if we would have him in our Gunge Tank too. We didn't have to think about it for too long. Of course we had to say yes! Working with a model who's been gunged before is much easier than a complete noob, especially during these days with COVID hindering our shoots and adding a lot of leg work to an already comprehensive casting process. We don't usually contact models who've appeared other websites out of respect to other sites, but on this occasion Lucas reached out to us directly.
We didn't want to advertise Lucas' shoot in advance due COVID-19 restrictions changing on what now seems like a daily basis these days. With Adam's shoot already postponed, we didn't want to add another shoot to the postponed list.
It was a real pleasure to shoot with Lucas and we are thankful for him reaching out to us asking to appear on the Splat! Show!
The Unlucky Lucas Feature Length Splat! Show Features The Following…
The "NEW" Gunge Tank Interview: With Lucas we are trying a brand new interview format. After a small introduction with Lucas sat outside the gunge tank, the game starts with Lucas entering the Gunge Tank for the first time. We have a set number of probing questions for Lucas to answer so we can get to know to know a bit more about him. Lucas has to spin the Splat! Wheel which will stop on a corresponding question for Lucas. The game ends with Lucas's first Gunging of the show.
Gunge Tank THREE STRIKES. Another brand new game for Lucas to play! Gunge Tank THREE STIKES uses the Splat! Wheel to test how lucky or unlucky Lucas will be. There are an equal amount of crosses and ticks on the wheel. Lucas spins the wheel every time he gets a true or false question wrong. If the wheel lands on a cross, that is counted as one strike. Land on a tick and all is well. Get three strikes and the Gunge Tank is triggered. Lucas cannot see the wheel while seated in the tank so the gunge tank siren sounds if he lands on a cross. How long will Lucas's luck hold out before he gets three strikes and gunge?! PSA: We feel that this Gunging is probably one of our best so far during 2020 in terms of colouring, thickness and reaction. Let us know what you think? A top of the slops 2020 contender?
Wetter The Better, Slimed Stupid!: Before Lucas arrived at Splat! H.Q we asked him what his specialised subject he would like for one of the quizzes. Being a boxing and fitness fan Lucas settled on those very subjects. Going into this round with the understanding that if he triggered the tank he would be officially "stupid", Lucas was confident he would get through this round wetter and better. Sadly things did not go well for Lucas with luck going against him once again. After a few soakings the gunge turned up and officially labelled Lucas "Slimed Stupid"
Splat! Shout-Out: A brand new game that originally featured on our sister site, The Splatette! Show. Splat! Shout-Out takes the classic family game and gives it a Splat! Twist. That twist being a tank full of gunk! Lucas has to try and convey what is written on the the cards to Pete by speaking out the words on the cards provided. But if you know anything about shout out, you know it's not as easy as that. With Lucas's mouth held open by the Speak out mouthpiece, Lucas battles to get Pete to understand what he is trying to say before the time runs out. Fail to do so three times…well you know what happens.
The Splat! Debrief + Sudden Gunging: It's the end of the show and it's time for a little post shoot interview before Lucas gets into the last tanking of the day. We talk to Lucas about his time on the Splat! Show and how it compares to the other two Gunge Gameshows he has appeared on (hint, he loved it!). It's then straight into the sudden death Splat! Quiz all about Messy TV gameshows and Splat! History. With Lucas being only 21 years old, his history with messy TV shows is limited so we did help him out…a little but luck again runs away from Lucas has he nears the end only to get a question wrong! So close Lucas, so close!
Gunge Tank Cam Gunging Footage. This release features Gunging footage taken from the perspective of the Gunge Tank cam. A birds eye view of the Gungings.
Video Details and Legal Information
Video Length: 1 hour, 10 minutes and nine seconds. (including Gunge Tank Cam Footage).
Splat! Guest Care: Learn how we cast and look after our guests you see on the show here.
COVID-19 Secure: This shoot was shot under our COVID-19 Shooting Safety Framework.
Release Status: Guest has signed a release form and given us legal consent to release this material on this website and select third party partners. Learn more.
Copyright © The Splat! Show: Do not repost or share any files you download from us. Seen our content elsewhere? Report it. Read more about your legal obligations.
Content Guidelines: No swear usage. Clothed in part during the segments. PG. Learn more about our Content Guidelines.
Splat! Split & Switch Status: This feature length show is not eligible for Splat! Split & Switch until October 9th 2022.
This does not mean this show will be added to Split & Switch at this date as not all feature length shows will be added to Split & Switch.

All shows and content will be available unless we need to remove it as per our terms and conditions.
Aspect ratio of images have been altered and cropped from the video download. Video download plays full screen in 16:9 ratio. Logo is not in the video.
Also Available From This Shoot...

Lucas took on our famous Splat! Storm. The Splat! Storm is a relentless deluge of gunge from all directions. Gunge blasters, foam cannons, bucket throws and tank drops. There is nothing quite like the Splat! Storm. Video download plays full screen in 16:9 ratio. 
Download the Picture Pack
Lucas Splat! Shoot Picture pack featuring 34 high resolution pictures taken at Lucas's shoot. These pictures were shot especially for this picture pack and are not screen shots from the show.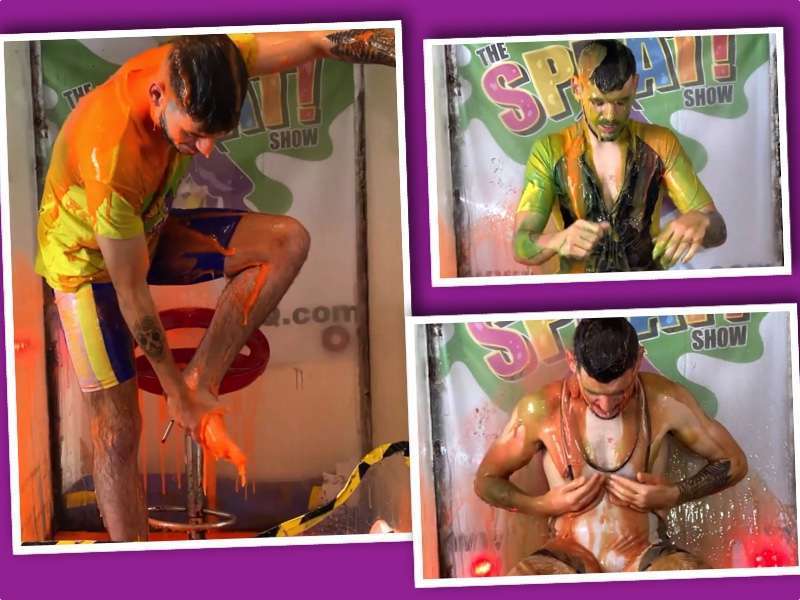 Lucas Shoot - Cut Footage
Check out the cut footage from Lucas' Splat! Show Shoot shoot. Featuring pre and post Gungings including clean downs and more that didn't make it into the download show edit.