2020 marks five years since Jon officially became one of our Splat! Stars. It's no secret to anyone that Jon is one of our most popular stars ever. While his time on the Splat! Show may becoming to an end soon, we will be celebrating with Jon throughout 2020 and then see what the future holds. Until then, enjoy the Jon content and this brand new Jon feature show which is half price until the end of the year. Check out all the other Jon Content in our 50% off sale here.
Like last year, Jon made a special visit to Splat! HQ to mark the new year. Last year he featured in a mini show for his special visit, but this year we are going all out with a fleshed out Splat! feature length show. The first two segments featured in this show were written by a Splat! and Jon superfan through our Splat! Customs service and the other segments featuring the Splat! Wheel as with our previous pre-season 18 specials.
It was a pleasure to have Jon back on the show. It's been a while since he starred solo and it was just like the old days. Jon loves what he does and we love that. We have a feeling many of you feel the same way too! Enjoy the show!
If you are wondering why this show has six segments instead of the usual 5, well that's because Jon actually won a game! So we added another game. Which game did he win? You will have to watch to find out!
This Splat! Show Features…
Interview and Hold That Pose: The first segment featured was actually planned and written by one of our Splat! Fans through Splat! Customs. After we catch up with Jon in our customary interview Jon moves onto Hold That Pose. It's no secret that Jon knows how much people enjoy his time in our Gunge Tank. You could say it's gone to his head a little. But Jon is a model, so can he hold model poses while getting certain parts of his body messy!? If Jon fails to maintain any of the poses he will trigger the Gunge Tank.
The Bicep Challenge: Jon has told us many times that he believes his arms are one of his favourite body parts. So in this challenge Jon has to lick off some whipped cream from his manly biceps in the time lot allocated. If he fails then he triggers the tank!
The Splat! Wheel Of Misfortune: Fill Ya Pants: As with our previous pre-season 18 specials the Splat! Wheel will select a few games for Jon to play. As this was the final pre-season 18 special, we gave Jon two spins. He can either stick or twist depending on the game that was selected on the first spin. Jon being Jon, he has played the vast majority of our games. The first one Jon picked off the Splat! Wheel is Fill Ya Pants. Will Jon's second Fill Ya Pants end in the same way as the first? Watch and find out!
The Splat! Wheel Of Misfortune: Tied and Tanked: Ok, so we said say that Jon has played nearly every game. Well he maybe not. It appears that Jon hasn't played Tied and Tanked. Last seen in one of Ash's season 15 shows. Jon is tied in the tank so he can't wipe the gunge off if he gets a question wrong. If he gets more wrong than right then the tank will drop. How will Jon cope with not being able to wipe away the gunk? A struggle it seems.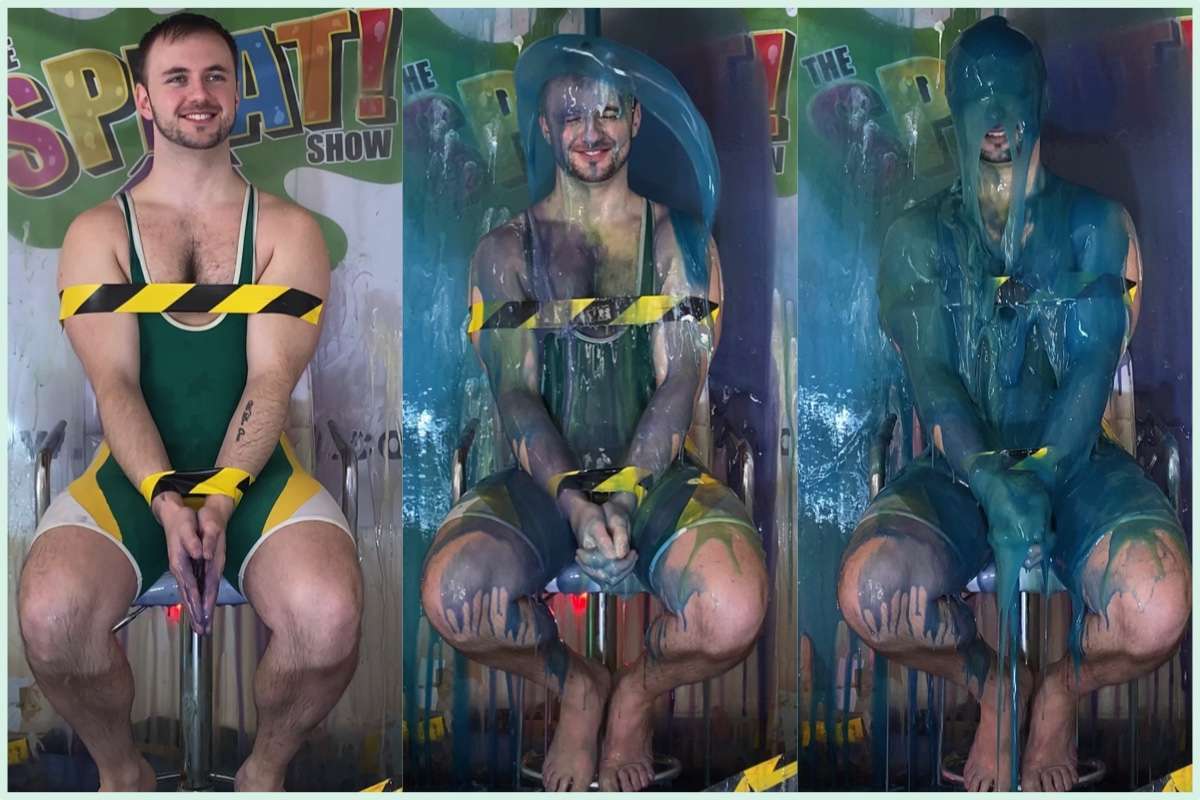 The Splat! Wheel Of Misfortune: Gunk The Hunk: For the final spin of the Splat! Wheel Jon selected Gunk The Hunk, yet another game Jon hasn't played before. In this segment Jon has to persuade us he isn't a typical Hunk. Remember, hunks get the gunk on The Splat! Show. There is no escape if we find the subject to be a hunk. To be fair to Jon, he did put across a pretty strong argument why he isn't a "typical" hunk but when you are as popular as he is on our show, there is only one outcome.
A Special Finale: Jon and Friend Buzzer Round: Two seasons ago we ran a spinoff season called Jon and Friends. So for the finale of this show we thought we revisit that format. Jon is joined by one his biggest fans for a Buzzer Round. Jon is joined by Jonathon for this final round. Will Jonathon beat his heart-throb rival and send him into The Gunge Tank again or will Jon win out and send his fan into the Gunge Tank for the final Gunging of the show? A fitting end to this special visit show.
Gunge Tank Cam Footage: Watch the Gungings from a new angle and above with Gunge Tank cam footage featured in this download. Features the Gungings only.
Video Details and Legal Information
Video Length: 1 hours, 18 minutes and 31 seconds (including Gunge Tank Cam Footage).
Splat! Guest Care: Learn how we cast and look after our guests you see on the show here.
Release Status: Guest has signed a release form and given us legal consent to release this material on this website and select third party partners. Learn more.
Copyright © The Splat! Show: Do not repost or share any files you download from us. Seen our content elsewhere? Report it. Read more about your legal obligations.
Content Guidelines: Shirtless in some scenes. Some swearword usage. If we had to give it an age certificate: 12. Learn more about our Content Guidelines.
Splat! Split & Switch Status: This feature length show is not eligible for Splat! Split & Switch until January 28th 2022.
This does not mean this show will be added to Split & Switch at this date as not all feature length shows will be added to Split & Switch.

All shows and content will be available unless we need to remove it as per our terms and conditions.

Aspect ratio of images have been altered and cropped from the video download. Video download plays full screen in 16:9 ratio. Logos are not in video.
Also Available From This Shoot...

Splat! Special: Jon's Gunge Party: To celebrate 5 years of Jon being a Splat! Star The Splat! Gunge Tank threw Jon a Gunge Party. Five years of a Splat! Star means five consecutive Gungings from The Gunge Tank. Watch as The Gunge Tank salutes Jon's Splat! Show service with a five Gunge Tank salute .Video download plays full screen in 16:9 ratio. Preview images have been cropped.

Complete Gunge Tank Cam Footage
You can watch Jon's Gunge Party Splat! Special Special from the perspective of The Gunge Tank Cam. A birds eye view. This download features the WHOLE show taken from The Gunge Tank Cam. The whole show shot from The Gunge Tank Cam and not just the Gungings. Full Gunge Tank Cam footage can be downloaded to keep from this page or you can stream it on The Splat! Fan Club.
Video Details: Running time 42 minutes and 03 seconds.
Jon Vs Josh Gunge Tank Vote Results