Here you will find our mini Splat! Shows. Our mini shows are usually single game releases. They don't have their own page and can be purchased directly from this page. Simply scroll down to view all.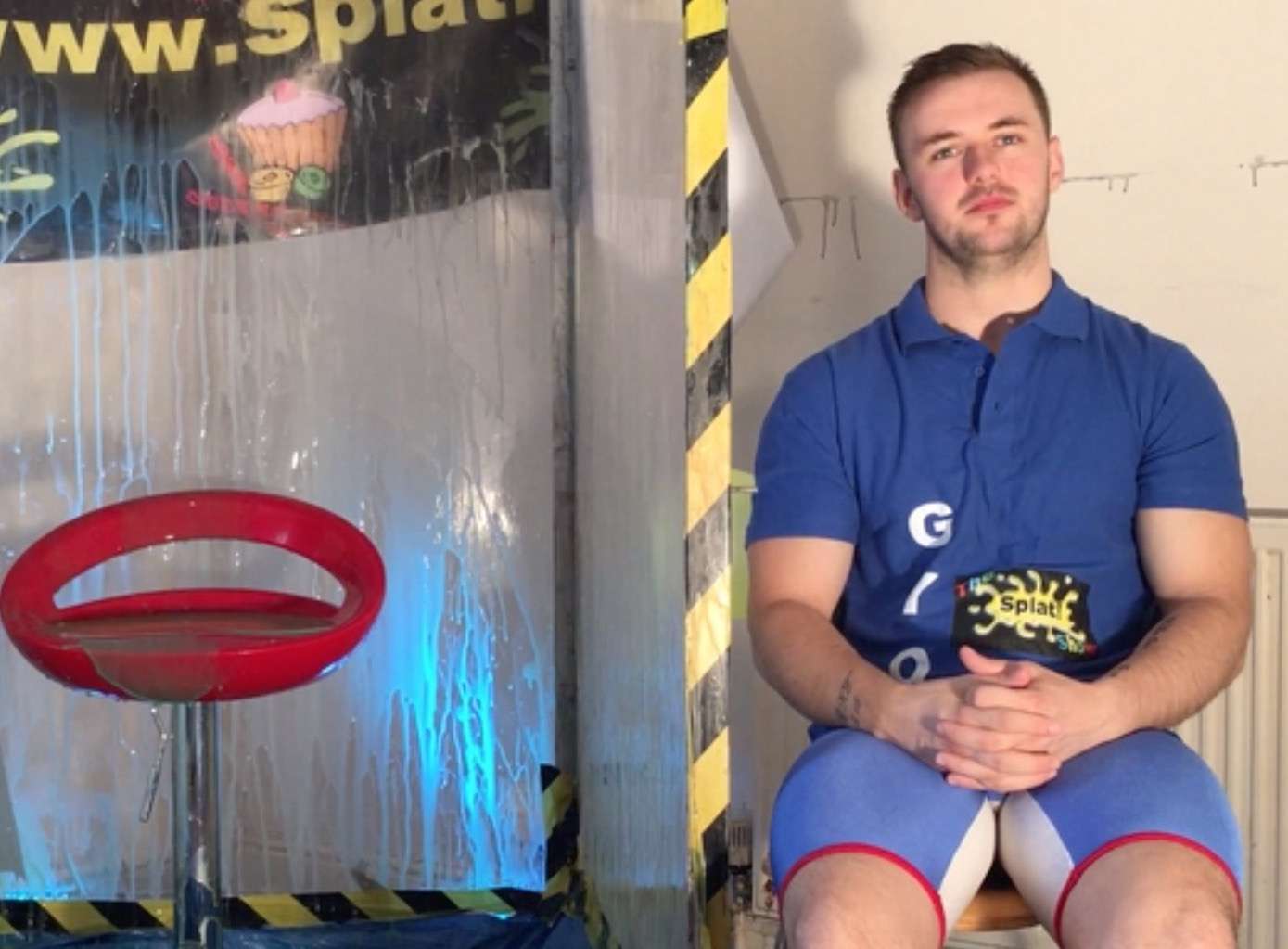 Jon stars in this "Splat! Labs" video where he tests various types of different Gunge for The Splat! Show. Staged as a homage to classic show Get Your Own Back with School Custard Gunge, Snot and R.A.W (really awful waste)  test with Jon wearing the classic Get Your Own Back custom made t-shirt. 
Presented in HD. Running time: 26 mins, 35. 
Teasers For G.Y.O.B Test with Jon
Ash lives where The Splat! Show is filmed, so he is never far away from The Gunge Tank. That's great and all but it also means the pressure is on to be a good housemate. Ash gets summoned to the tank for some household justice. It pays to be a good housemate Ash.
Presented in HD. Running time: 19 mins, 5 secs. 
Teasers For Ash's Rainbow Justice
Boyband Offshore Star in the Splat! Mini show that features two segments and a bonus picture pack.
Unlucky Stars – Rounds ONE and TWO 
A variation on Pull the Plug that appeared in the first season of Splat!. Offshore each rotate taking a seat in the Tank and have to answer a question correctly. If they answer incorrectly they have to select a string in the bowl of Gunge. One of the strings is connected the unlucky star. If the star is pulled then that member of Offshore is Gunged. There are two rounds with the member who avoids the Gunge twice crowned the winner! Two members of Offshore get gunged in Unlucky stars, but who!?
Gunge Tank Karaoke 
Want to know how many people can fit in our Gunge Tank? The answer is three. So we got all three members of Offshore into our Gunge Tank for a round of Gunge Tank Karaoke. We asked Offshore to sing their own track while the Splat! production team showered, shot and threw gunge over the guys. We had the only member of Offshore to avoid the Gunge on the day sit directly under the gunge tank so he got the gunge from the tank. This game will probably go down in history. You don't need to ask why, you will know after you have watched it! 
Presented in HD and 4K. Running time: 31 mins, 29 secs. 
Teasers For Offshore Splatted!
In this Splat! Special, season 15 star Tom takes on the messy Splat! Show Showbiz Quiz. With Pies, gunge blasters and fantastic Gunge throws this Splat! special is not to be missed!
Presented in HD and 4K. Running time: 10 mins, 8 secs. 
Teasers For Tom's Showbiz Splat!
After completing three head to head specials with his friends, Jon faces revenge when he gets sent to the tank at the end of the Jon and Friend's finale shoot for one epic Gunging. Justice has been served! 
Presented in HD. Running time: 12 mins, 59 secs. 
Teasers For Jon and Friends Revenge
After coming second in the public vote to star in the finale of Jon and Friends, we invite Toby to Splat! HQ for something rather special.
 Interview and Gunging: The first Gunging Toby had on the day. We talk to Toby about why he wanted to do the Jon and Friends shoot then we invite him to take a seat into the Gunge Tank for the first time. We then stretch out the Gunging, teasing Toby just before the Gunge Falls!
Toby's MEGA Gunging: This was the last Gunging Toby had on the day and we saved the biggest till last! We foam Toby up with the foam and then gunge the biggest Gunging of the day on poor toby. We then throw a bucket of recycled slops over Toby to finish him and the day off!
BONUS DRENCH: It's not OVER YET! We also filled the Gunge Tank with water at the end to give Toby a head start on his clean down!  
Presented in HD. Running time: 16 mins, 21 secs. 
Teasers For Toby's Two Tanks
Jason's Splat! News Parody
Jason is back for a fun round of Splat! News. Can Jason complete the Splat! News report while being Gunged? It's time for the Splat! News in 3, 2, 1…GUNGE!
Presented in HD and 4K. Running time: 6 mins, 21 secs. 
Teasers For Jason's Splat! News Parody
Mr and Mr with Benji and Jordan
In this Splat! Special release Benji and Jordan will playing that classic Gameshow Mr and Mrs but this time it's Mr and Mr and of course there will be a Splat! Twist. 
Before the shoot Benji and Jordan filled in a questionnaire about their other half in secret. The questions were along the lines of favorite color and so forth. 
Benji and Jordan then take it in turns to sit in the Gunge Tank with their other half outside. We then tested how well they knew each other. For example, with Benji in the Tank and Jordan outside we will ask Benji what is Jordan's favorite colour? If the answer that Benji gives is incorrect and does not match the answer that Jordan wrote on his questionnaire then Jordan gets to throw pie at Benji. The partner who get's the most incorrect is sent back to the Gunge Tank for a MEGA Gunging! In the event of a tie, both Benji and Jordan will get gunged in the Gunge Tank together.
Presented in HD. Running time: 22 mins, 19 secs. 
Teasers For Mr and Mr with Benji and Jordan
Aiden's Football Sludge Match
Aiden is a semi-professional footballer so it would be rude not take advantage of that for his Splat! Special Limited Timed release.
Aiden is a BIG Manchester United fan and really HATES Chelsea. It just happens that we had a spare Chelsea kit here at Splat! HQ when Aiden shot with us. He originally refused to wear the kit but when we told him the rules of Football Sludge Match he couldn't wait to get it on and play the game!
We gave the chance for Aiden to mess up the Chelsea kit but the catch was he would have to wear it while he messed it up. For each correct answer that Aiden gave in a football themed quiz some gunge would arrive from the Splat! Show Gunge Blasters and trash the Chelsea kit a bit more before reaching the finale of a tank filled with black gunge and a bucket of slops chucked in for good measure to ensure the kit gets trashed!
Presented in HD and 4k. Running time: 9 mins, 22 secs. 
Teasers For Aiden's Football Sludge Match