The s17 mid season special is here. We here at The Splat! Show like to make our mid season specials BIG. Last season it was Phil who had honour to star in our mid season special but this year we were looking for something a bit different. Having already staged a Brother Vs Brother show earlier in the season with Gabriel and Ureil, we thought it would be great if we could finally arrange for Jon and his brother Daniel to star, something we have been talking about close to two years now. Well the stars aligned and our dates matched, it was on.
This mid-season Brother Vs Brother show is staged as a head to head show. Every round, apart from the Gunge Tank Interview, is open ended. It could either be Jon or Daniel Gunged. We certainly thought it would make a better show if Jon won nearly all the rounds so we could see new guy Daniel in the tank, but we didn't expect this to actually happen. In fact, Daniel lost every single head to head round! Even in the Pass The Pie Round, where you would both expect to get pied, Daniel came off worse!
We are really proud of this mid season special and we hope it goes some way to make up for the less than usual number of releases so far this season. Jon is again on top form and it was a pleasure to have him back at his natural Gunge Gameshow home and working with the fabulous Daniel for the first time (not the last time) was amazing. He really is a Splat! Star in waiting…now there's an idea!
Download today and enjoy this mid-season special, a show extremely worthy of the mid-season moniker.
Daniel Vs Jon Mid-Season Special Features The Following…
Daniel's Gunge Tank Interview: There is a new guy on The Splat! Show. Sorry Jon, you are not the main attraction in this show. Daniel's Gunge Tank Interview is the only part of the show where he was guaranteed a gunging. This is the Gunge Tank Interview after all. The Splat! Team with the help of Jon interview Daniel and we talk about why he has come on the show with his Brother and what he expects from the show. Jon is clearly not enjoying having his younger bother take all the limelight as Jon talks nearly as much as Daniel. Of course the interview ends with Daniel's first (and only guaranteed) Gunging of the show. Watch Jon's face as he pulls the cord…you will be seeing that expression a lot during this show.
The Buzzer Round: It's time for the first head to head game of the show. Remember, we haven't planned in advance who will get the Gungings, so it's down to Jon and Daniel to do their best to avoid getting sent into the Gunge Tank. So which bother is best at general knowledge? They have to hit the one buzzer when they think they know the answer. Get it right and score a point, get it wrong and you lose a point. The player with the most correct answers at the end wins with the looser getting sent to the Gunge Tank.
Race From The Gunge Tank: You could say that Jon has the advantage here having already played this game with Adam in their final head to head feature but maybe that also adds pressure to perform. Daniel and Jon can only start cycling on the Gunge Bikes when their opponent is answering a question. They must stop when their opponent gives the correct answer. Answer fast to hinder your rival and his distance. Jon and Daniel cycled really hard to try and be the furthest away from the Gunge Tank at the end of the round (even breaking a bike mid game, but we fixed it) but who didn't go the distance and will instead have to cycle back to get their Gunging!?
Pass The Pie, Brother!: Pass The Pie is a game that in theory means both participants get messy. The chances that you stay clean and dry are slim. But this round of pass the pie is the first one to be very one sided, with Daniel losing out big time. Daniel doesn't have luck on his side as he is mercilessly pied by Jon after each question with Jon seemingly avoiding the Pies. Thankfully Daniel does get a bit of payback towards the end landing some killer pie Splats on Jon. But sadly for Daniel this wasn't enough to stop yet other trip into The Gunge Tank. It's worth mentioning that Pass The Pie features more than one pie each, contrary to what you might of guessed from the one or two pictures we post to promote our shows.
Tour De Gunge: Season 17 will feature a season wide competition between select season 17 guests in Tour De Gunge. A exciting, messy and crazy new game with physicality at it's heart. Each guest has five minutes to cycle as far as they can. The catch? This is Tour De Gunge so the cyclist will have to contend with massive amounts of Gunge, which will hinder their progress. With Daniel getting Gunged in every single game of the show so far, we had Jon take on the Tour De Gunge for our Mid Season Special. With Daniel on hand to try and hinder the ride with lots of gunge and foam, how well will Jon do? Will the golden boy of Splat! Take the top spot? Click here to view the TOUR DE GUNGE LEADER BOARD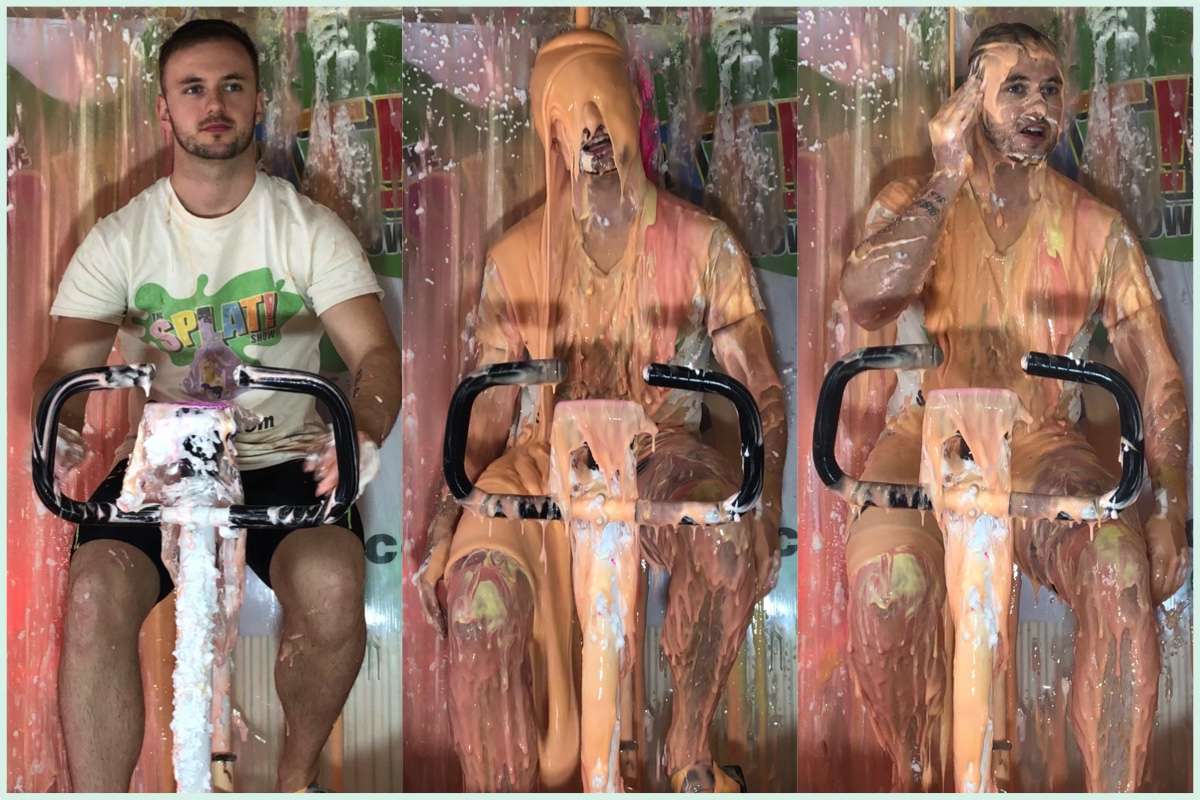 Video and Legal Information
Running Time: 1 Hour and 19 Mins
Splat! Guest Care:

Learn how we cast and look after our guests you see on the show here.
Release Status: Guest has signed a release form and given us legal consent to release this material on this website and select third party partners. Learn more.
Copyright © The Splat! Show: Do not repost or share any files you download from us. Seen our content elsewhere? Report it. Read more about your legal obligations.
Content Guidelines: Some minor swear word usage. If we had to give it an age rating it would be PG. Learn more.
Splat! Split & Switch Status: This feature length show is not eligible for Splat! Split & Switch until August 15th 2021.
This does not mean this show will be added to Split & Switch at this date as not all feature length shows will be added to Split & Switch.
All shows and content will be available unless we need to remove it as per our terms and conditions.

Aspect ratio of images have been altered and cropped from the video download. Video download plays full screen in 16:9 ratio.
Also Available From This Shoot...

Daniel took on The Splat! Storm, but this time with a Get Your Own Back twist. Jon was on hand to dish out Daniel's Splat! Storm after we allowed him to get his own back on his baby brother. As you can imagine, Jon didn't hold back administering the storm. One not to be missed! Running time: 9 mins 36 secs . Presented in 4K and HD.  Video download plays full screen in 16:9 ratio.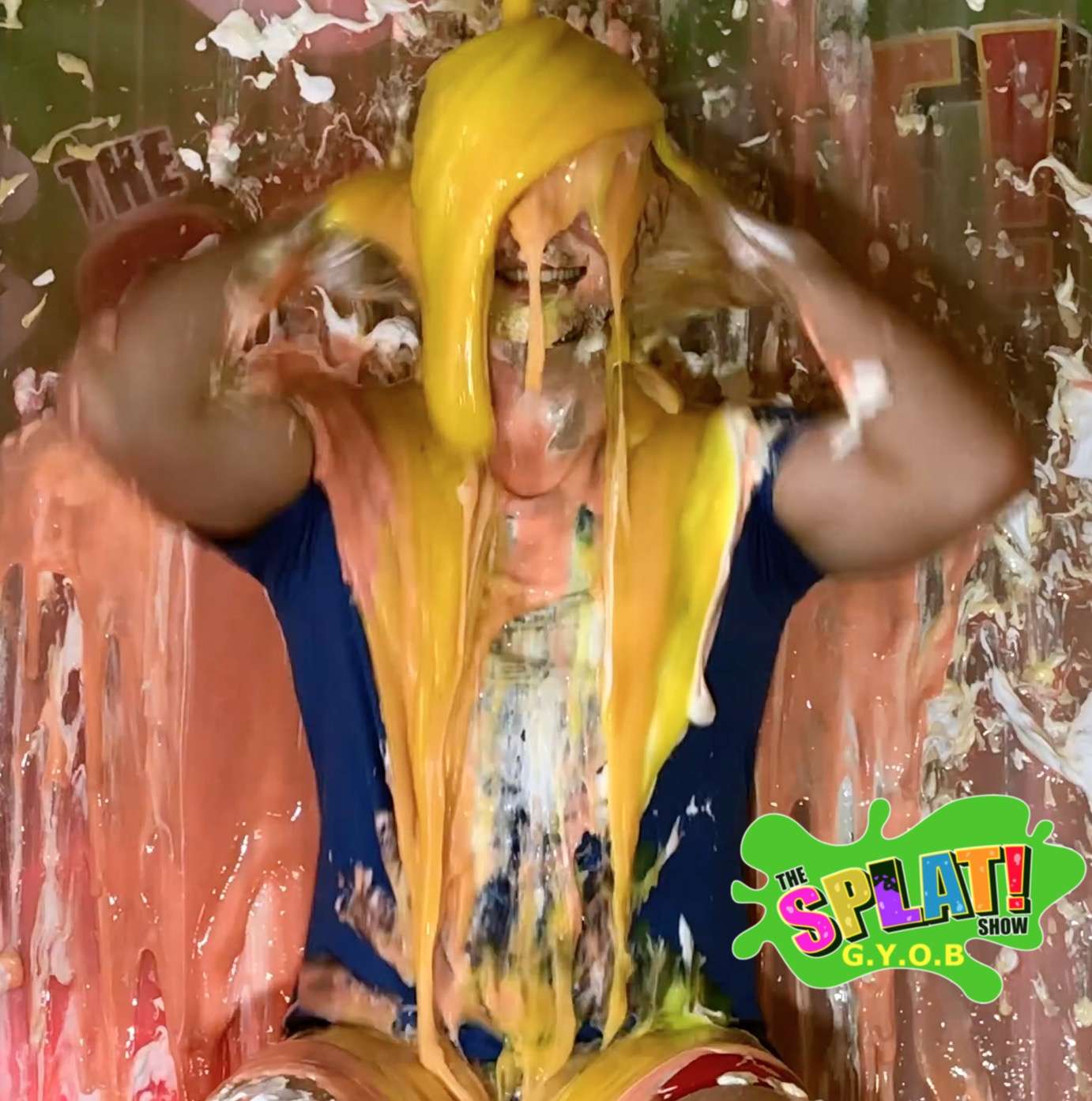 Dan Gets His Own Back Splat! Special: As this shoot was our mid-season special we allowed Daniel to return the favour and get his own back on Jon after he dished out that devastating Splat! Storm. Jon has already had countless storms so we mixed things up and brought in the custard pies. Daniel has free reign with ten custard pies that he can throw at Jon, there is also a tank full of yellow custard gunging waiting to be dropped too! Running time: 11 mins, 48 secs. Presented in 4K and HD. Plays in 16.9 ratio. Preview images cropped.
In the second Brother Vs Brother Gunge Tank vote for season 17 it's Jon Vs Daniel. Of course viewers voted for Daniel to get the instant gunging. Watch as Jon jumps for joy as he escapes his first Gunge Tank Vote and Daniel get's first ever Gunging. Can you spot the glitter in the Gunge?
Aspect ratio of images have been altered and cropped from the video download. Video download plays full screen in 16:9 ratio.
Presented in HD and 4k. Running time: 7 minutes and 37 seconds. Not presented in the feature show release. Only way to view is to purchase here or from the Tour De Gunge Leader Board
Preview Dan's Tour De Gunge
Download the Daniel Vs Jon  picture pack featuring 39 high resolution pictures taken at Daniel and Jon's Splat! Shoot. These pictures were shot especially for this picture pack and are not screen shots from the show. Manual and automatic downloads available. Please note that this picture pack differs from the two picture packs available on the Splat! Fan Club. 

View the fan cam footage from the Daniel Vs Jon. Fan Cam footage is shot on a handheld camera and gives you new angles at some of the action from the shoot. Mainly used for different Gunging angles but includes other elements too. This footage is not featured in the main release and can only be viewed on The Splat! Fan Club.
2 Dan Vs Jon Picture Packs
View two picture packs taken at the Dan Vs Jon shoot just for the Fan Club. Please note that these two picture packs differ from the Dan Picture Pack available to purchase.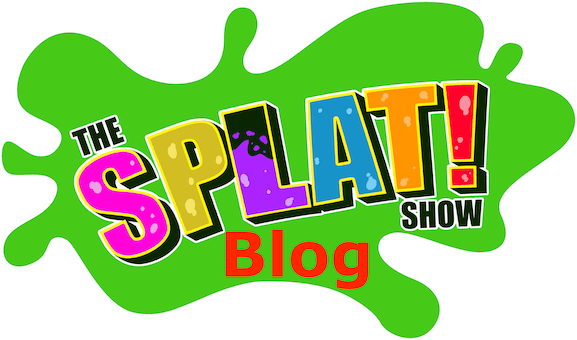 Find Out More About The Production Of This Splat! Show
This Splat! Blog entry is written by show co-producer James. Read more Splat! Blogs on other show pages.
You might remember that a while ago we did a brother vs brother show (Gabriel vs Uriel).  Weirdly enough, one of our other models had talked about bringing his brother along and so "technically" today's "Jon vs Daniel" was the first one we planned….. but after the success of Gabriel vs Uriel, would lightning strike Splat twice and give us another banter filled show with great gungings?  Well when you have the god-like Daniel in the tank, it's pretty much guaranteed.
For some unknown reason, both Pete and I were apprehensive about this show (Pete: It's just the number of pre-shoots and votes were HUGE and a lot was riding on this show even before the cameras started to roll).  I think it's because we'd publicised it as a mid season special but it contained an unknown quantity, we were worried that things might not go as spectacularly as we wanted them to.  One VERY large supply shop en route to HQ (seriously, the amount of gunge we get through of various sorts in a show like this is pretty scary) and the room gets set out. I think, in total, we line up about 14 cans of shaving foam, four cans of avalanche, 4kg of custard, umpteen paper plates and loads and LOADS of new colours.  One of the tankings has "new" paint in it, in that this paint has glitter pre-mixed into it.  You can just about see it in the tanking and you can certainly see it glistening on a certain person on and off through the shoot.  Right now, I can also see it on my arms, my knees and I'm pretty sure it's already on my keyboard.  Why do we do it????  Oh yeah, because we want to make things look good for you guys, no matter what the cleanup is for us afterwards.
I think, looking back on things, we've done Daniel a disservice by plugging him as Jon's brother.  Yes, it means there's a great rapport between them but Daniel is a damn good Splat star in his own right.  You really would not think, just by looking at his appearances on camera, that this was his first gunge show.  He's one of those brilliant people that instantly got what Splat needed and gave it to us in abundance.  He plays the camera but doesn't play up to it, bashful but not too shy…. yeah, there's a lot more to him than just being Jon's brother and damn he really took a trashing.
Vote and interview done, it's the first game.  Pete has put together a serious mess fest and we only ended up changing one part of it.  We did need to wildly improvise though for the buzzer round…. Splat has four buzzers.  We found three, two of which didn't have batteries and had those wretched screw down battery compartments.  So, as unbiased as I could be, I ended up the referee (aaaaaah, I've had one good night's sleep in the last 8 days, please don't ask me to judge reactions) and also asking the questions.  If at any time during this, or the other quizzes, you think we're unfair to Jon just message me and I'll happily let you know of previous shows where he's been given off camera help with questions to help him out!  Race from the Tank and Pass the Pie go pretty smoothly and Jon even gets to deliver his first Splat Storm (yes, for once we didn't end with the storm, we did it half way through for technical reasons).  I'll leave it up to you to judge how well he delivers pies as well plus, whilst you enjoy one of the messiest Pass the Pies there's been, spare a thought for both Pete and I as we were both on the receiving end of foam and custard that had been flung around just a little bit tooooooo enthusiastically by the stars.
The Tour de Gunge…. okay well this is Splat so of course SOMETHING had to break during filming, in this case it was the bike whilst Daniel was on it.  The guy had the patience of a saint though whilst we fixed the bike TWICE and with Jon also completing his today, we're getting near the end of the season (for technical reasons, I sadly won't be competing otherwise I would, naturally, happily wipe everyone else's score off the leader board 😉 ) so both rides today are very worth keeping an eye on.  All I will say is that they are the two messiest Tours de Gunge EVER.
With the stars departed (yes, I think Daniel MORE than earned the title of star today), cleanup took a bit longer than usual but, if you watch the show, you'll understand why.  I'm struggling to think of a filming session in the last two years where quite so much mess has been involved.  With so much foam used, thankfully the bottom of the tank is full of a liquid thick enough that even with about 11 buckets' worth in there it just about doesn't leak (seriously, off camera I'm looking at how much the front and sides are bulging from the sheer volume in there) and the bike is cleaned and repaired.  Again.  A quick flick through the footage confirms what both Pete and I felt during the filming…. this is a mid season special like no other we've done and there are smiles right the way through the footage.  Oh, and of course, two very hot lycra clad guys getting very VERY messy. It's sort of been my two year anniversary shoot as well today…. couldn't have dreamed of working on a better show to celebrate.