COVID-19 Secure: This shoot was shot under our COVID-19 Shooting Safety Framework.
We made it through the lockdown and while there is no guarantee we won't face another lockdown the future, we are back up and running. We really hope you and your loved ones are doing ok and we really hope that our new content will take your mind off, even for a moment, the troubles we are all facing in 2020.
The question before we resumed filming was who should feature in our first release since the lockdown? Getting back up running is not easy, even at the best of times, so we knew it had to be someone we've have worked with before and who knows how our shoots worked. This was especially important as we implement new measures to work under new COVID-19 conditions. Jon? No that would be too easy and rather lazy. Mark Anthony came up a few times in our initial discussions and we thought, yeah why not!? So we gave Mark a call and he was more than happy to shoot with us again, more than five years since his last Splat! Show appearance.
Re-starting production was a challenge, especially now running under new COVID-19 secure conditions, but we did it and while there were a few hiccups along the way, it was great to be back shooting again.
So please enjoy the first Splat! Show release for nearly five months. Mark and the team had a great time producing the show and we really hope you enjoy Mark's Tanking Return.
Oh, and if you love THICK gunge? Then you will be pleased to hear that everything produced at this shoot (including the extra features not part of this show, which you can find below) featured some of our THICKEST gungings for years!
Mark's Tanking Return Features The Following…
The Gunge Tank Interview: Five years is a long time, so we chat to Mark about what he has been up since his last Splat! Show appearance five years ago. Fun fact, while Mark has been tanked in our Gunge Tank before, the tank actually had a smaller capacity back then, so this was Mark's first time expereicneing the full power of The Gunge Tank. Was Mark impressed? You betcha! Mark get's his first Tanking with some blue and pink (very thick) in the Gunge Tank and while the main camera failed just before the gunging, we managed to successfully salvage the footage from the live camera feed. Not ideal but we kept in Mark's clean down as a bonus too.
Mark's Lucky Or Mucky. This shoot is not a normal shoot for a number of reasons, we have already mentioned that getting started again always comes with a few caveats. But we didn't want this to effect the quality of the shoot in any way. So we got Mark to play The Splat! Show classic that is Lucky or Mucky. It's a game he has never played before and also gave us the chance to test out our new zoom lens which gives a close up view of Mark while playing the game without having to sacrifice the quality using digital zoom. So we have provided both versions with this download. One from the normal camera and then another version shot with the new zoom lens. Mark gets tanked twice in this round of Lucky Or Mucky too!
True Or False Splattter . After playing one of our old classics during the last round, Mark takes on a newish game for the final part of this special release. True or False Splatter, where every wrong answer is greeted with a Splat, or rather we should say a spray from The Gunge Blaster. Just how messy will Mark get before the end of the round and will he manage to escape the final tanking of the day!?
Gunge Tank Cam Gunging Footage. This release features Gunging footage taken from the perspective of the Gunge Tank cam. A birds eye view of the Gungings.
Video Details and Legal Information
Video Length:
50

minutes

and 41 seconds (including Gunge Tank Cam Footage).
Splat! Guest Care:

Learn how we cast and look after our guests you see on the show here.
Release Status: Guest has signed a release form and given us legal consent to release this material on this website and select third party partners. Learn more.
Copyright © The Splat! Show: Do not repost or share any files you download from us. Seen our content elsewhere? Report it. Read more about your legal obligations.
Content Guidelines: No swear usage. Clothed in part during the segments. PG. Learn more about our Content Guidelines.
Splat! Split & Switch Status: This feature length show is not eligible for Splat! Split & Switch until July 22nd 2022.
This does not mean this show will be added to Split & Switch at this date as not all feature length shows will be added to Split & Switch.

All shows and content will be available unless we need to remove it as per our terms and conditions.
Aspect ratio of images have been altered and cropped from the video download. Video download plays full screen in 16:9 ratio. Logo is not in the video.
Also Available From This Shoot...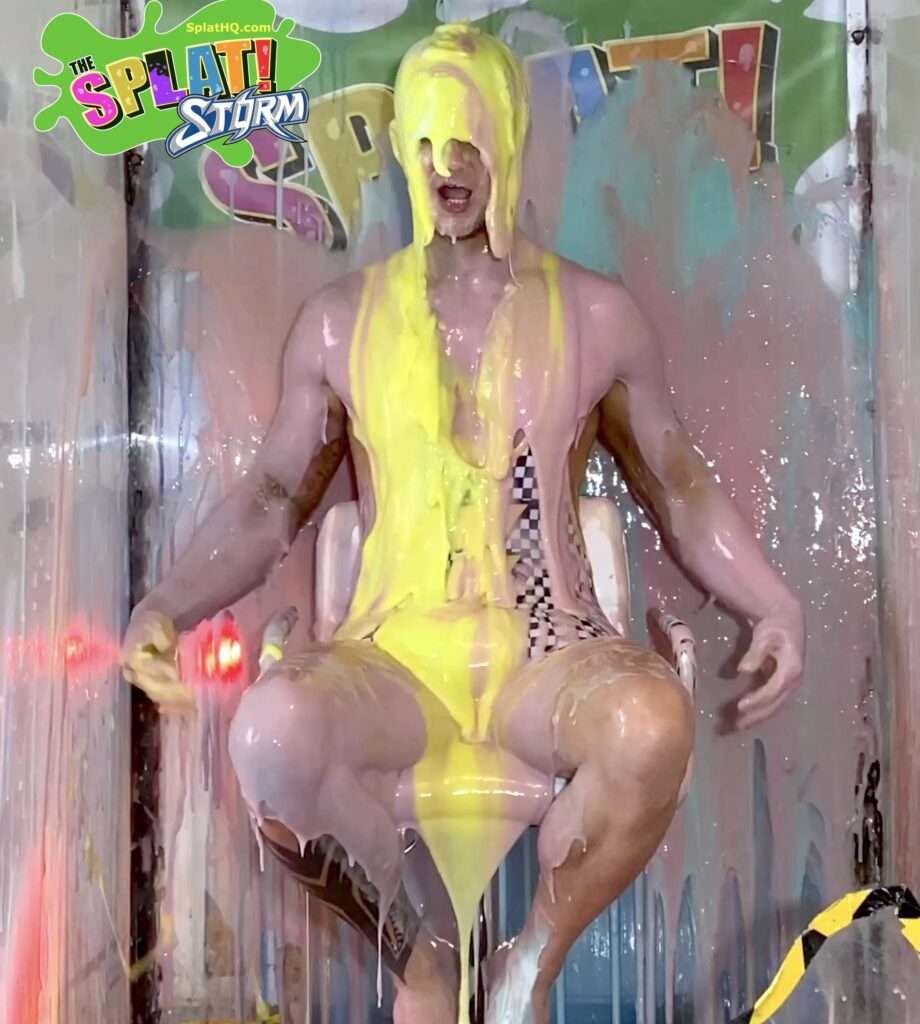 Mark Anthony took on our famous Splat! Storm. The Splat! Storm is a relentless deluge of gunge from all directions. Gunge blasters, foam cannons, bucket throws and tank drops. There is nothing quite like the Splat! Storm. Video download plays full screen in 16:9 ratio.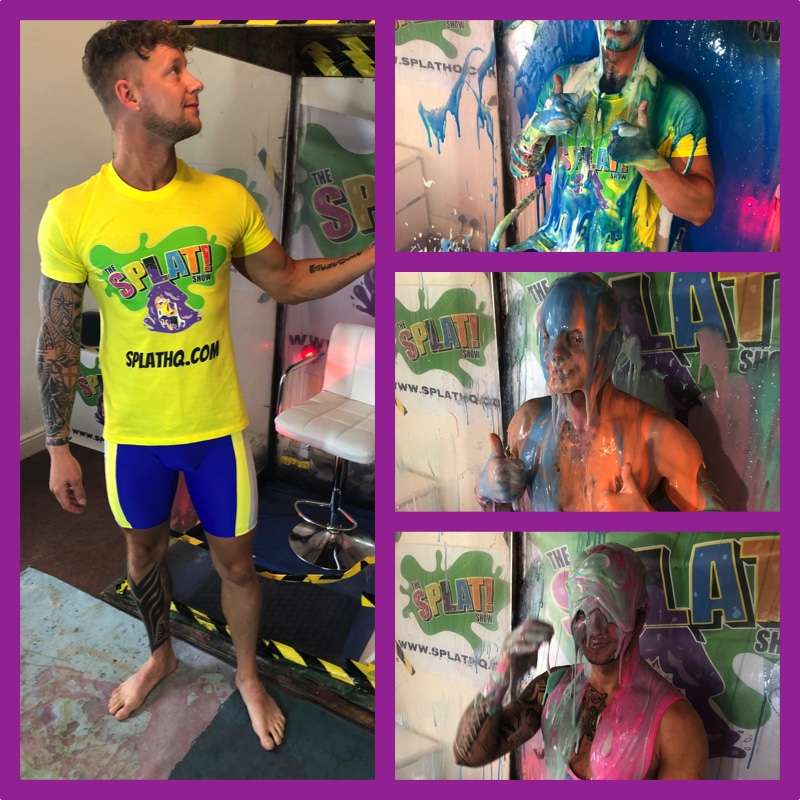 John's Splat! Shoot Picture pack featuring 31 high resolution pictures taken at Mark's Tanking Return shoot. These pictures were shot especially for this picture pack and are not screen shots from the show. 


#TheTankAwakens Splat! Special: To celebrate the resumption of our shoots after the Coronavirus lockdown we shot this Splat! Special starring Mark Anthony. This part scripted, part interview and part clothes swap mix up is what Splat! is all about. A tough in cheek video with a very messy ending. Welcome back Splatters! 
Mark's Tanking Return Cut Footage
Check out the cut footage from Mark's Tanking Return shoot featuring bits that didn't make the show edit. Includes Mark fumbling his Iines, Mark getting in the Gunge Tank and clean downs!
Mark's Tanking Return GT Cam
You can watch Mark's Tanking Return (including the Splat! Storm and the Tank Awakens Splat! Special) from the perspective of The Gunge Tank Cam. A birds eye view. This download features the WHOLE show taken from The Gunge Tank Cam. The whole show shot from The Gunge Tank Cam and not just the Gungings. Full Gunge Tank Cam footage can be downloaded to keep from this page or you can stream it on The Splat! Fan Club. 
Video Details: Running time 1 hour, 14 minutes and 37 seconds. 
Aspect ratio of images have been altered and cropped from the video download. Video download plays full screen in 16:9 ratio.
Check Out Mark's Other Splat! Shows...