s18 Opener With British Athlete John
Welcome to season 18 of The Splat! Show. We always try to cast interesting and bigger than life characters for our season openers. We had John, who is a ex British athlete and now model and personal trainer, on our books and waiting for us to become free for nearly a year. Thats how busy with have been over the past 12 months.
We thought John would suit being the star of our season 18 opener because he fits the interesting and bigger than life character remit pretty well. Well Splat fans, the wait was certainly worth it as John's time in The Splat! Gunge Tank is what we hoped and so much more!
This Splat! Show Features…
The Gunge Tank Interview: Although John never competed for Britain in an actual Olympic Games, he was very much trying to making it having taken part in numerous trials and try outs. While he never made it to the games, he as completed on the international stage over the years. In the Gunge Tank Interview we dig deep into John's sporting history and find out what he does today and we find out all sorts of information about our season opener guest. Of course, the Gunge was never far away from John's mind during the interview. How did he find his first ever Gunging? Find out by watching the show.
The Lucky Or Mucky Wheel: A brand new game for season 18. The Lucky Or Mucky Wheel is replacing the old Lucky Or Mucky this season. For each incorrect answer that John gives he has to spin the Splat! Wheel. Whatever it lands on he gets. The only trouble for John is that nearly every space on the wheel contains a messy forfeit with one lucky, clean space. Wherever the wheel stops, the mess it states John will get. The game ends when the tank drops the gunk on John.
Pied Under Pressure: A brand new game for season 18. Having tested pied under pressure with Kyle on our season 17 finale, it's now time for it to make it a regular for season 18 shows. The rules are simple. A pie is placed close to John's face and then he is asked the question. He has to answer correctly, quickly and within the time limit to avoid the pie being splattered into his face. If John gets more wrong than right then it's tank time!
Get Your Own Back Letter Game: A brand new game for season 18. Having played this game during our big January shoots we thought we would include it in season 18. This game is directly taken from the classic TV Show Get Your Own Back from the 1990s. John has to correctly say the answer of the question without actually saying the word. Example: What G is the Tank? He can't say Gunge but he can say slime or mess to pass and move onto the next question without getting messy. Gunge blasts are used for each incorrect answer or if the time runs out. A tanking is waiting if John fails to complete the quiz within the set time limit.
The Splat! Debrief: The Splat! Debreif will be changing at some point during season 18. Until we get the new format ready, John took part in what might be the last Splat! debrief in it's current format. We talk to John about his time on The Show. Was it what expected? What did he like and what didn't he like? All this and more is covered in The Splat! Debrief before John's final Gunging of the show.
Gunge Tank Cam Footage: This Splat! Show features tank cam footage of the Gungings featured in our season 18 opener.
Video Details and Legal Information
Video Length:

1 hour, 2 mins and 11 seconds (including Gunge Tank Cam Footage).
Splat! Guest Care:

Learn how we cast and look after our guests you see on the show here.
Release Status: Guest has signed a release form and given us legal consent to release this material on this website and select third party partners. Learn more.
Copyright © The Splat! Show: Do not repost or share any files you download from us. Seen our content elsewhere? Report it. Read more about your legal obligations.
Content Guidelines: No swear usage. Clothed in part during the segments. PG. Learn more about our Content Guidelines.
Splat! Split & Switch Status: This feature length show is not eligible for Splat! Split & Switch until February 17th 2022.
This does not mean this show will be added to Split & Switch at this date as not all feature length shows will be added to Split & Switch.

All shows and content will be available unless we need to remove it as per our terms and conditions.
Aspect ratio of images have been altered and cropped from the video download. Video download plays full screen in 16:9 ratio. Logo is not in the video.
Also Available From This Shoot...

John took on The Splat! Storm. The Splat! is a relentless deluge of gunge from all directions. There is nothing quite like the Splat! Storm. 
Jon's Cycling Vs Swimming Vote
This Gunge Tank vote featuring British Athlete John is a bit different to our previous Gunge Tank Votes. Instead of asking you to vote between two people, we thought we would ask what "Theme" a special Quiz for John should be about. John is an accomplished swimmer and cyclist and was the perfect choice for the Gunge Tank Vote. John would have to wear the sports outfit for the winning theme. In the end our viewers voted for Swimming. Watch John take on a swimming themed Quiz in the Gunge Tank, speedo clad and all! 
Download The Picture Pack
John's Splat! Shoot Picture pack featuring 85 high resolution pictures taken at John's Splat! Show shoot. These pictures were shot especially for this picture pack and are not screen shots from the show.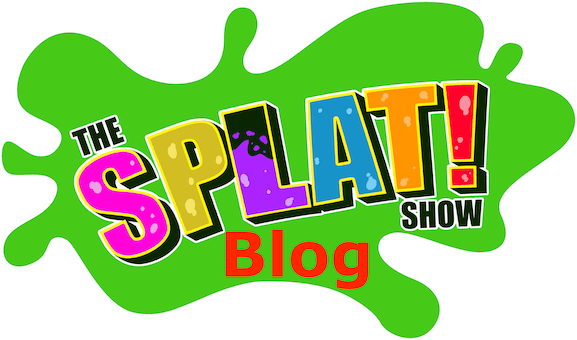 Find Out More About The Production Of This Splat! Show
This Splat! Blog entry is written by show co-producer James. Read more Splat! Blogs on other show pages.
Some people (clearly ones who've never read my blogs) seem to think I turn up at Splat HQ knowing exactly what's going to be happening on the day.  Of course, if you've read the blogs you'll know there are days when I leave still not fully understanding what's gone on but, for the ultimate in "messing with James' brain", it's time to start the new season…. even though we've filmed stuff for it already.  Sort of.  To misquote Doctor Who…. things are going to get messywessy as well as timey wimey for this one!
Roll back the clock a bit and a quick reminder that Pete occasionally likes to tease me.  It's late one night and there's a tweet on the Splat feed about upcoming shoots.  This is the first I knew of them and to add a hint of weirdness, I'm getting different information about the tweets depending on which device I'm looking at.  Ah yes, I've got the #Olympian hashtag muted on one of 
Yup, Pete tells me that one of the upcoming guests has an olympic connection.  This could be "interesting" for my issues but hell, it's Splat and could be rather interesting. I get a little bit more information from Pete (ie a name) and quite a bit of Googling later….. not bad, not ultra muscled, nice looking. Oooooh 6'3″, we might need a bigger tank!  Dates are checked and yup, I'm available (ish, more on that later).  It's a month or two away and between now and then, things get interesting on the James T front.  James was a very pleasant surprise last minute plan and the plan, when we shot that show, was it would be part of season 18.  Possibly.  There were already two pre-season specials sorted, so James would be a natural part of season 18. Except we'd advertised John as the opener and we'd been talking about revamping things and, if you've seen the James T special, then you'll have noticed a new running game is introduced by Pete even though it'll be shown during the season and thus we will have ended up playing it in a future shoot for a previous release and now my head hurts…..
And of course, a new hurdle has to crop up… the London to Kettering line has a got a LOT of rail works and it's very possible that I won't be able to make it till noon.  Thankfully, John can't get there till noon either so that looks like it's all good.  Even major storms don't get in the way (even when they try and blow the coach over and then try and blow the roof off it).  I make it to Splat in one piece, Pete and I get things set up and then things are go.
First impression of John, very laid back, casual, charming.  He seems a bit nervous though during his interview though but smiles as the tank delivers. Pete and I relax a bit (we're ALWAYS nervous till after the first tanking) and then we look through the rest of the script.  A nice mix of quiz and physical (well he is an athlete) and so it's time to er…. Pete….. minor question…. where are the balloons?  We both go back into panic mode as we realise that somehow Splat is totally out of balloons.  And I do mean totally.  I start praying that the balloon that operates the tank behaves and then Pete asks me to sort out a new game.  Whilst the model is in the shower.  And my brain is fuzzy as anything.  When you see the show, see if you can spot the game that's rapidly made up as we go along.  I'll give you a clue, it's the one that goes horrendously wrong till Pete  twigs he's from notes and not a finished script.  That one might become a new regular game though, so ignore the bit in the release that's up ahead that we filmed a while back about new games.  
There are certain time pressures on the day, so yes… that would be when the live feed decides to play up and then there's a power cut.  Yay! We just about keep to track though, just lots of very rapid tank cleaning and refilling!  We over run slightly but that's not an issue with John.  To be honest, it's just as well he's been so laid back during the day as I think, if there hadn't been panic all through the day, I may have been just the teensiest bit anxiety ridden.  John was VERY aesthetic as I hope you'll agree when you see the footage.
With John gone, I go all out on the tank so I can get the coachtrain home It's been a whirlwind day to be honest, and that's without the weather outside trying to get in on the Splat Storm act! John was definitely the calm at the centre of the storm and I think he deserves some sort of Splat award for remaining focused and happy whilst Pete and I do everything out of sequence and on the spur of the moment around him.
And yes.  We film John in speedos.  And I am damn glad we did!
Season 18 has officially begun.  Pete and I are drawing up plans for the rest of it.  I've seen some of his ideas for people to try and get in the tank. This is going to be a good year ahead… just… Pete….. could we PLEASE do it chronologically from now on? 😉