Season 18 Finale With Splat! Star Daniel
COVID-19 Secure: This shoot was shot under our COVID-19 Shooting Safety Framework.

What a year 2020 has been, not just for us, but the entire world. Our promise to produce more commercial releases during 2020 could not be met due to a certain virus pandemic. Thats just how things go but if you know anything about us you know that the health and safety of our team and guests is our top priority. When we had to stop, we did just that. So while we could not produce as much content as we hoped during this year, we are incredibly proud of what we did manage to produce. We don't want to dwell on the negatives too much, but thank you for the support you have shown us during this challenging year. Our fans are why we do what we do, so if you supported us this season. Thank you!
Right, enough of that pandemic stuff. Let's get on and talk about the amazing season 18 finale feature show we have for you!
When we re-started production in the summer we knew that the probability of future interruptions would be an issue. So we did what we could but we knew that we had to act fast while keeping an eye on the news. Whatever happened, we were certain that we needed to get our season 18 show done and done fast. Daniel was our pick. Why? Well he hasn't actually featured in a full length Splat! Show on his own yet. So what better show for him to star in than our massive season finale?
Shot just a few days before the second lockdown was announced for England, our season 18 finale is our biggest and messiest show of the season. It is the season finale after all. If there is one show you buy from us this year, this is the one. It's pure escapism for our collective troubled times.
We really hope you enjoy watching Daniel enjoy all the gunge coming his way. You know he loves it.
The Gunge Tank Interview + Gunge Tank Roulette: – We've done an interview with Daniel before so for his first feature length Splat! Show we turn to Gunge Tank Roulette. There is a set of probing questions for Daniel to answer after he spins the wheel. Questions to really get to know more about our Splat! Star without his older brother hogging the limelight. One of the numbers on the Splat! wheel will trigger the Gunge Tank and get our season 18 finale well and truly underway.
Foam Me Up: – Foam me up is back! We found it really hard to get the foam we use for this game after lockdown and was only able to secure some for this shoot. It's a game a lot of you love and we love it too. You know the rules now, if Daniel get's a question wrong he gets foamed. Once Daniel is completely foamed, the Gunge Tank is triggered and it's game over. If you download this show before December 1st you will also get The Foam Me Up Cam footage. It's just like the Gunge Tank Cam but viewed from the foam cannon perspective.
Wetter The Better, Slimed Stupid: –This is a game that many of you have told us is one of your favourites. We can only guess why, but maybe it's the mix of water and gunge or maybe it's the white singlet we get our guest to wear for it. Whatever it is, it seems that every guest who has taken it on love it too. Yes, we do make sure the water is warm (we make everything warm) and it's more a pride thing than anything else that they want to get wet. Why? Because that means you are winning. Get some wrong, then it's slime time and you are officially stupid. For this round Daniel chose food as his specialised subject.
Splat! Upon High!: – Splat! Upon High is a brand new game for us and we think it turned out pretty well. So what is it? Well you can see by the trailer and teaser pictures, that Daniel is raised up high on the Gunge Tank stool closer to the Gunge Tank. In this game Daniel knows that he will get Gunged at the end of the questions, but he can limit the mess before the Gunging if he gets the questions right. Daniel is subjected to Gunge throws, foam and pies (yay!) along the way to the tanking. Just how messy will Daniel get in Splat! Upon High?
Sticky Splat! Slime Wrap Up : – It's the end of the show and the season. So how about a slight change for the end segment. We got some special alien slime for the tank for the finale of the show. This gunge has a very different consistency compared to our usual gunge and was actually used in the Alien films for the Alien slime. It's sticky and very stringy. After a short post shoot interview with Daniel the sticky slime is released for Daniel to experience. Will he enjoy this gunge as much as the usual gunge? Find out and see. We also bring the season and show to an end with a few bucket throws too.
Gunge Tank Cam Footage: This release also features Gunge Tank Cam footage of the Gungings.
Video Details and Legal Information
Video Length: 1 hour, 19 Minutes and 49 seconds,(including Gunge Tank Cam Footage).
Splat! Guest Care:

Learn how we cast and look after our guests you see on the show here.
Release Status: Guest has signed a release form and given us legal consent to release this material on this website and select third party partners. Learn more.
Copyright © The Splat! Show: Do not repost or share any files you download from us. Seen our content elsewhere? Report it. Read more about your legal obligations.
Content Guidelines: No swear usage. Clothed in part during the segments. PG. Learn more about our Content Guidelines.
COVID-19 Secure: This shoot was shot under our COVID-19 Shooting Safety Framework.

Splat! Split & Switch Status: This feature length show is not eligible for Splat! Split & Switch until November 4th 2022.
This does not mean this show will be added to Split & Switch at this date as not all feature length shows will be added to Split & Switch.

All shows and content will be available unless we need to remove it as per our terms and conditions.
Aspect ratio of images have been altered and cropped from the video download. Video download plays full screen in 16:9 ratio. Logo is not in the video.
Also Available From This Shoot...
Season 18 Finale Picture Pack
Season 18 Finale Splat! Shoot Picture pack featuring 51 high resolution pictures taken at Season 18 Finale shoot. These pictures were shot especially for this picture pack and are not screen shots from the show.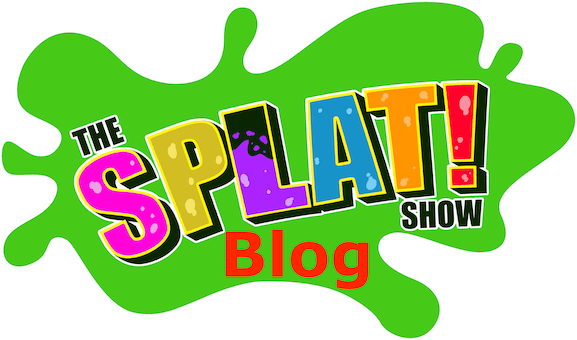 Find Out More About The Production Of This Splat! Show
This Splat! Blog entry is written by show co-producer James. Read more Splat! Blogs on other show pages.
So if you hadn't noticed, there's something of a pandemic going on.  It's a pretty scary situation and I'm going to be honest and say that a while back I was even umming and errrrring about if I should be doing it.  But this is Splat and when the going gets tough….. the tough get messy 😀  And what better date to film the Christmas Special – that isn't a Christmas Special – than on Halloween…..  Oh come on, this is Splat, when do things EVER make sense?
It's been a tough year but we were determined to give the fans something special.  As with a lot of things recently, the first thing we decided was to keep it a secret.  It wasn't that we didn't want you to know, it's just that we didn't want to make a big thing of it and then have something happen.  We've been through that before, admittedly there's always been a good reason, but this time we just decided that we'd have more flexibility if we were able to be fluid.  Plus with no pre-order material to film, it would give us extra time to work on making it the best show possible. 
Ages back, Pete and I agreed that Daniel was more than in need of a full blown solo show and with Kyle doing Halloween, giving Daniel the last special of the year seemed to be the natural choice.  In all honesty, I'd been desperate to give Daniel a starring role ever since his double header with Jon.  Don't get me wrong, that was a great shoot to do but Jon can steal the scene a little and I could tell that Daniel would shine on his own.  So the stage was set for Daniel to get the Christmas show. Well that was the plan anyway…. and plans at this time of year ALWAYS end in tiers.  
LOTS of back and forth between Pete and myself about things when we realised we'd only have a very short window to get things filmed in.  Christmas would be re-written as Daniel vs Jon (with Pete being a genius about how to deal with the logistics of that during a pandemic) and we would give Daniel the ultimate upgrade.  He would now be the end of season spectacular which meant an absolute tonne of mess and then a whole other tonne of mess for his part in the Christmas special.  Yes, I knew that would also mean two tonne of mess for me to clear up in a short space of time but this is Splat we're talking about and I do anything for Splat as you've probably realised by now.
A few days before the shoot and Pete sends the shooting ideas.  I'm going to try and keep this as spoiler free as possible so won't say which bit immediately jumped out but yeah, there was one part I was very keen to film.  We went through the plans for the social distancing elements.  Pete and I would be in masks at all times from the moment I arrived and we'd keep to separate corners of the room to do our relevant bits.  Daniel wouldn't need a mask as he'd easily be more than two metres from us at all times and he would spend as little time as possible in the filming room to minimise contact.  We wouldn't even shake hands when he arrived.  The night before, both Daniel and I were to check in and confirm we were symptom free and then….. oh man REALLY?????  Did they have to leak the national lockdown that night????   All bets go out of the window and Pete makes emergency changes to the schedule for the shoot.
Saturday morning – I do the morning shop and pick up the set decorations for the christmas 'section'.  Pete and I have agreed that we film what we film and then deal with anything the news throws at us as and when.  I then get to HQ and whilst Pete sorts out the tank, I get the buckets sorted.  Normally we both do each but with covid, it's very much allocated tasks in different rooms. Pete, being Pete, still finds a way to boss me around when he isn't in the room – yes there's now an intercom system between rooms – and I have to say, under my mask I have the biggest grin on my face every time he buzzes through.
Daniel arrives and I instantly develop a hot flush.  Nothing covid related, just Daniel walking in the room basically makes my heart race and my temperature soar.  He claims he's put on weight since the last shoot but damn, if he has I have no idea where he's hidden it.  He is just as I remembered him from the first shoot I did with him and, even more importantly, he doesn't just shine he dazzles.  He needs zero guidance through the day, he's utterly natural.  I wanted to spend hours just doing the photos of him in the different outfits but time is pressing.  However, and skipping forward a few hours, when we do review the photos later on, I'm overjoyed that his smile and gorgeous eyes are very visible in the stills.  Whilst we do the interview and the games it's also a scream getting him to talk about Jon.  Oh SOOOOO much makes sense now about their original head to head and it's a true delight to be able to get the inside gossip about one of the other models.  Yes, the regular models we use vaguely know of each other but this is the first time someone can give us some salacious tidbits about another model and when the story about <redacted> comes up I almost cry with laughter.  And no, it would be very VERY cruel of me to leave that one to your imagination… so that's what I'm going to do 😀
Whilst Daniel's in the shower between the third and fourth segments, Pete and I hastily decorate the room for the Christmas segment.  We've already realised that this is very much now a case of hope for the best on the Christmas front but we are both absolutely determined to give it our best shot.  So we film the Christmas bit, Daniel showers again and I then pack Christmas away.  Whatever happens thanks to covid, we can at least say we've kept the tradition going and got something in the can as a special.  What else we get is in the lap of the gods, but if you're a member of the fan club, there may even be an extra christmas bit recorded for there as well if we get a chance. 
Six segments recorded, contracts signed off and Daniel races away before he gets a parking ticket… thankfully he didn't… and then it's on to the clean up.  Again, Pete and I work in separate rooms. It's four pm and yes, I've now had my mask on since eight am.  And yes, it's very VERY worth the effort and inconvenience. Tank cleaned and Pete and I review the footage.
There's a real possibility that this might be the last footage we record for the year, what with the pandemic and everything. In every single bit we review though, Daniel's easy going nature and brilliant sense of humour leap out – sorry to any Japanese viewers for a few of the truly terrible jokes I made during the show when I wanted to make him laugh…. and very sorry to Pete who didn't realise that they were jokes at first – and it's the first time I've thoroughly enjoyed seeing the footage.  Even when I blob across the screen a few times it doesn't trigger me too much.  THAT is how much fun it had been working with Daniel again.  If you know me well then you'll know that's a rare occurrence.  I'm also very pleased that in a few of the frames you can clearly see that yes, I have a mask on during filming.  Splat is a messy show for sure, but we take huge pride in the way we run things and yes, I am deeply impressed by all the measures Pete put in place so we could record.
It's November first right now.  Pete and I can't make plans for a while.  So if this IS the last commercial shoot of the year then damnit we have gone out on a seriously good show.  I can't sing Daniel's praises enough and we have got plans for his return, whenever that may be.  Daniel, if you're reading this, thank you for taking one of the worst years there's been and putting one of the best days ever into it.  You're not just a Splat star, you're a star on every level.  Thank you for an amazing day, for the jokes about Jon, for being so easy to work with and for putting your all into a crazy shoot in an insane world.  As far as I'm concerned, you became a Splat Legend 😀
Check Out Daniel's Other Splat! Shows...