Marvellous Marius Added To Split & Switch
Retro Stream Updated For May
Splat! Retro Stream has been updated for May.
This month Hugo & Adam's Physical Challenge and Marc's Muckie Duckies are streaming over on the Splat! Fan Club until June 1st.
Retro is part of the Fan Club and is included in your monthly fan club subscription.
If you regularly check out our production blog you will be aware that we are just about to start our re-opening plans.
While the Coronavirus situation is improving in the UK and the unlocking roadmap is currently on track, we are aware that things can change quickly. Due to the uncertainty, we are currently working towards a re-opening date by getting production facilities back up and running and making plans for the future. Our social media activity will slow down over the next few weeks as we concentrate on our re-opening plans. We will still be posting updates, but these updates we will be reduced slightly. Planned updates to Retro Stream and other site updates will continue as planned during this period.
We will not be announcing any commercial shoots before they take place and you will only learn about them after they have been completed. We hope to return to our usual shoot announcements with pre-shoot bonuses and live steams as soon as we are able to. Customers who have booked a Splat! Private experience with us will be contacted to update them on our Private Exp resumption plans.
The past year has been challenging for everyone and we hope you are looking forward to our re-opening. Thank you for supporting The Splat! Show.
Splat! Select Update For April 2021
Splat! Select has been updated and refreshed for April.
This month James T's Gunge-a-go-go is streaming over on The Splat! Fan Club until May 15th. James T is a dancer by trade so we got him to show off his Dance moves in The Gunge Tank! Yes, Dancing…in a Gunge Tank….
Splat! Select is our new temporary Splat! Fan Club feature where each month one item from the website is presented for Fan Club members to stream as part of their monthly subscription.
Splat! Select will continue until we resume our full shooting operations. 
Adam & Jon: The Final Battle now Split and Switch Enabled
Splat! Split and Switch has been updated today with scenes from the season 17 feature length Splat! Show, Adam & Jon: The Final Battle.
Splat! Split allows you to download individual scenes from select feature length Splat! Shows and Splat Switch grants you access to custom your Splat! Show feature length Show download.
We have also posted a new Blog entry to our Production blog reflecting on a year of Coronavirus Lockdowns and how we and our fans have coped during this time. Please give it a read.
First Donation To Comic Relief Made. Thank you!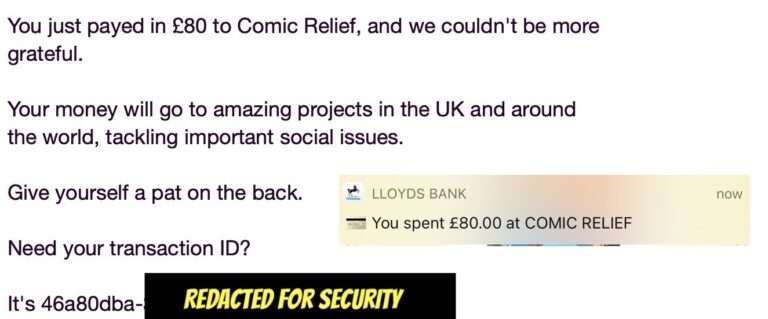 As promised, we have made our first donation to Comic Relief on Red Nose Day.
30% of net sales raised through our Red Nose Day Hub is being donated to Comic Relief. 
£79.74 has been raised so far and we have rounded that up to a cool £80.00 which was paid to Comic Relief today. We have posted proof of payment to the side of this news update. You can also view our charity transparency reports on our Terms and Conditions Page here.
Our Red Nose Day Hub will remain open until the end of this month and we will be making a final donation with any money raised after today's donation at the end of March.
Thank you for supporting our Red Nose Day hub this year and helping us make a difference around the world.
Private Experience Priority List Closing Soon
Over the past few months we have been accepting bookings for our Private Experiences for customers wishing to get priority access to our available dates once we resume our private experiences.
We are now nearing capacity for this priority list and we will be closing bookings soon.
If you wish to get priority access to private experience dates when we resume our operations then please contact us today. Dates will offered to customers on the priority access list first before we open them to everyone else.
We anticipate we will be fully booked for a few months or longer when are able to resume operations. We anticipate we should be back up and running anytime within the next few months.
Get Started With Splat! Split & Switch
Last month we completed the roll-out of our brand new feature, Splat! Split and Switch.
Splat! Split allows you to purchase individual scenes from our feature length shows and with Splat! Switch you can build your own bespoke Splat! Show using scenes from Split.
Get started today with Splat! Split and Switch. Terms and conditions, including eligibility requirements apply where applicable.
50% off Content featuring Kyle
2021 marks five years since Kyle made his first Splat! Show appearance. As we did last year with Jon to celebrate his five years with us, we are running a year long 50% off sale on all content featuring Kyle.
We have a special page up and running where you can save 50% on all content featuring Kyle. Go and check it out and add any you are missing from your Splat! Show collection.
Sale ends January 1st 2022.
We are incredibly proud of the content we were able to produce last year, especially against the backdrop of the pandemic which as you all know had a detrimental effect on our operations and plans.
Thank you for supporting us through 2020. Check out last years shows in our season 18 index. The year ahead is uncertain, but we will do our best to resume operations when we are legally allowed to do so.
Adam Vs James Gunge Tank Vote Results Now Available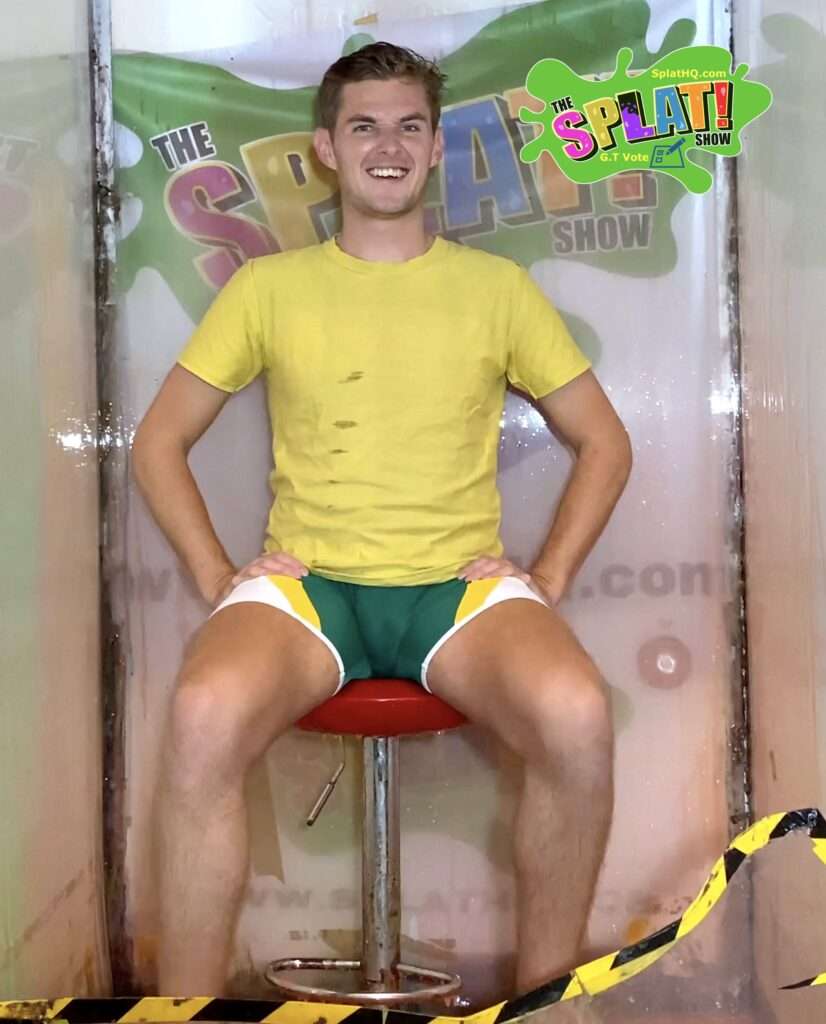 While we have yet to film the results with Adam (see below for a news update on his shoot) we have made Adam Vs James Gunge Tank Vote results video available.
This results video features James getting the news that he received the most votes and was instantly Gunged in the Gunge Tank.
Viewers who took part in the vote and those who download from today will also receive the Adam part when it is available.
James's Complete Gunge Tank Cam footage Now available!
Update On Adam's Delayed Shoot
We just wanted to give you all an update on the status of Adam's Splat! Shoot which was scheduled to shoot this past October.
We have have been in touch with Adam recently and he is still on for the shoot when we are able to resume production again. You may remember that while we were able to shoot in October, Adam himself was under strict Coronavirus restrictions while studying at Manchester university which meant he was unable to travel to us.
Adam's shoot was paired with James's Splat! Show and if we are unable to complete Adam's shoot within the six month deadline (set out in our Terms and Conditions for delayed shoots) we will issue compensation to viewers who participated in the Gunge Tank vote and took advantage of the two for one Splat! Storm offer.
Jame's part of the Gunge Tank vote (in which Adam took part in but yet to film) will be made available for all to purchase from tomorrow.
Brain Box Ben Cut Footage Added To Fan Club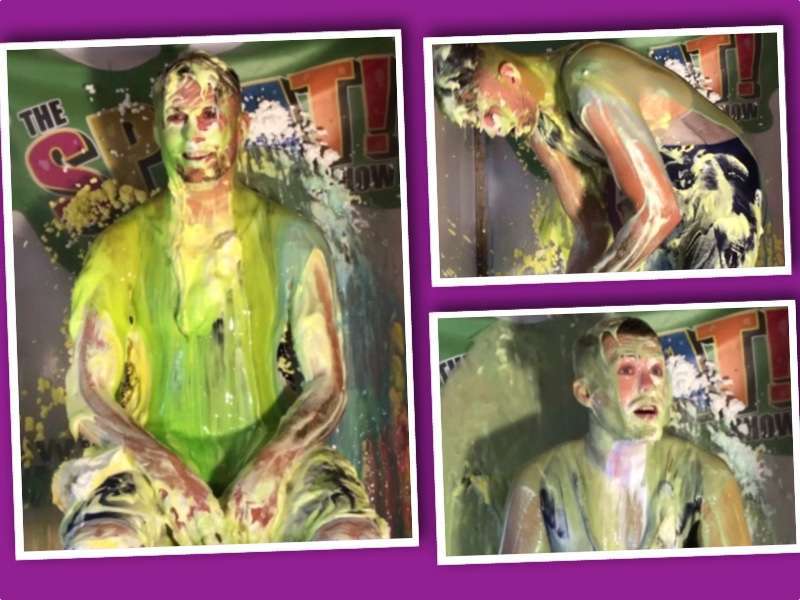 We have updated the Splat! Fan Club today with the addition of the cut footage from Brain Box Ben's Splat! Show shoot.
Get more from The Splat! Shows you love with extra footage that didn't make it into the download edit. Featuring pre and post gunging footage, clean downs and more!
The Fan Club is bigger than ever and will continue to grow. Jump in now and you'll be ready for our Fan Club Christmas celebration content too!
Site Updates: Viewer Reviews and Introducing Splat! Split & Switch
Today we have completed the rollout of our new feature show page design across the entire site. The show pages have had a slight rejig and we have also introduced a viewer reviews section to each show page.
Also today we have launched Splat! Split and Switch.
Splat! Split allows you to buy individual scenes featured in our feature length Splat! Shows from just £5.00 each. Split is enabled on feature length shows two years old or older since their original release.
Splat! Switch enables you to pick five scenes from Splat! Split to create your very own bespoke Splat! Show download for the same price as our released feature length Splat! Shows.
Splat! Split is rolling out now and we will try to add new content to Split and Switch daily until we catch up to the two year limit on eligible feature length Splat! Shows..
Cut Footage From Lucas' Shoot Now Streaming On Fan Club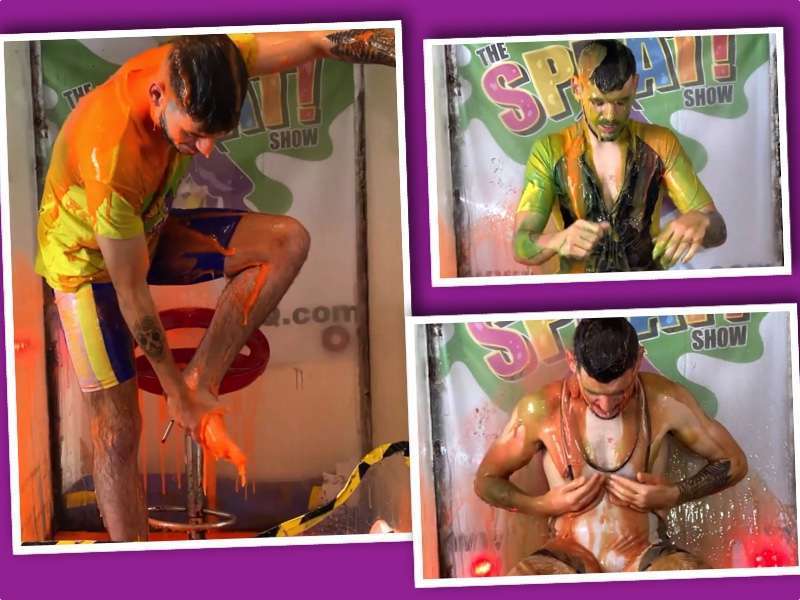 The Splat! Fan Club has been updated with the cut footage from Lucas' shoot. Featuring footage that didn't make it into the download edit the cut footage features before and after gunging footage and clean downs.
Its streaming over on The Splat! Fan Club now.