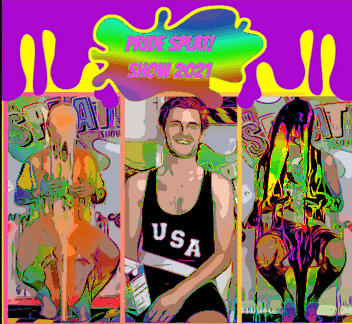 Pride Splat! Show 2021 OUT NOW!
The first double guest Splat! Show for two years and our first ever Pride special is out now. We only shot it yesterday, but we had to get it out before pride month is officially over!
James and Kes, who are two proud members of the LGBTQ+ community star in this fun Splat! Show which features the return of Splat! Classics such as Pass The Pie, Crack My Tank and more!
Don't miss out on our first ever double Pride Splat! Show by downloading today!
The Pride Double Storm and Gunge Tank Vote video from this shoot have been sent to customers who ordered them before the close date. If you didn't get yours, please contact us after you have checked your spam / junk folders. These will be released next year for everyone else.

Apply to be on the show with Kyle for a Kyle 5th Anniversary special!
This year mark's 5 years since Kyle started to shoot with us. He has gone on since to cement himself into Splat! Star history and this year we are going to mark the occasion with some special events!
We are now looking for a fan of the show to come along and shoot with Kyle for his 5th anniversary special feature length Splat! Show that will film soon.
You would be required to appear in the video that will be released publicly on the website, wear the Splat! Show clothing and of course get gunged. You will play head to head games against Kyle.
If you are ok with that, then why not apply to be on the show with Kyle for this special shoot.
Please only contact us if you are serious about appearing on the show. No time wasters please.
All applicants must be 18 or older.
Countdown To Whitie's Return Release
We will be releasing Whitie's Returner Special on Friday July 2nd after he made a return visit to Splat! HQ after more than 11 years since his last shoot.
To celebrate Whitie's return, we have opened up a special Hub featuring download packs containing Whitie's first Splat! Show material from 2010. There is also a special picture pack too!
The Hub and all content offered will be available to download until we release Whitie's Returner Special on Friday 2nd July.
Whether you are a long time Splat! Fan looking to re-watch Whitie's classic Splat! material or a new fan discovering Whitie for the first time, we have something for all as you await his new Splat! Show.
Ben's Splat! Show Is Out Now!
We are back to kick off a special season of The Splat! Show with the release of Ben's Splat! Show.
There is not going to be a numbered season this year due to the delays we've faced, so instead we are filming a group of shows that will form this special season featuring new faces, returning stars and even Splat! legends from years and years ago.
The first show we are releasing to mark the start of this special season is Ben's Splat! Show. We couldn't have asked for a better guest to feature as we resumed our commercial releases and we hope you really enjoy watching Ben take on The Splat! Show.
Go and download our first big release since late 2021 today!
Ben's Splat! Storm will be released later in the year but Fan Club members can access it now. See the post two down from this one for more information.
Whitie Returns After 11 Years & early Access To Whitie's Storm
Surprise! Today we welcomed back Whitie to Splat! HQ to film his returner special Splat! Show.
Whitie's last appearance was over 11 years ago and if you remember correctly, he didn't really get that messy. Well, that's changed today as he took on the modern Splat! Show format where you really can't escape the power of our Gunge Tank!
Splat! Fan Club members can now get an early exclusive look at Whitie's Returner shoot over on The Splat! Fan Club! 
Splat! Fan Club members can now access Whitie's Splat! Storm early. The Splat! Storms we have been shooting along side our new feature shows will be released at a later date for everyone.
If you are a Splat! Fan Club member, you can now access Whitie's Splat! Storm early. Subscription and additional fee applies. 
Download Ben's Splat! Storm With Early Access
Splat! Fan Club members can now purchase and download Ben's Splat! (who we shot with) Storm in early access. Early access downloads feature true 4K resolution with 60 frames per second for a more lifelike viewing experience. Club subscription required to access early access where you have the option to purchase and download Ben's Splat! Storm before general release.
Ben's Splat! Storm will be released for everyone else later this year.
Have a Summer of Fun with us!
The last year and half has been hard. We all need to unwind and have fun after the stresses the pandemic has brought on us all.
Well why not book yourself a Splat! Show Private Experience and have let yourself go? Maybe you are celebrating getting both vaccines, or maybe you just want to have some fun for the first time in months.
Bookings are now open and we guarantee to refund your booking if we have to lockdown again before your private experience takes place.
Full information and available dates for bookings can be found on our Private Experiences Page.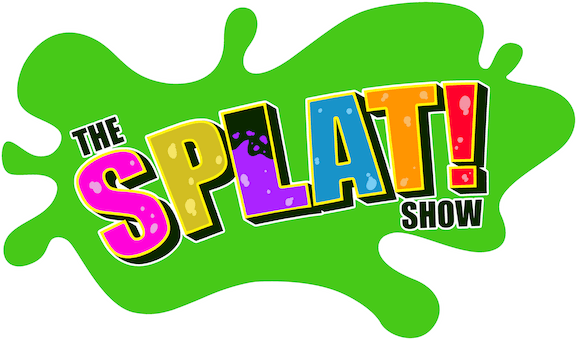 Late last year we planned to shoot with Adam shortly after we completed James's shoot. Adam's shoot was paired with James's shoot for The Gunge Tank Vote and Splat! Storm 2 for 1 offer. It was postponed due to the 2nd national lockdown.
Sadly, we have to announce that we have decided to cancel the shoot with Adam. We was hoping to shoot with Adam this coming Sunday but  he has pulled out due to personal reasons. We will not be rescheduling his shoot again and will instead focus on new shoots we are actively working on. Interest in Adam as a Splat! guest was low going by the Gunge Tank vote results so we feel it is right to move on. 
Customers who voted for Adam in The Gunge Tank vote and or placed an order for the pre-shoot Splat! Storm offer will be contacted within the next 7 days to update them directly on the situation with compensation options. We thank you for your understanding in advance.
Retro Stream Updated For June
Splat! Retro Stream has been updated for the month of June.
This month Whitie's Messy Mash UP and Dan (former Mr Gay UK) Get's His Own Back On His Mate are streaming over on the Splat! Fan Club.
Don't forget to suggest the next two retro stream titles you would like to see next month and beyond. You can cast your vote here.
June's two Retro Stream titles will be available to stream until July 1st.
Marvellous Marius Added To Split & Switch
Adam & Jon: The Final Battle now Split and Switch Enabled
Splat! Split and Switch has been updated today with scenes from the season 17 feature length Splat! Show, Adam & Jon: The Final Battle.
Splat! Split allows you to download individual scenes from select feature length Splat! Shows and Splat Switch grants you access to custom your Splat! Show feature length Show download.
We have also posted a new Blog entry to our Production blog reflecting on a year of Coronavirus Lockdowns and how we and our fans have coped during this time. Please give it a read.