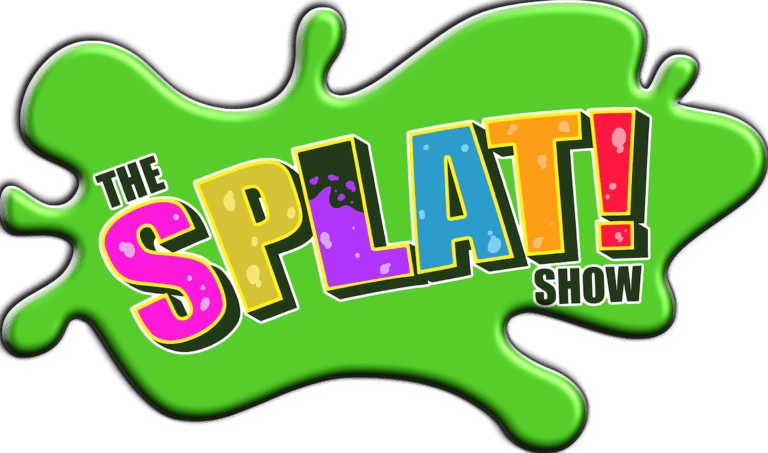 If you have been directed to this page then that probably means we have made contact with you about the possibility of appearing on The Splat! Show. On this page you will learn more about us, the shoot and the benefits we are offering if you decided to do a shoot with us.
The Splat! Show was launched in September 2004 and has grown steadily into what it is today. We have worked with countless guests over the years and we hope you decide to take part in a shoot.
The Splat! Show is staged as a messy Gameshow with our Gunge Tank. This format was popular on mainstream TV during the 90's and early 2000's but has since faded off our screens. We decided to bring the format back (and then some) for the modern, internet focused era and audience. 
Our shows would be nothing without the guests and their personalities shining through. If you take yourself too seriously, then you can stop reading now. This shoot is not for you. But if you want to experience a different and very fun shoot then we would love to work with you.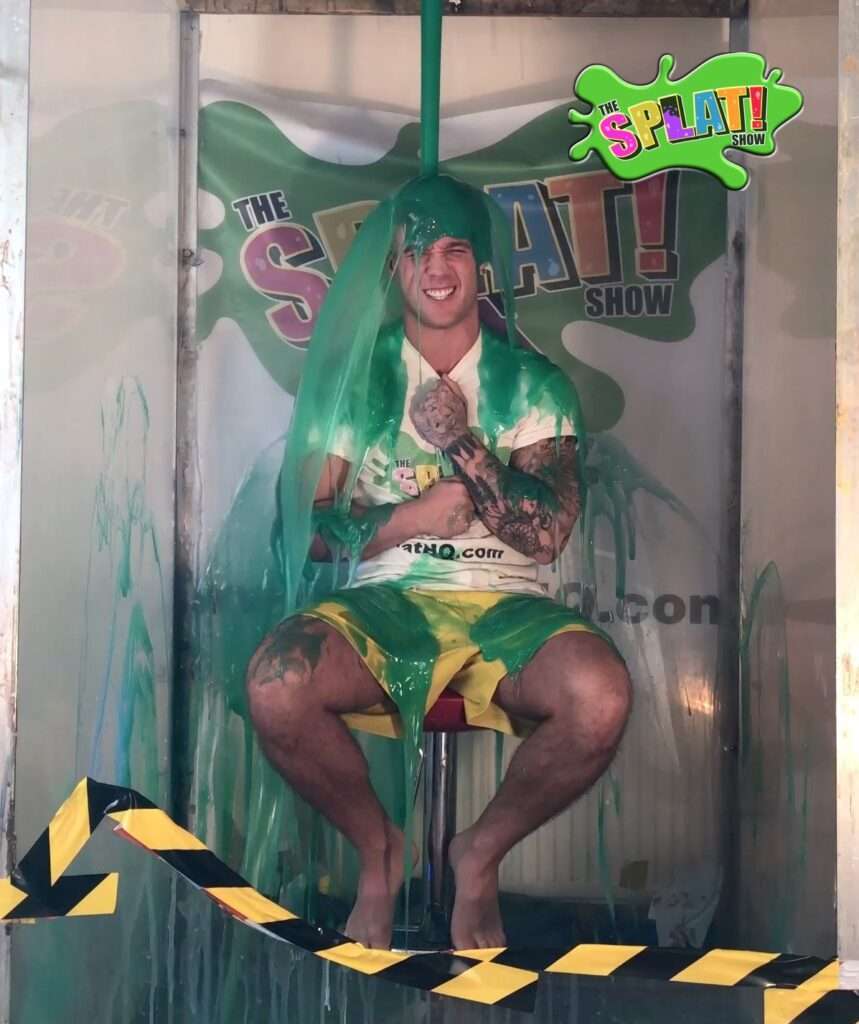 Who Watches The Splat! Show?
We want to make one thing clear, we cannot control who watches The Splat! Show. We operate under a pay per view download system, so site visitors pay and then download our shows to watch. We don't lock our site behind a paywall, only the content is behind a paywall. Our show is available to anyone in the world to watch and we have viewers in nearly every country around the world.
We also try to make sure our show is accessible to as many people as possible. This means we have strict content policies when producing The Splat! Show. There is no full body nudity, use of excessive language or content that would be considered vulgar or offensive to the viewer or guest.
Our show is targeted to as many people as possible via promotion through our various social media channels and on our website. It is in our interest to grow our potential audience. Part of our audience also has a fetish for WAM (which stands for wet and messy) but our show is not targeted exclusively to them. We target our show to as many people as possible and our audiences interest in the show varies greatly. We want to make you aware of some of these in advance so you have the full picture, but there are many reasons why people find interest in our show and are now loyal customers.
Finally, we know that our shows perform better if the guest on the show are having fun. This is the number one reason why people enjoy our show.
Still with us? Cool. Read on for more information we want to share with you!
Tell me about a Typical Shoot...
If you agree to take part in a Splat! Show Shoot (and we hope you do) then nearly all our shoots operate under the same framework. 
When you arrive you will be greeted by Pete who will then show you around the shooting environment. Our shoots take place in a residential property with a room converted into studio space where the shoot takes place. 
A shoot normally features 5-7 segments that vary in length, normally between 10-20 minutes per segment. If this is your first shoot with us we will talk you through our health and safety protocols and then ensure you are ok with everything before we start shooting. The shoot will consist of an interview segment followed by game segments such as quizzes and maybe a few physical challenges. 
The Gunge: The gunge we use at our shoots is made for what we use it for, so we don't make it ourselves but is the actual stuff used on TV shows. It's non toxic, safe and completely odourless. 
Of course, cleaning facilities are on site and are secure for your privacy. 
Shoots last three to four hours usually.
How Much Do I get Paid and Other Benefits
All our shoots are paid. We don't ask you to work for us for free or anything in return. 
Our shooting rates start at £200 per shoot and we will also cover your travel expenses. Normally we don't negotiate our pay unless your profile is higher than normal such as a big social media influencer, celebrity etc. Sam Callahan is a recent example. £200 is pretty generous for 3-4 hours work.
If you connect with our audience and your shoot is popular then we might ask you to come back for another shoot. This is where we can look into increasing our standard pay.
There is also the chance of regular work with us if you are really popular. Our Splat! Stars are an example of this. 
Appearing on The Splat! Show may increase your profile, weather it be on social media or by other means. It is entirely up to you if you want to publicise your Splat! Show shoot but generally we don't offer payment for you to do this. It may increase your chances of coming back for other shoots and projects with us however. 
Finally, if you want to have a fun shoot that is completely different to what you may have done before then we would love to work with you! 
You are In Control - Our Duty Of Care To You
We pride ourselves on maininting good relationships with all our guests who appear on The Splat! Show. Before, during and after a shoot.
We encourage questions and feedback at all times throughout a shoot. We will also check in with you before we shoot anything to ensure you completely understand what is coming. If at any point you are feeling unsure about something, don't feel comfortable about something then please let us know. We will understand and we will do our best to relieve any of your issues. 
You will be required to sign a model release form at the end of your shoot so we can legally release your show. We never ask you to sign this before the shoot has taken place. We keep all model release forms on file and you can ask to see it anytime after a shoot.
We never hold people to contract. While our model release forms allow us to release your show, we understand that things change. If you want to have your show removed from the site then you can let us know and we will act on it without any push back from us. 
Our Duty Of Care extends post shoot. You will be given details on how to contact us, details on how to promote your show (if you wish) and other things. We are always here for you, before, during and after shoot. 
You will always be treated with respect at all times. We want you to have fun with us.
Still Got some Questions?
So what do you think? Are you ready to take part in one of our unique shoots? Still have questions maybe? Thats fine, we would be surprised if you didn't have any. Just reply to us through the channels we originally contacted you on and we will get right back to you. Or alternatively, you can email us at TheSplatShow@SplatHQ.com
We hope to see you at one of our shoots soon!