The Dumping Ceremony
Specials
2 for 1 Offer - Get Both For One Price!
This summer we are saying a fond farewell to two of our Splat! Stars. Ash and Adam will making their final appearances on The Splat! Show. Ash will remain with us as technical support but won't partake in future Splat! Show productions. Adam will also making his final (yes for good this time) Splat! Show appearance as he moves onto new projects with PAW UK media away from The Splat! Show. 
While Ash and Adam will both be shooting their final Splat! Show feature shows (of course we want to see them both do Tour De Gunge!)  they are also featuring in their final Gunge Tank vote and will also each film this special, The Dumping Ceremony!
With Ash and Adam being dumped from The Splat! Show, we had to make a special called The Dumping Ceremony. We are pulling out all the stops for Ash and Adam's dumping from The Splat! Show in the biggest two specials ever!
Both Ash and Adam will each feature in their own "The Dumping Ceremony" specials. If you order before the 16th June you will get both for just £9.99! They will be released on the site at some point in the future, but they will be priced £9.99 each. Viewers who order before June 16th will receive Adam's Dumping Ceremony Monday 17th June and Ash's before the end of June. Order now for the 2 for 1 offer and early delivery. 
EACH DUMPING CEREMONY SPECIAL WILL FEATURE THE FOLLOWING CONTENT:
A RETROSPECTIVE MINI INTERVIEW: Both Adam and Ash will be interviewed about their time on The Splat! Show before the dumping ceremony begins. 
A FLAN FOR SERVICE: Dressed in Splat! T-shirt and Shorts, Ash and Adam will be custard pied with large, real flans filled with custard and cream for each year of service they have given to The Splat! Show.
THE THREE TANK SALUTE: Dressed in clothing from The Splat! Collection that Adam and Ash think would please the fans. They will then enter the Gunge Tank for a Three Tank Salute. Ash and Adam will each be gunged three times in the Tank featuring the official Splat! Show Colours. Tanking one will consist of full tank of Yellow Gunge, Tanking two will be a full tank of purple Gunge and the third Tanking will be a tank full of Black Gunge. Each tank drop will take place after each other.
DRESS YOUR BEST BUT DONT MUCK UP: In their final time in the Gunge Tank EVER, Ash and Adam will be dressed in their best clothes (they are providing them, not us). The tank will be filled with a mix of cold gunge from the Three Tank Salute. To stop the tank from triggering for the final time and to save their best outfits from the muck they will have to answer a simple question correctly! Confetti cannons will also be hand if they actually manage to answer correctly too! 
Viewers who order this 2 for 1 offer will also get a picture pack from the two Dumping Ceremony shoots too!
Watch Adam and Ash's Farewell Shoots LIVE!
We will be live streaming both farewell shoots with Adam and Ash on The Splat! Fan Club to members.
Adam's farewell shoot will take place on Sunday 16h June.
Ash's farewell shoot will take place over a few days late June. We will announce these dates shortly. 
Join The Splat! Fan Club today so you are ready to join us live and enjoy the club content already on the club while you wait.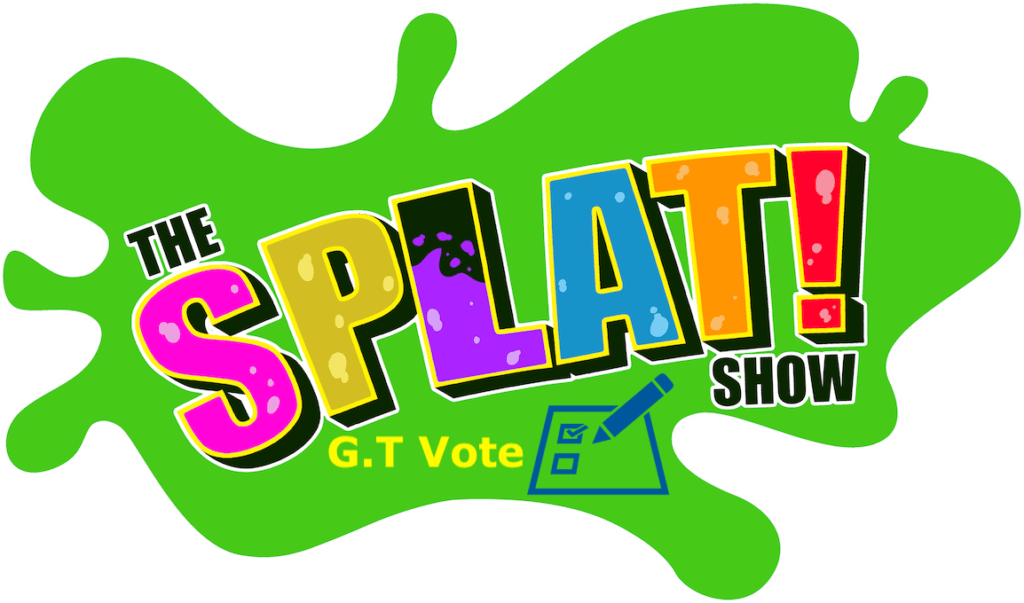 End Of An Era: Ash and Adam's Final Gunge Tank Vote